Comprehensive Guide To Different Types Of Employee Awards
The importance of rewarding and recognizing employees in a proper and timely manner is well understood by most organizations today. At the same time, organizations also feel overwhelmed with so many different types of employee awards to choose from. Deciding on the types of awards and their criteria are critical to designing the employee rewards and recognition program. The types of awards chosen should reflect the objectives of the program.
Basis For Classification Of Employee Awards
There are many ways that awards can be classified:
Who is being given the award?
Who is giving / recommending the award?
What is the reason or criteria for giving the award?

Performance or achievements
Behavior or display of values
Tenure related/ Milestones reached
Organizations need to be aware of the different types of awards. They should be able to choose the ones that are most relevant to their business goals and environment. This would help them to maximize employee engagement and motivation. Given below are the most common types of rewards prevalent in modern organizations:
Who Is Being Given The Award?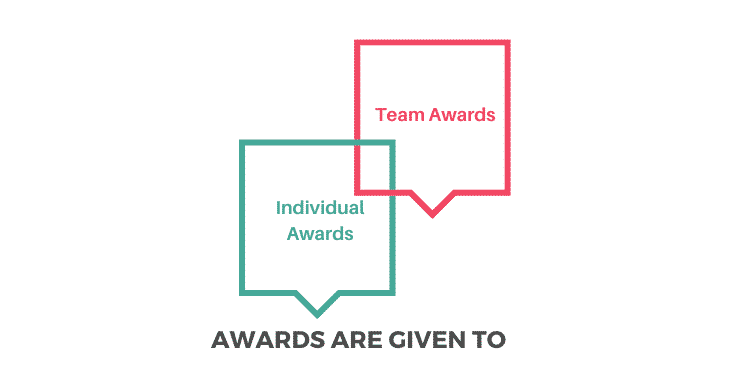 1. Individual Awards
Despite the focus of most organizations on teamwork and collaboration, individual awards still play an important role in every rewards and recognition program Whether it is about appreciating employees for accomplishing a challenging task, displaying exemplary behavior, or taking an initiative, individual awards are here to stay.
2. Team Awards
With increasing focus on teamwork and collaboration, it is not surprising that team awards are increasingly growing in importance in rewards and recognition programs. Team awards are critical in building a united and dedicated workforce committed to fulfilling common business objectives. There are many variants of team awards possible based on the type of team being rewarded or recognized:
2.1 Project Team Awards
Project Teams, whether cross-functional or part of a single function are often rewarded for completing critical and complex projects in time, within budget or overachieving on the goals on the project.
2.2 Functional Team Awards
Enabling or Support Functions play critical roles within an organization, most often silently behind the scenes. These functions include HR, Administration and Facilities, Finance and Accounting, Internal IT, etc. They not only enable the business to run smoothly but also take up challenging tasks related to changes in business strategy, policies and processes.
2.3 Branch Awards
It is common for large business organizations to operate through branch offices, outlets or independent units. Such organizations need to recognize the performance and the efforts of teams working in these branch offices or business units. This is even more critical if these branches or units are geographically dispersed – the teams working there need to feel valued and integral part of the organization.
Who Is Giving/ Recommending The Award?
1. Manager Rewards/ Recognition
This method of rewarding or recognizing employees is the most common and traditionally preferred by organizations. Managers, supervisors or team leads typically nominate or recommend their team members for different awards. The manager might also decide on whether a particular employee should get the award or simply recommend to the next level manager with the details required for assessment.
2. Peer-to-Peer Recognition
This type of recognition has been gaining much popularity over the past several years, as it is considered to be highly transparent, democratic and effective. This method of recognition empowers the co-workers to reward and recognize the efforts, achievements, and even the specific behavior of employees. Though recommended by a co-worker, the final decision-making might still rest with the management. However, there is a growing prevalence of direct peer-to-peer recognition without the intervention of any manager, which makes the process extremely effective.
What Is The Criteria For Giving The Award?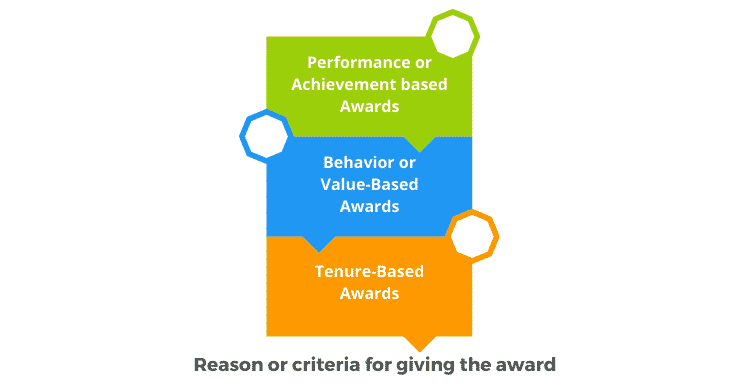 1. Performance or Achievement based Awards
As the name suggests, performance, achievement or impact-based awards aim to reward and recognize the results of the work or efforts of an employee. Hence, these rewards are completely work-centric and are decided on the basis of the contribution of the employee towards the business. These awards are also referred to as business impact awards as they directly affect the growth and profitability of the organization. These rewards can be further categorized into the sub-types based on the business metrics impacted: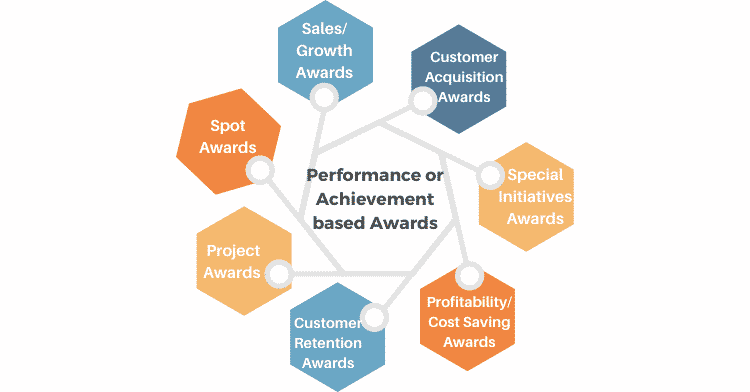 1.1 Spot Awards
Spot Award is a catch-all term for recognizing any kind of exemplary performance ranging from a good client presentation to a task completed before time. The key element of Spot Awards is that it is done immediately following the achievement by the employee. Typically, though the achievement might have business impact, it might not be clearly measurable in terms of a business metric. For specific business metrics impact, there could be other award types.
1.2 Sales/ Growth Awards
These awards are typically given for overachieving on sales/ revenue targets for a month, quarter or the entire year.
1.3 Customer Acquisition Awards
Organizations might reward employees for bringing in new customers – based on either the number of customers or certain key customers.
1.4 Customer Retention Awards
These awards are typically given to those employees who have played a key role in retaining key customers or winning back customers under challenging circumstances. Hence, recognizing the efforts of retaining a customer is as important as recognizing efforts of bringing in new customers.
1.5 Profitability/ Cost Saving Awards
Organizations should recognize employees who have helped the organization save costs and improve margins either through process improvement or cost engineering.
1.6 Project Awards
Completion of challenging project in time and with the desired (or more than the desired) results should be recognized.
1.7 Special Initiatives Awards
Employees could be recognized for participating in or undertaking special initiatives that might not be directly related to their area of work or key performance areas such as employee engagement activities, representing the organization in an external event such as sports, culture, community service or thought leadership.
2. Behavior or Value-Based Awards
Recognizing employees for demonstrating specific behaviors or values is an effective way to keep them engaged and motivated besides promoting these desirable traits among the other members of the workforce.
These awards unlike the performance based awards are not for specific achievements but for consistent display of certain behavioral traits over a period of time through multiple achievements, small or big. These awards go a long way in building a positive work environment and align employees to the organization's value system.
A few such awards are as follows: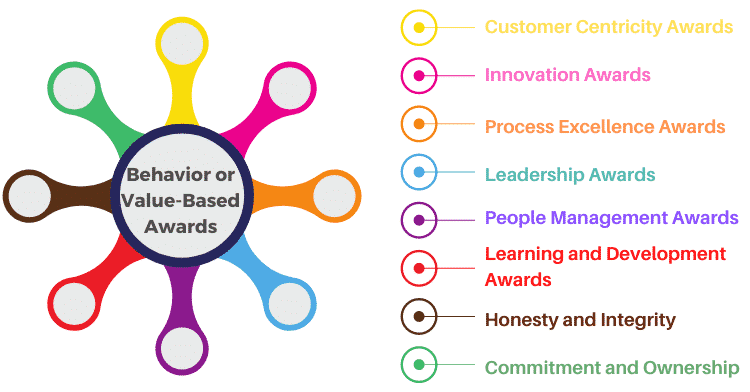 2.1 Customer Centricity Awards
This is a highly desirable trait sought by all organizations in their employees. Employees who are always focused on ensuring the happiness and satisfaction of the customers at all costs deserve such awards. Their efforts make a huge difference in enhancing the organization's topline and growth.
2.2 Innovation Awards
Innovative and creative employees simplify complex tasks and processes, save costs, develop or improve products and services, come up with newer ways to reach out to customers in an interesting and exciting manner, etc. Hence, rewarding such employees is critical for business growth and competitive advantage.
2.3 Process Excellence Awards
This category might seem to be overlapping with the Innovation Awards, however these awards are focused on process improvements; especially repetitive processes leading to higher efficiency, lower error rate, higher productivity and eventually lower costs. Typically, successful Lean and Six Sigma projects may under the ambit of these awards.
2.4 Leadership Awards
Every organization needs to have a talent pool of potential leaders for succession planning. Leadership awards are designed to recognize upcoming leadership talent in the organization and give them higher visibility within the organization.
2.5 People Management Awards
The efficient management of people is essential for building a highly, motivated and satisfied workforce. So, organizations need to reward and recognize the efforts of their line managers and supervisors who manage their teams effectively and coach and mentor their team members to perform better.
2.6 Learning and Development Awards
Continuous learning and development are essential for ensuring the personal and professional growth of employees as well as driving business growth. Learning and Development Awards are instituted to rewards and recognize those employees who contribute to training programs, sharing their knowledge and training others especially technical, business and process to supplement the effort of the full-time trainers in the organization.
2.7 Honesty and Integrity
2.8 Commitment and Ownership
2.8 Collaboration and Support
3. Tenure-Based Awards
Most organizations put a lot of emphasis in retaining their best employees. Hence, it has become extremely important for organizations to appreciate and reward their most loyal employees. They also need to recognize the efforts of the new hires as it set the tone for their continued performance and longevity in the organization Tenure-based awards consist mainly of the following types: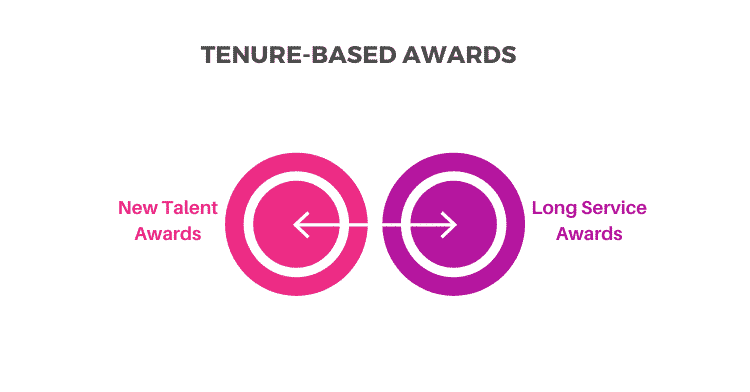 3.1 New Talent Awards
Most organizations hire a large pool of fresh talent, but only a few of these new hire show the potential of becoming successful professionals. New talent awards are a great way of motivating them and paving the way for them to take up bigger responsibilities in the future.
3.2 Long Service Awards
Rewarding employees when they have attained specific tenure milestones is a way of thanking them for their contribution and making them feel valued by the organization. Awarding employees on the completion of three, five, ten, fifteen years, and so on with the organization provides organizations with a means to express their gratitude for the loyalty and contribution of these employees.
Important Facts To Consider While Deciding On The Types Of Awards
There are some important facts that organizations need to consider in deciding on the most appropriate award types for the employee rewards and recognition programs. The following are a few pointers:
Most experts are of the opinion that organizations should reward and recognize their employees as frequently as possible. Therefore, organizations should decide on their own reward schedules based on the size of their workforce, their budgets, the profile of the employees and most importantly, the business outcomes desired. They can thus choose to reward them instantly or even monthly, quarterly, or annually based on the above factors.
In addition to the frequency of rewarding, organizations also need to consider the most appropriate method for rewarding the employees. They can choose from a wide range of options in this context including intrinsic and extrinsic awards, monetary and non-monetary awards, and tangible and non-tangible rewards.
Also, another important aspect that organizations need to consider is the way the awards are decided. They need to decide whether to follow a more top-down approach, a peer based approach or using a reward and recognition panel or committee. Hence, the transparency of the decision making process impacts the credibility and fairness of these awards.
Bottom-line
There is no 'one-size-fit-all' solution to deciding on the most suitable types of awards for an organization. It is the 'horses-for-courses' approach that works best – a combination of different award types to fit different situations within the organization.
To stay updated on the latest HiFives blogs follow us on Twitter (@MyHiFives)