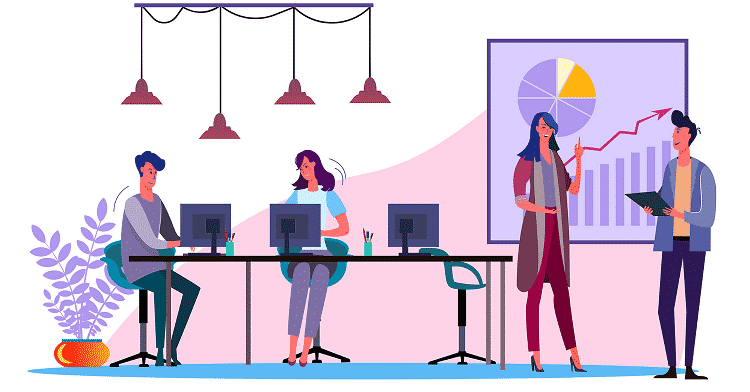 Studies have shown that nearly 35% of the revenues generated by businesses are from products and services that were developed within the last 5 years. If organizations were to have to generate new business ideas, they need to promote creativity and innovation at the workplace. Creating a culture of innovation through employee recognition is one of the best ways for organizations to build a workforce that constantly churns out new ideas, products and services.
How can Organizations create a Culture of Innovation?

Having a culture of innovation provides the right environment for encouraging such activities at the workplace. The absence of the right culture can discourage employees from investing their time and energy in exploring new ideas and eventually hinder business success.

Here is how organizations can build a culture of innovation: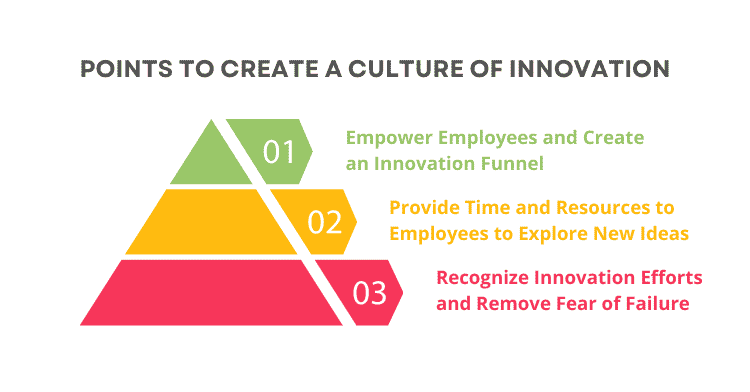 1. Empower Employees and Create an Innovation Funnel

Organizations need to enable employees to come up with new ideas, champion and support them to make these into viable business propositions.

Companies like Pixar and Tesla allow employees to come up with new ideas, provide them feedback on a regular basis and take the best ones to the next level.

 
2. Provide Time and Resources to Employees to Explore New Ideas
 
Organizations with a history of innovation allow employees to work on new ideas and projects of their own. They provide employees with the space, tools and other facilities required to work on such initiatives.
 
Companies such as 3M dedicate 15% of employees' time to innovation. The Post-It note was invented during this 15% time.
 
Google and HP give 20% of the time for innovation. Google Earth and Gmail were invented during this 'innovation time'.

 
3. Recognize Innovation Efforts and Remove Fear of Failure

Innovative companies recognize the efforts of their employees towards innovation. Such efforts are rewarded by organizations and recognized socially by other employees.

Trial-and-error and test-and-learn is valued in such organizations. These organizations understand that it is almost impossible for any successful innovation to be done without facing multiple failures. 
 

How can Organizations create a Culture of Innovation through Employee Recognition?

Employee Recognition can help organizations to motivate their workforce to higher levels of performance and also display the desired behavior in alignment with their corporate values.

Innovation can be promoted by organizations by rewarding and recognizing employees for their efforts and performance towards that goal. Here's how: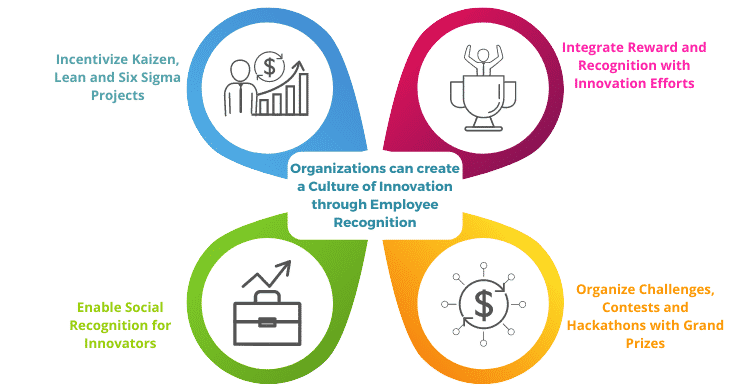 1. Integrate Reward and Recognition with Innovation Efforts
 
Integrating the reward and recognition program with the innovation efforts of the employees can motivate them to continue exploring new ideas. It demonstrates the support and appreciation of their organizations for their efforts towards innovation and business growth.
 
Rewards could be given at different stages of the lifecycle of new ideas – ideation, business viability, proof of concept, and monetization/ business impact. Monetary values and visibility of these ideas could vary according to the stage of the idea in the ideas funnel.
 
 
2. Incentivize Kaizen, Lean and Six Sigma Projects
 
Continuous improvements and small innovation efforts are also important for the organization to drive higher levels of productivity, efficiency and business impact.
 
Many organizations in the manufacturing industry run Kaizen programs; such initiatives should be rewarded and recognized by the organization.
 
Organizations in the services industries such as financial services, business process outsourcing and IT services should reward employees for taking up and successfully completing Lean and Six Sigma projects. These projects often help the organization enhance customer satisfaction, productivity and quality of output, and drive down costs.
 

3. Organize Challenges, Contests and Hackathons with Grand Prizes
 
Hackathons, contests and challenges are effective ways for organizations to find innovative solutions for existing business or technical problems and also to develop new product/ business ideas. Usually internal teams participate in such events that are held periodically.
 
Teams with the best projects should be rewarded ad recognized by the organization to drive higher level of participation, innovation and business impact.

 
4. Enable Social Recognition for Innovators 

Employees with the best ideas, innovation projects and initiatives should be recognized publicly within the organization. Social visibility and peer recognition can be quite effective in motivating employees towards innovation, in addition to monetary rewards.

Forums such as online or virtual team meetings, townhalls or award ceremonies can be used effectively for recognizing these 'innovators'. Even digital platforms such as the intranet, MS Teams and Slack channels can be leveraged to garner greater social visibility for them.
Also read: Creating a Culture of Collaboration through Employee Recognition
Bottom-line
Innovation is the key for organizations to develop sustainable competitive advantage. Creating a culture of innovation through employee recognition can be an effective way for organizations to drive innovation and business growth.
To stay updated on the latest HiFives blogs follow us on Twitter (@MyHiFives)