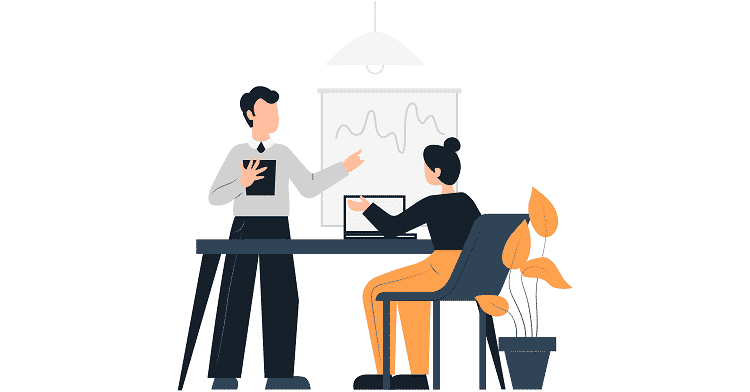 All You Need To Know About Spot Awards
Watch the Video
All You Need To Know About Spot Awards
As organizations increasingly understand the significance of appreciating their employees, they adopt different methods and strategies for recognizing them. As the name suggests, organizations utilize spot awards to reward and recognize exemplary performance or commendable behavior of employees immediately, as and when it happens. In recent years, spot recognition has emerged as one of the most effective ways of boosting employee motivation and engagement.
Significance of Spot Awards
It is a well-acknowledged fact that rewards and recognition help in enhancing the performance and commitment levels of employees. In this context, spot awards or on-the-spot recognition has emerged as an extremely powerful tool for reinforcing desirable behaviors and boosting effectiveness of the workforce.
This is because this method of recognition assures the employees that their supervisors value their efforts and behaviors. They can receive spot awards almost immediately or soon as possible after the act of good performance. This timeliness and specificity of spot awards makes them extremely effective in motivating employees.
Spot awards help employers to express their gratitude towards employees for a job done well and also to set an example for the entire workforce. To make spot awards more impactful it is important to instantly recognize and appreciate performance/ behaviors that the organizations wants to promote. There should be a strong linkage with the overall business goals of the organization or the kind of culture it wants to create.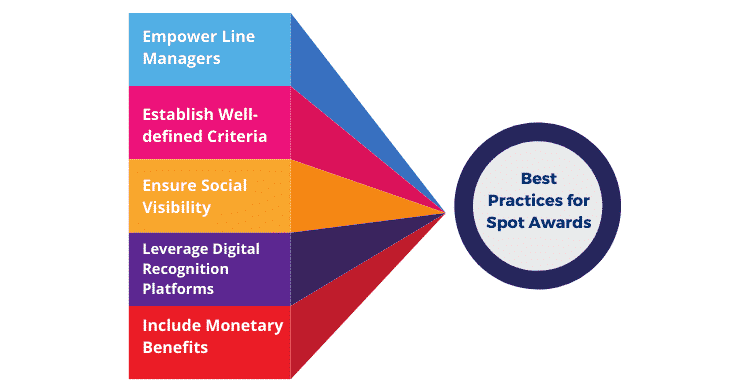 Best Practices for Spot Awards
The primary objective of Spot Awards is to recognize employee efforts and behaviors on the fly and at the moment. To get the best results from this method of recognition, organizations can adopt the following best practices:
1. Empower Line Managers
Empowering line managers to offer spot recognition is one of most important factors to make the program successful. Providing them with a digital recognition tool, sufficient budget, and recognition workflow involving minimal approvals would encourage line managers to reward and recognize employees as and when they demonstrate good performance or behavior.
This helps in building a strong culture of appreciation at the ground level. When their supervisors recognize them immediately, employees feel truly happy and proud. It also assures them that they are on right path in the execution of their business goals.
2. Establish Well-defined Criteria
The organization should establish well-defined criteria for spot recognition, like any other employee recognition policy. This is essential to create transparency, authenticity and credibility of the award in the eyes of the employees and make it something that they would aspire for.
To make the policy more effective, each type of spot awards should have well-defined criteria. This would make it easier for line managers to choose the right level of award based on the impact of the performance/ behavior of the employee.
3. Ensure Social Visibility
Spot recognition is generally offered at the moment; but to make it more effective it should be announced more publicly within the organization. Spot award announcements should be shared either on social media or through a digital wall of fame, to create high level of social visibility.
4. Leverage Digital Recognition Platforms
Using a digital employee rewards and recognition platform to give spot recognition can make it more effective. It helps managers and supervisors to reward and recognition instantly and also to create social visibility by integrating them with other digital platforms in the organization like Slack and Teams or external social media like Facebook and LinkedIn.
Also Read: Manage Spot Awards Using Employee Recognition Software
5. Include Monetary Benefits
One of the key success factors of spot rewards is to offer monetary benefits to the recipients. The organization should tailor the monetary benefits based on the budgets and employee expectations.
Digital recognition platforms can help organizations provide the monetary benefits for spot awards in form of reward points. These reward points can be accumulated over time by the recipients and then redeemed for e-gift cards of their choice. Being able to choose their own e-gift cards makes the recognition experience more personalized and memorable.
Bottom-line
In recent times, powered by digital employee recognition programs, spot awards have emerged as one of the most effective tools for boosting employee motivation and engagement.
To stay updated on the latest HiFives blogs follow us on Twitter (@MyHiFives)