Why Points-Based System Works Best For Employee Rewards And Recognition
The primary objective of any employee rewards and recognition program is to keep employees happy, motivated, and engaged. In recent years, organizations have realized the importance of making gamification elements such as reward points an integral part of their rewards programs to enhance their effectiveness. In this context, let's explore why the points-based system works best for employee rewards and recognition.
Points-based Rewards System – How Does It Work?
In the points-based reward system, employees are awarded points every time they do something significant that contributes to the business growth and success. Employees accumulate these points awarded over a period and redeem them to get pre-decided benefits such gift cards, merchandize or even cash.
These points act as sort of workplace currency that the employees can earn and use. Employees can accumulate the points for a period and redeem them as and when they want. This makes the program more flexible and adaptable.
A points-based reward system offers great benefits for organizations. The overachievements of employees on their key performance indicators can be easily calibrated and rewarded in form of points. It gives employees an immediate sense of achievement and instant gratification when they earn these points. It also motivates them to work harder to earn more points.
Case Study

An AI and digital transformation company, headquartered in the US is leveraging the HiFives platform to run its employee rewards and recognition program for its global workforce. It uses a points-based system, calibrated for different types of awards and different regions.

The award types include service awards, spot awards, value awards, quarterly and bi-annual awards. Employees can earn reward points from various awards and redeem them for gift cards of brands specific to their region.
The system also makes it simpler for managers to track and monitor employee performance. Most importantly, it boosts healthy competition among co-workers to perform better and earn more points.
However, to maximize the benefits of a points-based employee rewards system, organizations need to define clear policies around them. They need to clearly communicate to employees the criteria for earning these points and also the number of points that would be rewarded. Organizations also need to inform employees about how they can redeem with their points and the different redemption options available.
What Are The Benefits Of An Effective Point-Based Rewards Program
A well-developed points-based rewards and recognition program can contribute significantly to the organization. It can boost workforce productivity, improve employee retention, and promote a positive work culture. This makes them extremely popular and widely used by organizations in their employee rewards and recognition programs.
Here are the key benefits of such a rewards program: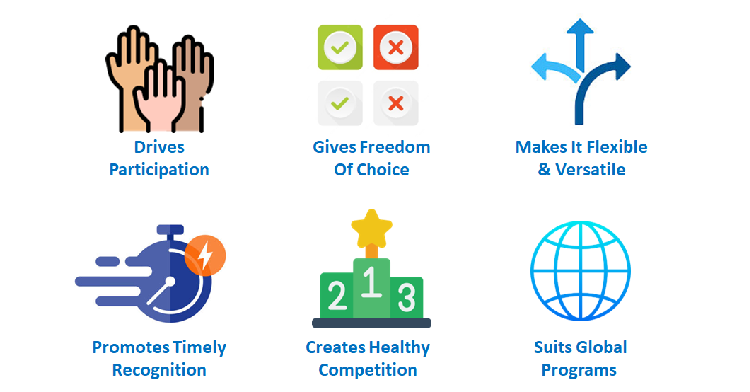 1. Drives Employee Engagement And Participation
Reward points add an element of gamification to the employee rewards and recognition program. Hence, receiving them makes the employees feel motivated and engaged. Earning points for meeting difficult deadlines or challenges provide employees with a sense of achievement similar to playing a game.
The zeal to earn more reward points motivates the employees to improve upon their performance and increase their productivity. The points system offers a game-like experience which attracts the younger segment of the workforce (especially millennials) and drives participation.
2. Provides Freedom Of Choice
The points-system acts a currency for employee rewards and can be calibrated based on different performance criteria and levels. It offers employees a system to accumulate points from different rewards and redeem them as they wish.
Employees can redeem these points for a wide selection of gift cards and merchandize, which provides them with the freedom of choice. They are not locked onto specific reward items unlike traditional reward systems.
3. Is Extremely Flexible And Versatile
One of the biggest benefits offered by a point-based recognition system is that it is extremely flexible and versatile. This makes it easy to modify the program by recalibrating the points-system with the different levels of rewards and recognition. This can help meet the changing needs of the organization as well as of the employees.
4. Promotes Timely And Regular Recognition
Organizations understand the importance of recognizing their employees instantly and regularly quite well. A point-based system, integrated with an efficient employee recognition platform can help organizations achieve this objective easily.
With a points-based system, employees can be rewarded on the spot by their managers for demonstrating good performance. They can be awarded with a relatively small number of points. Employees can accumulate these points over a period of time, as they get multiple awards. They can eventually redeem them for something of their choice.
5. Boosts Transparency And Healthy Competition
A points-based system makes the entire rewards and recognition program very transparent and trackable. Employees can easily know where they stand vis-à-vis their peers in the organization. Their managers and HR can also track their progress and intervene as and when required.
Other gamification elements such as timelines and leaderboards also create healthy competition between co-workers. They strive to work harder and perform better to earn more reward points.
6. Suitable For Global Rewards Programs
Most organizations today have a global workforce, spread across multiple countries. Organizations can consolidate their employee rewards programs and run a single points-based rewards system.
A point-based reward system can enable employees to earn reward points and then redeem them for local options in local currencies. This streamlines the entire process of employee rewards globally.
What Are The Best Practices For Setting Up A Points-Based R&R System
An effective points-based employee rewards and recognition system can help the organization promote desirable behaviours, reinforce organizational values, and achieve business objectives.
However, organizations need to incorporate certain best practices to make the points-based reward systems work effectively for them.
Here are the top 5 best practices that they need to follow: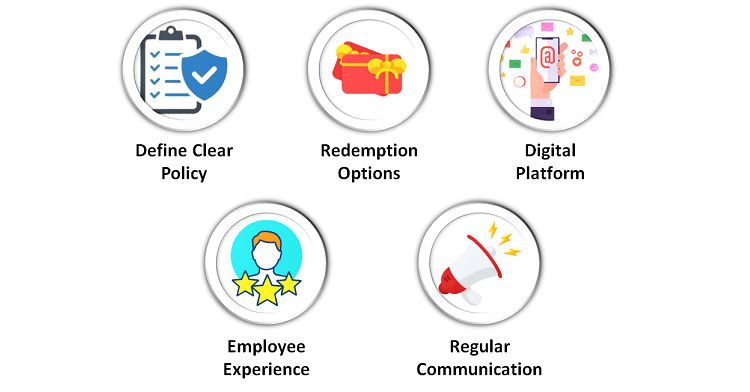 1. Define A Clear Policy For Earning Points
The organization should define the points system for employee rewards clearly. They should lay down the criteria for each award and the number of points associated with each of them. The organization should also state the monetary value of each reward in the local currency without any ambiguity. If the points have a limited validity, that should also be communicated upfront. So, that the employees know for how long they carry the points and when to redeem them. Overall, the rules of the game should be made very clear!
2. Provide Great Options For Redeeming Points
Earning rewards points is just half of the gratification that employees can experience. Redemption is the other half. It is critical that the points-system is backed by a wide choice of meaningful and exciting redemption options. These could include a variety of gift cards and merchandize of different types and brands. These options should be specific and relevant to the employee's location and profile.
3. Leverage A Robust Digital Platform
An effective employee rewards and recognition platform is the backbone of a good points-based rewards system. The platform enables the employees to earn and redeem points easily. It sends out notifications and alerts to them at different stages of the cycle. It also helps them track their earning and redemption histories and check their balances in real-time.
Other gamification features such as digital badges, timelines, walls and leaderboards are important features that should be included in the digital platform used. Easy user access using single sign-on through integration with other platforms such as HRMS, MS Teams and Slack and mobile apps are also important.
4. Focus On Employee Experience
Organizations should focus on enhancing employee experience and maximizing engagement through the point-based rewards. They need to ensure that the system is uncomplicated and easy to understand for employees and their managers. It should also generate a high level of interest, excitement and engagement among the employees. The user interface and navigation should be user-friendly, intuitive and engaging. Overall, the points-based system should attract employees to use it and drive participation.
5. Communicate Regularly
It is equally important for the organization to communicate about the program on a regular basis. Such communication should include highlights, updates on new features and policy changes, etc. Regular communication serves as reminder for the employees to participate in the program. It also helps them to stay updated on the rules of the game.
Final Thoughts
A points-based rewards system can help gamify an employee rewards and recognition program effectively. This, in turn, makes the whole experience interesting and attractive for the employees, improving participation rate and makingthe program more impactful. This is why a points-based system works best for employee rewards and recognition and is becoming increasingly popular with organizations.
To stay updated on the latest HiFives blogs follow us on Twitter (@MyHiFives)