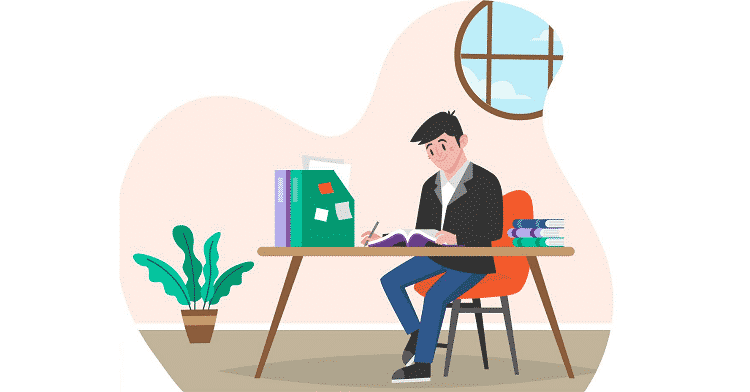 Key Elements of a Perfect Employee Recognition Program
Today, employee engagement and motivation has become a focus area for most organizations. Hence, all organizations need to invest in well-developed and effectively implemented employee recognition programs. In this context, understanding the key elements of a perfect employee recognition program is of utmost importance for any organization.
What are the Major Benefits of Employee Recognition?

The objective of any employee recognition program is to celebrate employee efforts and achievements and make them feel valued. When implemented in the right manner, these programs can provide major benefits for an organization: 

– Help boost employee morale and motivation, which, in turn can enhance their efficiency and drive business growth. 

– Improve the overall profitability of an organization by enhancing employee productivity and work quality.

– Ensure better retention of top talent by appreciating and rewarding them for their good work and contribution.

– Inspire employees to work harder and better to receive same kind of recognition as their colleagues.
How to do Employee Recognition effectively?

To leverage the full benefits offered by a recognition program, it is important that organizations provide recognition effectively. Hence, recognition should be specific, timely, regular and public to make it more impactful.

In addition, organizations should also ensure that the recognition is inclusive and well-integrated with key corporate values.

These factors add together to make the recognition more authentic and inspiring for the employees. Organizations should focus on incorporating the key elements of a perfect employee recognition program to enhance their effectiveness.
What are the Most Important Elements of an Employee Recognition Program?

Even though organizations implement employee recognition programs in different ways, there are a few key elements that every such program should feature.

The most important of these elements of perfect employee rewards and recognition program is as follows: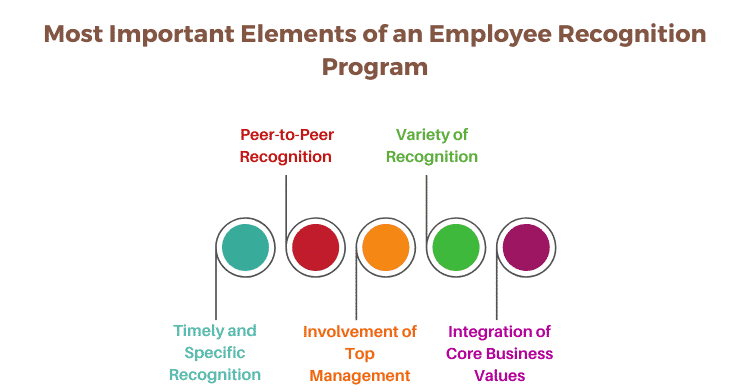 1. Timely and Specific Recognition

The organization needs to ensure that the recognition program can appreciate deserving employees in a spontaneously. In fact, timely recognition motivates employees and inspires them to continue to give their best for business growth.

Moreover, the program should focus on recognizing specific efforts, achievements, and even specific behaviors of employees. This is essential to maintain the relevance and authenticity of the program. 


2. Involvement of Top Management

Effectiveness of recognition often depends on how actively the top management participates in the program. In fact, active participation of the top management sends out a strong positive message about the significance of the program.

They feel assured that the big wigs within the organization really value their efforts and their achievements. In fact, it can go a long way in enhancing employee engagement and keeping them motivated about the recognition program.


3. Peer-to-Peer Recognition 

Peer-to-peer recognition holds almost the same level of significance as the recognition offered by top management. Being appreciated by their peers and co-workers for their good work and achievements fills the employees with a sense of pride and accomplishment that is quite unmatched.

It assures the employees that they are truly respected by their colleagues. Rather than causing resentment among their fellow workers, they have actually managed to win their trust and appreciation. This in itself can help in increasing the engagement level of the employees significantly and make them feel valued.


4. Variety of Recognition

It is extremely important for organizations to maintain employee interest in the recognition programs to keep reaping its benefits. This can be ensured by increasing the variety of recognition so that the employees feel constantly excited and curious about the program.

Another major benefit that organizations are likely to enjoy by enhancing the diversity of their recognition programs is that it enables them to acknowledge and appreciate a greater number of employees for different reasons, thus enhancing its reach to include the maximum number of employees.

The diversity in recognition can ensured if employees at different levels are rewarded and recognized and under different criteria. Therefore, this increases the coverage of the program and helps in building a happier and more satisfied workforce. 


5. Integration of Core Business Values

Building a perfect recognition program is nearly impossible if it is not integrated the core values of an organization. So, this ensures that employee engagement is for the right reasons, which, in turn, helps in reinforcing the organization culture effectively.

Hence, to integrate the program with corporate values, the organization should clearly establish performance and behavioral criteria for different rewards and recognition. Therefore, these factors should form the basis on which a strong and effective recognition policy and system is developed.

Bottom-line
Understanding the key elements of a perfect employee recognition program is the first and the most important step that organizations need to take in the direction of developing such a system that is effective in motivating their employees and driving business growth.
To stay updated on the latest HiFives blogs follow us on Twitter (@MyHiFives)