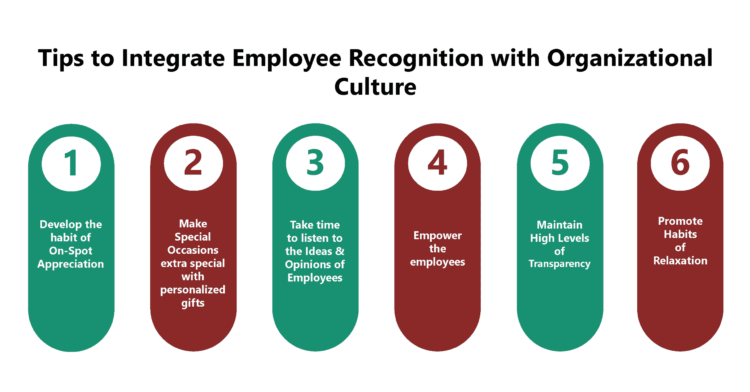 Many HR experts are of the opinion that a majority of professionals across various organizational levels consider being appreciated at the workplace to be more important than receiving additional monetary benefits. As a result, organizations today are paying much more attention to the development and implementation of efficient employee rewards and recognition programs. Integrating these programs with the Organizational Culture can further benefits, which can result in enhanced business growth.
Need to Integrate Employee Recognition with Organizational Culture
It is an accepted fact that both Employee Recognition and Organizational Culture help in maximizing performance and minimizing employee turnover. However, the idea of integrating the two for enhancing business growth is relatively new.
It can help develop a positive work environment where professionals can enjoy working. It will also promote the sense of self-motivation and commitment towards the organization within the workforce.
Most importantly, it will help to build an organizational culture where performance is valued and appreciated and hence attract top talent.

A Work Human 2017 Survey Report found that in organizations having a values-based recognition program, employees are much more likely to embrace the core values and behave accordingly.  On the other hand, when there's no recognition program at all, employees are much more likely to not even be aware of the core values.
What are the best ways to integrate Employee Recognition with Organizational Culture?

Building a work culture based on employee recognition is requires constant effort and dedication, especially by the managers, supervisors and team leaders. The following tips can prove helpful to make employee recognition an integral part of the organizational work culture:


1. Develop the Habit of On-Spot Appreciation

Managers and supervisors need to develop a habit of thanking employees every time they see them going above and beyond their call of duty. They need to assure the employees that their efforts are not going unnoticed and make them feel appreciated for the same.

Managers need shed the mindset that employees are anyways aware that what they are doing is good and being valued. However, the mere acknowledgement by their superiors can go a long way in reinforcing their confidence and keeping them motivated.


2. Make Special Occasions Extra Special with Personalized Gifts/ Rewards

A majority of organizations present gifts to their employees on special occasions such as birthdays and anniversaries. They can make these occasions extra special for the employees by presenting them with personalized gift items.

Such initiatives reflect a sense of understanding and care for employees by the organization. They can prove to be an extremely useful tool to motivate and win over entry-level employees, trying to get a hang of things around them.


3. Take Time to Listen to the Ideas and Opinions of Employees

One way of appreciating employees on a day to day basis in order to develop a recognition-based work culture is to listen to what employees have to say. The team leaders and managers should take time out to learn about any new ideas that their team members might have that can help the organization and thank them for just coming up those.

In addition, they should listen to their feedback and complaints, rather than risk them being shared publicly on social media channels. Even if the ideas or opinions expressed by the employees are not acceptable, they should be thanked for the same.


4. Empower the Employees

Giving a little additional responsibility to the employees makes them feel trusted. However, these additional responsibilities should not make the employees feel overburdened with work, as in that case the employees will feel demotivated and dejected.

Involving the employees while taking key decisions can help empower them and build their confidence. In fact, most employees view such additional responsibility as a form of employee recognition and feel motivated by it.


5. Maintain High Levels of Transparency

One of the most important aspects of building a work culture that is integrated with employee recognition is to maintain optimal transparency in everyday working.

Managers need to be open and honest with their team members and keep them updated about any new developments in the organization. This helps in building trust between the employees and the managers and also assures them of being an integral part of the organization.


6. Promote Habit of Relaxation

Many times managers might sense a slowdown in the working of their teams. Rather than ignoring this as something that will pass with time or getting alarmed, managers should motivate their team members to take a break and relax.

They can take the initiative of inviting the entire team to enjoy a cup of coffee or to take a stroll outside the four walls of the office. This helps the employees feel relaxed and rejuvenated. It also make them feel that their hard work is being noticed and the organization cares about them.


Bottom-line
Most organizations would like to motivate and engage their employees and stick by them even during the worst times. One way of achieving this objective is by integrating employee recognition with the organization culture.
To stay updated on the latest HiFives blogs follow us on Twitter (@MyHiFives)