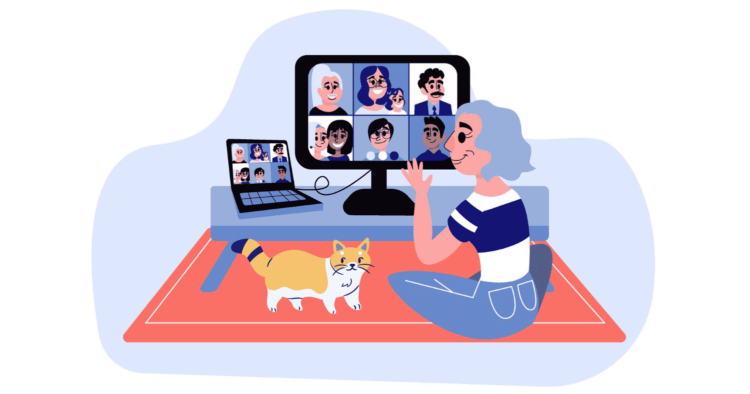 A Guide to Organizing a Virtual Employee Awards Ceremony
The Covid-19 pandemic has forced organizations to digitize most of their HR processes including employee recognition. However, many organizations are still trying to figure out how to organize a virtual employee awards ceremony effectively, a traditional must-have annual practice for most organizations.
With work from home or remote working almost becoming the new normal, its not surprising that the HR teams in many organizations are looking for the best ways to organize a virtual employee awards ceremony, that meet the expectations of their employees.
Read about the Key Reasons to Digitize an Employee Recognition Program
Why Organize a Virtual Employee Awards Ceremony?
Most organizations have had to digitize most of their HR processes from recruitment, onboarding, training, engagement, performance management and even exit interviews, due to the ongoing pandemic,
Employee recognition is one of the core HR processes that organizations have digitized already or are planning to digitize.
The annual employee awards ceremony has been an integral component of the employee recognition program of most organizations.
Often coupled with the annual or foundation day, it is a big opportunity for the organization to recognize and appreciate their high-achieving employees in front of the entire workforce including the senior management.
It is a hugely motivating and memorable occasion for the award winners and aspirational for all others.
Award ceremonies are great opportunities for the business leaders to share updates on the latest developments and the roadmap of the business with the entire workforce.
These are also great for team bonding and an opportunity for senior leaders to interact informally with employees across ranks on the sidelines of the event.
Given the importance of the event and the challenges of attempting to replicate it virtually, many organizations have postponed or even cancelled them.
Since normal operations are unlikely to resume in the near future, a few organizations have take the bold step of organizing these award ceremonies virtually.
Organizations have realized the importance of holding such events when employee morale and motivation is at a historic low due to the challenging circumstances. Cancellation or postponement might be further demotivating for the award winners and other employees.
Organizing a virtual award ceremony has other benefits as well:
Takes care of employee health and safety concerns
Cost savings on physical venue, infrastructure, event management, logistics, etc.
Shorter planning cycles and faster execution
However, replicating the experience of an offline event virtually is not an easy task. Hence, organizations need to plan and execute such events properly to ensure that meet their objectives and expectations.
Best Practices
How to Organize a Virtual Employee Awards Ceremony?

Hosting a virtual awards ceremony can present some pretty significant challenges.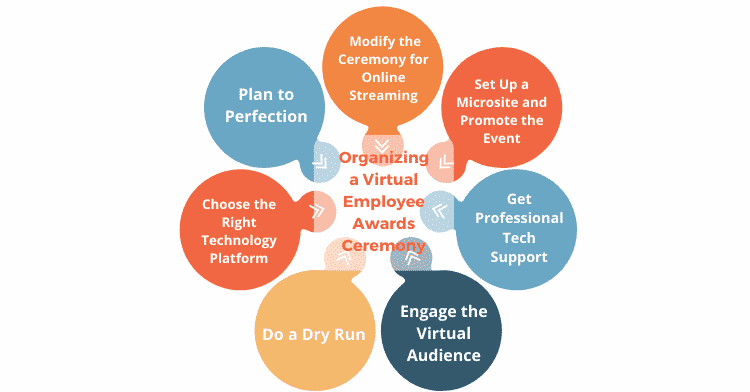 The best way for companies to overcome these challenges is by investing time and effort in planning the event in the right manner. Here are a few tips:


1. Plan to Perfection

Organizing a live event, whether offline or online requires meticulous planning. It is even more critical for an online event as it is likely to be shorter with no-breaks. Here are the key elements of the plan:

– Event schedule
– Event anchors/ master of ceremony
– Speakers and presenters
– Presentations and videos
– List of awardees

 
2. Choose the Right Technology Platform

One of the most critical decisions in the planning of a virtual award ceremony is to choose the right technology platform. There are many factors that would determine this choice:

– Scalability – based on the number of participants
– Bandwidth requirement – given that the network speed for participants might be different
– Stability – the platform should be reliable and not prone to crashes due to peak load
– Interactivity – the extent to which participants can get actually involved in the event

 The organization could look at various options of technology platforms for organizing a virtual awards ceremony:

– Standard Web Conference Tools including the enterprise editions of MS Teams, Zoom, WebEx, GoToMeeting, Google Meet, etc.

– Virtual Event Platforms such as BigMarker, GoToWebinar, HeySummit, Hopin, SpotMe, vFairs, etc.

 
3. Modify the Ceremony for Online Streaming

The flow of the event should be planned in a way so as to make the transitions smoother and faster as compared to offline events. Unlike offline events, where transitions and breaks are part of the event flow, they are not possible in virtual events.

Also, slideshows and pre-recorded videos of the presenters and awardees should be combined with the actual live streaming. To minimize the transitions, professional editors might be required to create these videos.


4. Set Up a Microsite and Promote the Event

It is a good idea to set up an event microsite for the virtual employee awards ceremony, which could be hosted on the company intranet or another internal platform.

The microsite can be given the look and feel of a virtual town hall or any other popular venue for hosting the ceremony. Moreover, the microsite should act as the hub of information about the event for the participants with all links and updates. 

Also, the organizers should promote the virtual award ceremony to ensure maximum employee participation through email, collaboration platforms and internal social media.


5. Engage the Virtual Audience

Engaging a virtual audience is quite challenging as compared to an offline audience as they can easily log off or just ignore the event if they get bored.

Hence, the event organizers need to plan and facilitate active participation the audience in the event. This may include:

– Q & A sessions
– Audience chats
– Audience polls (before/ during/ after)·  Quizzes and Contests
– Entertainment ((live/ pre-recorded)
– Skits
– Dance/ musical performances
– Stand-up comedy acts
– Audience giveaways/ prizes (e-gift cards/ vouchers)

 
6. Get Professional Tech Support

Organizing a virtual employee awards ceremony without proper professional help can become a nightmare.  The organizers should rope in professionals with expertise and experience of digital/ streamed events, whether internal or external to manage the entire 'backstage' operations.

These experts can help in selecting the right platform, setting it up and managing the platform during the actual event. Also, they can quickly troubleshoot any technical issues that may arise.


7. Do a Dry Run

Like offline events, it is critical to do a full dry run of the event to ensure there are no technical glitches in the setup of the platform. Hence, the transitions need to be rehearsed to ensure that they are smooth.

Also, it is important to double-check all videos, graphics, audios, and presentations for resolution as well as grammatical and  spelling errors.
Bottom-line
Given the current situation, it is important for organizations to get a grasp of how to organize a virtual employee awards ceremony effectively.
It can help organizations boost the morale and motivation of their workforce without compromising their health and safety.
To stay updated on the latest HiFives blogs follow us on Twitter (@MyHiFives)