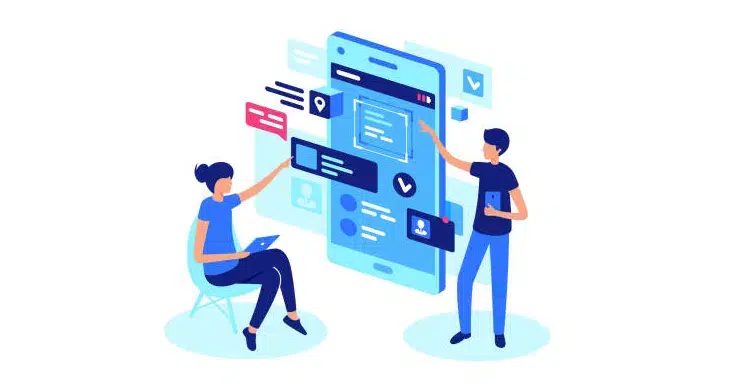 Why Employee Rewards App Is A Must-have For Organizations
The Employee Rewards App has emerged as the most important technology tool for organizations to best leverage the benefits of rewarding and recognizing their employees.
Businesses today understand the significance of providing a great employee experience for the members of their workforce. Employee rewards play a critical role in this and hence is a key focus area for most organizations.
With the growing impact of technology on various business processes, it is not surprising that organizations have come to rely heavily on various technology tools to enhance the effectiveness of their rewards programs. Technology makes it possible for organizations to replace traditional rewards models with much more efficient methods. It helps in making the rewards process systematic, boosting its efficiency and impact significantly.
Employee Rewards App – A Brief Overview
An employee rewards app is essentially software designed to improve and automate practices used by organizations to reward their employees. Using these apps makes it easier for organizations to maximize the benefits of digitizing rewards and recognition programs.
From providing easy integration with various social media platforms to making the rewarding process more meaningful and personal, these apps offer a wide range of possibilities for organizations. They provide a more reliable and effective way to make rewards and recognition an integral part of the journey of the employees in the organization.
Most importantly, the employee rewards apps help organizations turn the concept of rewarding employees, anytime and anywhere into a reality.
Why Organizations Need Employee Rewards App
In modern times, organizations are adopting new work models to maximize employee efficiency and satisfaction. These work models are quite unlike the traditional fixed place and time of work model that they used to follow just a few years back.
Consequently, organizations need to evolve their rewards and recognition policies to better match the needs of the changing work environment. This is where investing in rewards apps such as HiFives, Vantage Circle, Empuls, Bonusly and Kudos can prove extremely beneficial for organizations.
These apps can make the process of online employee rewards more efficient and streamlined. They can prove especially advantageous for organizations using a hybrid work model by making it easier to reward work from home, in-office, and on-field employees in a timely manner.
This can go a long way in enhancing the impact of the reward programs towards building a motivated and committed workforce irrespective of how or where the employees are working from.
Key Benefits of Investing in an Employee Rewards App
Employee rewards apps make it easier for organizations to implement rewards and recognition best practices and foster a culture of appreciation. They also offer a wide range of features and functionalities that impact key aspects of employee behavior and efficiency in the workplace.
Here are a few of the key benefits that organizations can enjoy by investing in employee rewards apps:.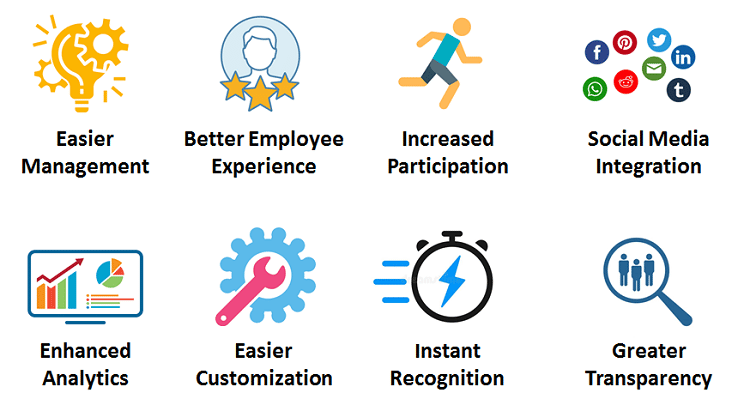 1. Makes Program Management Easier
Rewards apps make it easier for organizations to target and reward specific behaviors and achievements of employees. The apps also make it easier to communicate the rewards, view and analyse the program data in real time, and manage the rewards program effectively.
2. Enhances Employee Experience
Unlike the traditional employee recognition, these rewards apps can make the experience much more personal and unique for individual employees. The apps can provide vital data about the needs and preferences of the employees enabling organizations to reward them accordingly. This can help in creating a great experience for employees and boosting their sense of commitment and engagement towards the organization.
3. Improves Employee Participation Rates
Rewards apps help to make the recognition process more easy and convenient for employees to participate in. This helps in enhancing employee participation rates in these programs by making the app easily accessible. Moreover, the familiarity of millennials with the app culture drives them to adopt this tool as an integral part of their professional lives.
4. Ensures Better Social Media Connectivity
Social media has come to play an important role in enhancing the impact of rewards policies implemented by organizations. That is why ensuring better connectivity of their employee rewards program with various social media channels has become a top priority for organizations. Most rewards apps have built-in social media integration capability; this makes it easier for organizations to instantly share employee rewards updates on these platforms.
5. Enhances Quality of Analytics and Reporting
The rewards apps are designed to collect employee data in real-time; this helps in improving the quality of analytics and reporting significantly. Organization can better assess the needs and expectations of their employees and align their rewards policies accordingly. They can also use this data to track the progress of their rewards program and gain a better understanding of what is working well and what needs to be changed.
6. Eases Configuration and Customization
Rewards apps, like most other business apps, are easy to configure and customize to match the specific needs of individual organizations. This makes it easier for organizations to implement any rewards and recognition policy based on the changing business and employee needs. It also offers greater flexibility in terms of integrating business objectives and corporate values into the rewards programs.
7. Provides Instant Recognition Effectively
Rewards apps also make it easier for organizations to offer instant rewards and recognition more effectively. Organizations no longer need to wait for a monthly or quarterly cycles, award ceremonies or in-person meetings for rewarding them. The seamlessness and round-the-clock availability of rewards apps allows managers , supervisors and even co-workers to appreciate and acknowledge the good work of other employees, anytime and from anywhere.
8. Creates Greater Transparency in the Process
As the hybrid work environments become more and more common, employees need to be assured more than ever about the authenticity of the rewards and recognition process. Rewards apps can help organizations fulfill this objective by creating a transparent process, visible to all employees and making it responsive to their inputs and feedback.
Summing Up
Investing in employee rewards app is the need of the hour for organizations at this time of big changes at the workplace, when employees feel a great need to be valued and appreciated.
To stay updated on the latest HiFives blogs follow us on Twitter (@MyHiFives)