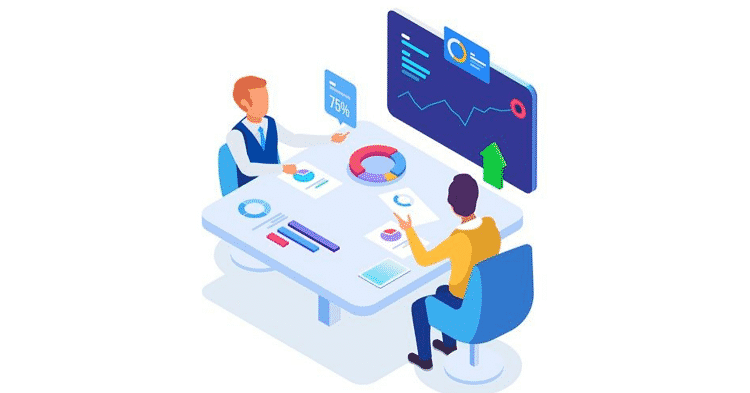 How to Choose the Best Employee Recognition System for your Organization?
Employee recognition has become part of the core HR strategy of most organizations. From employee engagement, workforce efficiency and talent retention, employee recognition has come to deeply impact every aspect of an organization. To get the desired benefits, organizations need to select and implement the best employee recognition system. However, organizations should keep a few points in mind while selecting the employee recognition software.

How to choose the Best Employee Recognition Platform?

There are many employee recognition platforms available in the market today. However, choosing the best one for an organization is no easy task. It requires understanding of business objectives of the program, employee expectations and comparative view of different employee recognition platforms.

The best employee employee recognition platform is dependent on the specific needs of the organization. However, the 10 points below might help in the decision making process.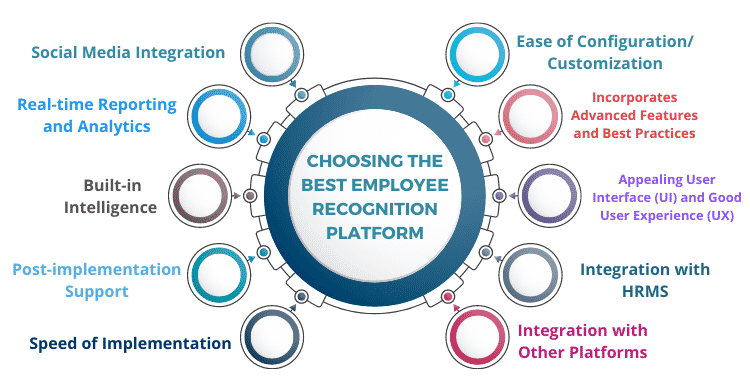 1. Ease of Configuration/ Customization

The employee recognition platform should allow the organization to configure various types of rewards and recognition. These could include Spot Awards, Peer-to-Peer Recognition, Team Awards, Quarterly and Annual Awards, Service Awards, etc.. Also, each award would have relevant workflows and monetary values as defined by the rewards and recognition policy.

The platforms would be configurable to enable company branding, definition of business units and budget management. Additionally, it should be possible to make changes in the configuration even post implementation to incorporate changes in the policy.


2. Incorporates Advanced Features and Best Practices

A good employee recognition system should have features such as gamification, wall of fame, leaderboards, and on-platform redemption options. Language localization might also be a good feature to consider, especially if the program spans multiple geographies. Also, jury evaluation of awards might be useful if the organization is planning to have quarterly and annual awards.

A platform with differentiated features can often add value to the program. Hence, such a platform can create additional impact over time as the organization explores and implements the additional features.


3. Appealing User Interface (UI) and Good User Experience (UX)

Organizations should ensure that the recognition platform is easy to use and engaging for both giving and receiving recognition. A recognition platform that is dull and boring is less likely to attract employee attention and might see low usage.

Choosing a platform that is user-friendly and attractive is critical for the organization to drive usage and derive expected benefits.


4. Integration with HRMS

The selected employee recognition platform should be integrated with the existing systems such the HRMS or the HRIS. So, employees should be able to log in using Single Sign-On (SSO) without using separate user credentials.

The platform should also be able to update employee data from the HRMS automatically, without any manual intervention. Hence, it will ensure that the employee data in the platform is up-to-date to avoid incorrect workflows.

5. Integration with Other Platforms

The platform should easily integrate with other platforms such as Google Workspace, Office 365, Microsoft Teams, Slack, Yammer and Workplace. So, it can ensure easy and convenient access to the recognition platform for employees.

It should also support integration with other platforms such as Intranet, Learning Management Systems (LMS), Project Management Systems (PMS), Customer Relationship Management Systems (CRM), etc.. Hence, it would enable rewards and recognition to get triggered automatically from these systems or publish recognition updates to these systems.


6. Built-in Intelligence

One of the key ways to make an employee recognition system truly effective is to ensure timely appreciation. As such, an intelligent notification system is a great feature to have for a good recognition platform. Hence, it should alert managers and co-workers a significant achievement happens and nudge them to recognize the concerned employee.

Through these intelligent alerts and nudges, the system can ensure timely recognition and maximize the overall effectiveness of the program. Hence, integration with other platforms that employees might be using for their everyday work might be required.


7. Real-time Reporting and Analytics

A good recognition system should provide real-time data and analytics to help the HR and management monitor the program continuously. The data can also be used to gain insights and take necessary actions to make the system more effective.

It should be possible to configure thresholds for different metrics that can trigger alerts to the HR. These timely alerts can the HR to make changes to the program on the fly.


8. Social Media Integration

Given the growing impact of social media, social media integration is a must-have feature for any good recognition platform. Employees should be able to share rewards and recognition they have received on their social media profiles. Event the HR should be able to share these employee recognition updates on their company Facebook and LinkedIn pages.

Such social media sharing can provide social reinforcement and acknowledgement for the employees, enhancing their level of motivation. For the organization, it can be a good way to build a positive employer brand.


9. Speed of Implementation

Once the recognition platform is selected by the organization, it should be possible to implement it quickly. A robust implementation process ensures that the business requirements are captured, mapped and configured in the system quickly and accurately. This can be done through checklists, templates and project plans.

Availability of pre-configured industry solutions and APIs for integration with other systems can also accelerate the implementation. In-depth domain expertise of the implementation team is also important to consider.


10. Post-implementation Support

Customer support after implementation of the recognition software is is critical to the success of the program. This needs to be at different levels.

Employees should be able to get support for any issues over live chat, email or phone during the business hours. Also, they should get access FAQs, interact with bots or log tickets for issues they are facing.

The HR should get support through account managers for urgent or escalated issues, important queries and change requests. In fact, the account manager should connect them with experts who could provide new ideas and best practices for the program.


Bottom-line
Looking for these 10 key points in an employee recognition platform can help organizations to effective employee recognition programs that can drive long-term benefits in the form of enhanced employee productivity and retention.
To stay updated on the latest HiFives blogs follow us on Twitter (@MyHiFives)