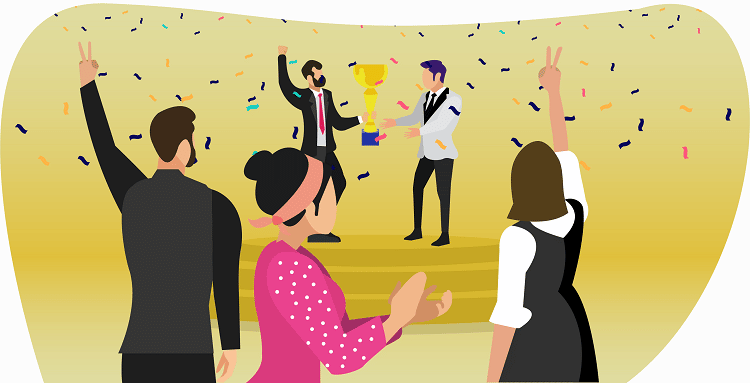 Employee Rewards Is At The Center Of Workplace Gamification
Workplace gamification is a fast emerging trend in organizations across industries. It is helping drive employee motivation to newer levels that traditional HR practices might be challenged to achieve. Hence, more and more organizations are adopting gamification at their workplaces to engage and motivate their workforce. One of the interesting points to notice is that employee rewards is at the center of workplace gamification and is critical to the success of such initiatives.
Key Benefits of Workplace Gamification
According to an article in Forbes, Gamification "uses game-based mechanics, aesthetics and game-thinking to engage people, motivate action, promote learning and solve problems."
At the workplace, gamification can be used to drive performance, productivity, quality of work, skill development and even innovation.
According to the findings of a study conducted by Verizon, gamification increases productivity levels for 90% of workers and increases awareness of co-workers' goals and tasks for 86%.

The top benefits of gamification, according to survey respondents, are increased engagement at work, inspiration to be more productive and increased focus and ability to stay on task. (30%, 27%, and 20%, respectively).
Employee Rewards can Drive Workplace Gamification
Employee rewards can drive effective gamification at the workplace, A well-designed and implemented employee rewards program has the following game elements: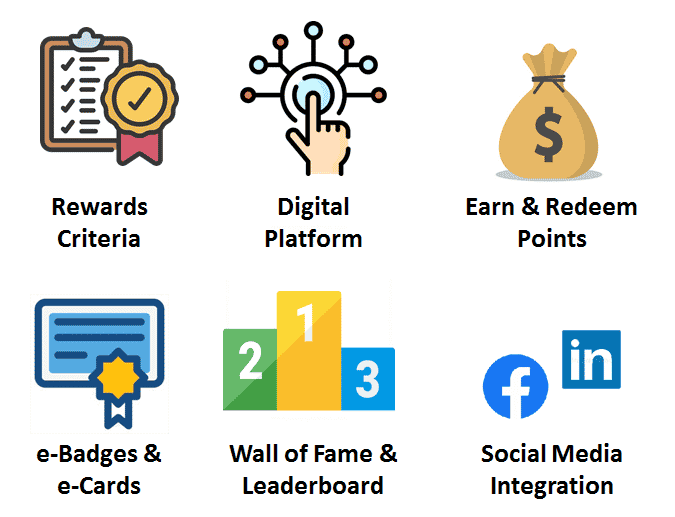 1. Defining the Reward Criteria
Goals and targets are key aspects of gamification. These are implemented through the eligibility criteria for different reward types. Each type of reward should have a well-defined criteria based on key performance indicators, demonstration of core values, learning milestones or innovation.
Employees work towards meeting the criteria of these rewards and compete with one another in doing so. This is one of the critical principles of gamification. Team awards can encourage collaboration in addition to individual performance.
2. Using a Digital Platform
Using a digital employee rewards platform makes the entire process of rewards completely transparent and timely. Supervisors can reward their team members instantly based on their performance or achievements.
The platform can also be integrated with other platforms in the workplace such as CRM, ERP, LMS or attendance systems that capture and track employee performance or behaviour. Through such integration, rewards can be automatically triggered on meeting the defined criteria.
Employees can access the employee rewards platform from anywhere, either using their desktop or mobile devices. Supervisors can reward on the move; employees can track their rewards anytime, anywhere. Use of the digital rewards platform can drive higher levels of participation and makes gamification an integral part of the work culture.
3. Earning and Redeeming Points
Employees can earn points from various rewards they receive as part of the employee rewards program. Typically, reward points have monetary value, either directly or indirectly. This is yet another essential element of gamification.
Employees can redeem their reward points for gift cards, merchandize or cash through the rewards platform itself. The monetary benefits can act as a strong motivator for employees to participate in the program and drive the success of the gamification initiative.
4. Collecting e-Badges and e-Cards
Apart from reward points, employees also receive digital badges and e-cards or e-certificates as part of their rewards. These are typically customized for each type of reward and include the company branding. Collecting these badges and cards is equivalent of collecting trophies and shields in the physical world.
Collecting these badges and cards over time, gives a sense of pride, achievement and self-satisfaction to the employees that can help motivate them to enhance their performance further. This is yet another key aspect of gamification.
5. Utilizing Wall of Fame and Leaderboard
Social visibility of the rewards across the organization also gives a great boost to the motivation of winners of these awards. The wall of fame feature in the employee rewards platform enables co-workers to see and congratulate the winners through likes and comments.
Leaderboards showcase the top rewarded employees, either by the number of reward points or awards received. There could be a leaderboard across the organization or separate ones specific to each business unit.
Being seen on the leaderboard or being congratulated through the wall of fame gives a tremendous sense of accomplishment for the winners and motivates them further. It also makes the rewards more aspirational for other employees and motivates them to perform better.
6. Leveraging Social Media Integration
Integration with social media platforms such as LinkedIn and Facebook can take the social visibility to the next level, beyond the boundaries of the organization. Employees can share their reward communication or badges received with their friends and connections on social media.
Sharing on social media enables them to garner tremendous visibility and the opportunity to get likes and congratulatory comments, which can give a fillip to their sense of achievement and motivation.
Bottom-line
Employee rewards is at the center of workplace gamification; a well-executed rewards program can help the organization realize the intended benefits such as higher performance, productivity and innovation from their workforce.
To stay updated on the latest HiFives blogs follow us on Twitter (@MyHiFives)