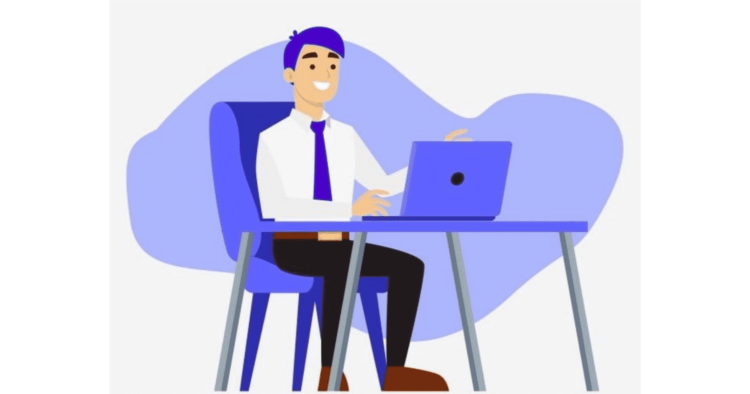 7 Key Responsibilities for Business Leaders in 2021
Watch the Video
7 Key Responsibilities for Business Leaders in 2021
In normal times, business leaders play a significant role in driving the growth of their organizations through their vision, risk-taking and management abilities. The current crisis driven by the COVID-19 pandemic has pushed certain key responsibilities for business leaders in 2021 to address the various challenges facing the organizations.
Current Challenges for Business Leaders
The many disruptions faced by organizations over the past several months due to the COVID-19 pandemic have posed several challenges for business leaders.
The most important of these challenges are as follows.
– Ensuring near-normal business operations
– Ensuring employee health and safety
– Managing remote teams effectively
– Keeping the workforce motivated
– Reinforcing work culture for a remote workforce
– Driving business growth despite all the challenges
Hence, quite unsurprisingly, there would be specific key responsibilities for business leaders in 2021 that can help organizations to overcome these challenges effectively.
What are the Key Responsibilities for Business Leaders in 2021?

Given the challenges in the business environment posed by the COVID-19 pandemic, organizations are looking towards their business leaders to provide them direction.

The 7 key responsibilities for business leaders in 2021 are as follows: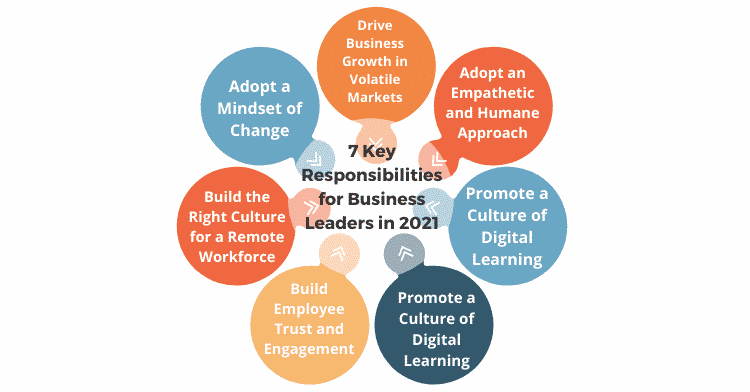 1′. Drive Business Growth in Volatile Markets

The COVID-19 pandemic has unleashed the worst economic upheaval in modern times with high volatility in the markets. Hence, this has forced organizations to continuously rework their business plans as the situation pans out.

Therefore, in 2021, business leaders need to play an important role in devising flexible strategies to not just survive under such volatile market conditions but to exploit all available growth opportunities.


2. Adopt a Mindset of Change

Business leaders in 2021 need to be more flexible and comfortable with the massive changes in the way businesses operate. Hence, it is essential for the leaders to find growth opportunities in areas where the changes are taking place.

The mindset of staying abreast of the changes can prove valuable for organizations to drive business growth under these tough economic times and can become sustainable competitive advantage in the long run.


3. Build the Right Culture for a Remote Workforce

In 2020, managing remote teams is something that organizations were forced into suddenly, without any time to prepare. So, in 2021, as remote working has become the norm, organizations need to build and reinforce the right culture for their remote workforce.

Business leaders need to work closely with HR teams and managers and implement new strategies and tools that can help build the right culture for a workforce that is working remotely.

Read: 7 Ways HR Software can support your Remote Workers


4. Build Employee Trust and Engagement

During these challenging times, organizations need to build employee trust and engagement to ensure business continuity and growth despite the continuous challenges and adverse market conditions.

Hence, in 2021, business leaders need to play a key role in communicating to the workforce on a regular basis through digital platforms; sharing updates with them, guiding and motivating them.

Read: How to Boost Employee Motivation in a Post-COVID World?


5. Adopt an Empathetic and Humane Approach

The pandemic has resulted in high level of stress and uncertainty among employees. Remote working has added to this stress as employees try to manage their work and home situation simultaneously.

Hence a more empathetic and humane approach is required from business leaders to manage their workforce. They need to strike the right balance between the business priorities and employee sentiments.


6. Promote a Culture of Digital Learning

Learning and development is another process that has been impacted by the pandemic. Lack of face-to-face mentoring and classroom training sessions has made it challenging for employees to pick up new skills and improve upon existing skills.

In the significantly changed work environments, organizations need their leaders to promote a culture of digital learning. So, employees will need to leverage online training sessions, self-learning videos, webinars and pre-recorded sessions to learn new skills.


7. Focus on Employee Wellness

The pandemic has made put a lot of the organization on employee wellness, not just physical wellness but mental and emotional. 

In 2021, business leaders are expected to promote greater awareness about employee wellness and drive various wellness initiatives especially for remote working employees.

Read: Employee Wellness Ideas for Work from Home
Bottom-line
The key responsibilities for business leaders in 2021 would be centered on driving business growth for the organization while balancing it employee wellbeing.
To stay updated on the latest HiFives blogs follow us on Twitter (@MyHiFives)