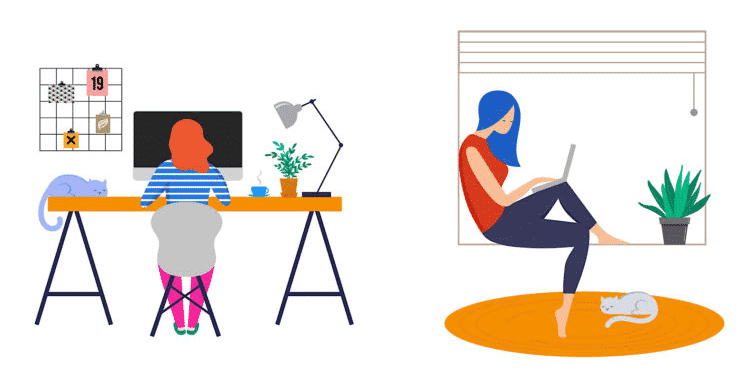 7 Ways HR Software can support your Remote Workers
Watch the Video
7 Ways HR Software can support your Remote Workers
While there are many benefits to remote work, it also poses several challenges for your employees. For one, they might start to feel cut off from the company, which can affect their performance in turn. Therefore, you must provide sufficient support to ensure they work effectively and efficiently in their respective homes. One way to do that is by leveraging the ways HR Software can support your remote workers.
According to a study from Global Workplace Analytics, 25%-30% of the workforce will be working from home by 2021. Thus, your company must be ready to accommodate your employees' growing demands for remote work. For one, you must consider having the right HR software can support your remote workers no matter where they are.
Can HR work remotely?
Yes, and here are some ways HR software can support your workers as they work from home.
1. Provide flexibility for HR processes
One of your biggest concerns when shifting towards a work from home set up would be how to do HR remotely. Specific processes, such as hiring, onboarding, payroll management, and social events, must be moved to the new setup.
Fortunately, HR software can help you transition from doing it traditionally to digitally. It increases the flexibility of your HR processes, allowing your HR to do certain tasks through their computer screens. The software provides them tools to hire new employees remotely, provide onboarding orientations, and schedule social events virtually.
Furthermore, HR software can store necessary files and data digitally, making it easier for your employees to access remotely. It also allows them to carry on with tasks outside the office, especially with cloud-based software.
2. Maintain engagement with employees
With your employees in their respective homes, your biggest challenge now is how to keep remote workers connected. The difference in location makes it difficult to engage with your employees -no more spontaneous catch-ups in coffee rooms and impromptu chats along hallways.
For one, communication is significantly affected by this setup. Another is the lack of visibility on both sides. Meaning, you won't see your employees as often as you like. It can really impact motivation and performance in the long run.
Using HR software can help you boost employee engagement even with remote setup. It offers features such as team notification tools to make sure everyone stays in the loop. You can also use it to implement activities to boost engagement, such as integrating gamification into your workflows and holding social events, both virtually.
HiFives is a global HR digital platform that helps you engage employees remotely.
3. Streamline your employees' workflows at home
The change in environment could inevitably affect your employees' workflow. They might even find themselves adrift with the amount of freedom and independence that remote work usually brings. Not to mention, the atmosphere at home could make them feel alienated from their tasks.
To help get your employees back on track, your HR software can streamline their workflows at home. Its communication tools enable managers to distribute tasks and check the progress on their tasks.
Likewise, it provides a centralized dashboard so employees can easily interact with each other and collaborate. You can check out the different types of HR software to match your workflow. This way, you can ensure your employees' productivity and efficiency even when at home.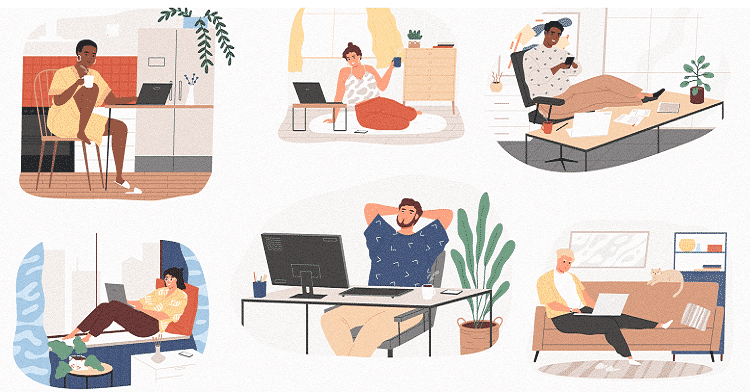 4. Monitor your employees' performance
Most businesses are hesitant with the idea of remote work because of performance concerns. Many feel that it can decrease employee productivity and efficiency due to the myriad of possible distractions at home. Not to mention, nobody can make sure they're working like they are supposed to.
However, a study from Global Workplace Analytics shows the opposite. Seventy-three percent of employees claim to be very successful even when working remotely. In fact, the majority of them feel more productive at home.
To ensure your employees' productivity, take advantage of the various tools your HR software offers. For one, it can monitor and evaluate employee performance. You can issue questionnaires for leaders and managers to rate their outputs, recognize top performers, and reward them accordingly.
With HR software, you can rest assured that your employees can maintain the same professional mindset at home.
5. Track employees' attendance and time
Aside from performance, your HR software can also make sure your employees are logging in the correct hours for work. It can track their attendance and work time and notify you of any discrepancy. Furthermore, it can also have the option to log break times in between.
This function reassures you that your employees are adhering to their agreed work hours. They will simply have to log in the time when they start with work and log out as soon as they are done. This makes it easier for your HR to monitor any delinquent employee or those who go AWOL.
It could also help you adjust payrolls accurately and fairly. For example, you could compensate for overtime and manage their leaves accordingly. This also instills a sense of accountability and discipline in your employees as they work remotely.
6. Carry over workplace culture digitally
Using HR software can solidify your HR role in remote working. It helps you make sure HR managers can continue overseeing your workers wherever they might be. Likewise, they can carry over your workplace culture into the virtual space.
Your HR software can provide the right infrastructure to help you establish your workplace culture in the digital space. It allows your HR to set up a calendar of events and activities you used to do in your office and have this viewable to the rest of your remote workers.
It can even send automatic notifications or reminders for such events. Likewise, it can make communicating and implementing workplace policies and expectations easier and more streamlined.
Your business processes aren't the only ones that need to adapt to the changing times. Culture also plays a critical role in enhancing your business' success. So, don't let it disappear once remote work is in place.
7. Allow feedback from employees
Another perk to having HR software is its ability to create and conduct surveys among your employees that they can answer remotely. Through this, you can gauge their satisfaction with the setup, the challenges they face, and its impact on their performance.
These feedbacks could provide you with the crucial data to create better strategies for remote work. It can determine the strengths and weaknesses of your current guidelines and policies. This helps you improve it later on.
Optimizing Remote Work
Remote work is becoming a common set up among businesses. And with the current technologies, it is possible for employees to work from home as efficiently and effectively as when they are working in the office. You only need the right tools and software to support them in their respective homes.
Bottom-line
HR Software can support your Remote Workers in many ways.
By digitizing certain workflows and processes, it can help manage your employees no matter where they are. It has tools and functions to streamline communication between employees, monitor their performance and attendance, boost their engagement, and build a strong work culture virtually.
To stay updated on the latest HiFives blogs follow us on Twitter (@MyHiFives)