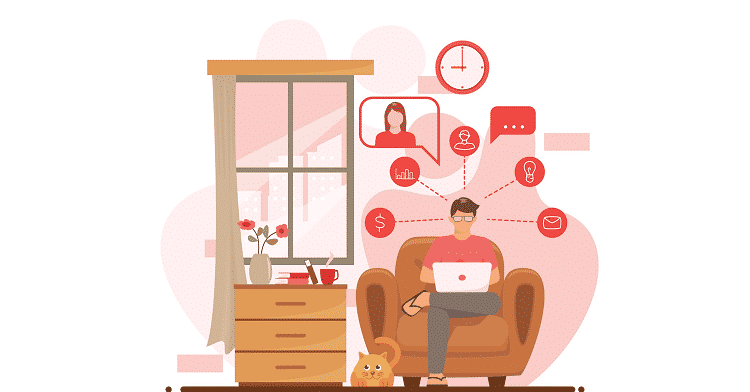 A Guide to Building Workplace Culture in Virtual Environments
Workplaces have changed significantly during and after the pandemic, with organizations opting for virtual workplaces for their day-to-day operations. Currently, they are facing a major challenge in building a strong workplace culture for this new virtual setup. So, here's a guide for building workplace culture in virtual environments.


What is a ' Virtual Workplace'? What are their special needs?

Simply speaking, virtual workspaces can be defined as a digital environment where employees of an organization interact and work together. They are not co-located physically.

However, it is important that employees, who are working remotely are integrated with the organizational culture. So, it can ensure that these employees share the common values of the organization and are properly engaged.


What are the Challenges in building a Workplace Culture in Virtual Environments?

It is a well-acknowledged fact that the culture of an organization plays a critical role in enhancing its success. Most organizations have managed to create a well-developed organizational culture in their physical workspaces. However, its integration into the newly developed virtual work environment is still a long journey.

In fact, there are several key challenges faced by organizations to extend their culture into the digital work environment:


– Lack of proper communication among the employees and between the employees and their managers is one of the biggest challenges.

– Use of traditional culture-building initiatives to virtual environments, might be ineffective in digital workspaces.

– In fact, cultural and ideological differences between employees are difficult to address in a virtual environment

– Also, most organizations lack skills for managing remote employees effectively and building a virtual organizational culture effectively


What are the Best Practices for Building a Strong Culture in Virtual Workplaces?

It is critical for organizations to understand that their virtual teams have similar needs as their physical teams. However, the key difference lies in how these things are provided to them. This fact can help them to pave the way for building a strong organizational culture in a virtual environment.

Here are a few important guidelines that can be helpful for organizations in this context: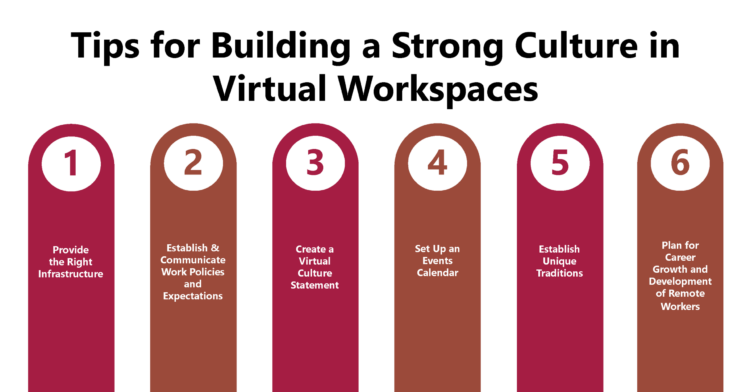 1. Provide the Right Infrastructure

As with physical teams, virtual employees should have the right infrastructure such computers, furniture and network to work effectively. Hence, it is important the organizations provide the same to their virtual teams.

If the organization is unable to provide the infrastructure, they should finance the employees to arrange it on their own.


2. Establish and Communicate Work Policies and Expectations

Also, it is important for organizations to clearly establish and communicate their work policies and expectations to their virtual teams. Hence, organizations should make sure that these policies and expectations integrate the operating philosophies of the business.

So, the culture would reflect the corporate values of the organization. It would also ensure that the virtual teams are an integral part of the organization.


3. Create a Virtual Culture Statement

Many times organizations fail to provide a clear virtual culture statement to their remote working teams. However, such a statement helps virtual teams to relate to their work environment and keep them engaged and motivated.

Therefore, such a statement should include core values of the organization and how remote employees can align their actions and behaviors a.


4. Set Up an Events Calendar

Also, an events calendar with virtual meetups, recognition events, happy hours, brainstorming sessions, etc. is important for building a strong culture. Such an events calendar provides the virtual teams with a firm sense of time and connectivity with their team members.

Hence, it gives them the prospect of meeting and interacting with team members virtually, eliminating the sense of isolation.


5. Establish Unique Traditions 

Just like physical workspaces, the culture of virtual office environments should be defined by some unique traditions. In fact, such traditions enable virtual team members to interact freely, work flexibly, or even set aside time for informal discussions.


6. Plan for Career Growth and Development of Remote Workers

Personal growth and development of remote-working employees is one of their major areas o concern. Hence, organizations need to plan for the career growth and development for members of their virtual teams.

Therefore, they need to invest in skill development and professional growth of these remote employees in alignment with their career objectives.
Bottom-line
As the demand for digital workspaces continues to grow, organizations can benefit greatly by considering this guide for building workplace culture in virtual environments for enhancing their profitability and business success.
To stay updated on the latest HiFives blogs follow us on Twitter (@MyHiFives)