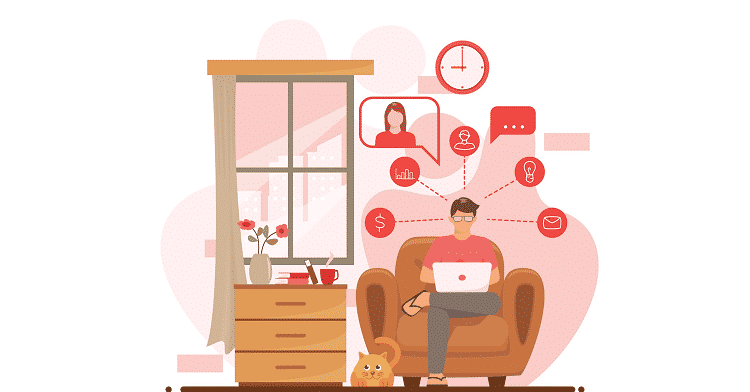 A Guide to Building Workplace Culture in Virtual Environments
Workplaces have changed significantly over the past several months, with organizations opting to integrate the concept of virtual office spaces as a part of their day-to-day operations. Even as organizations are learning the skill of managing their virtual teams and offices in the most efficient manner, they are facing major challenges in building a strong workplace culture for this new virtual setup. This article should act as a guide for building workplace culture in virtual environments.
What is a ' Virtual Workplace'?

Virtual workspaces can be defined in the simplest terms as a digital environment where the employees of an organization meet, interact with one another to share information and perform tasks. Such employees are not physically co-located but are involved in the day-to-day activities of the organization and contribute to its business.

Employees, who are working remotely, need to be integrated with the organizational culture – ensuring the proper engagement and cultural integration of such employees becomes even more important for organizations.

What are the Challenges in building a Workplace Culture in Virtual Environments?

It is a well-acknowledged fact that the culture of an organization plays a critical role in enhancing its success. While most organizations have managed to create a well-developed organizational culture in their physical workspaces, its integration into the newly developed virtual work environment is still a long journey.

There are a few key challenges faced by organizations to extend their culture into the digital work environment:


· Lack of proper and timely communication among the employees or even between the employees and their managers is one of the biggest challenges faced by organizations looking to develop a strong culture in virtual environments.

· Most organizations tend to use traditional culture-building initiatives while extending their work culture to virtual environments, without realizing that these initiatives might prove ineffective in digital workspaces.

· Cultural and ideological differences between participating employees are often difficult to overcome in a virtual environment and this can hinder the development of strong workplace culture.

· A majority of organizations lack competent leaders having the necessary skills required for managing remote employees in an efficient manner and hence are unable to covey the idea of strong virtual organizational culture in an effective manner.

What are the Best Practices for Building a Strong Culture in Virtual Workplaces?

The most important thing for organizations to understand is that their virtual teams basically need similar things to thrive as their physical teams. However, the key difference lies in how these things are provided to them. This fact can help them to pave the way for building a strong organizational culture for their virtual office space and the teams operating therein.

Discussed below are a few important guidelines that can prove helpful for organizations in this context: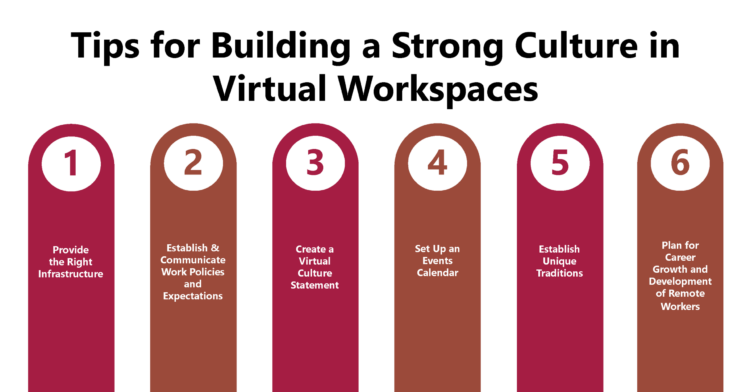 1.     Provide the Right Infrastructure

As is the case with physical teams, virtual employees also need to have access to the right infrastructure and tools to complete their tasks in a timely and efficient manner. Hence, it is important for organizations to ensure that the vital infrastructure requirements of their virtual teams are met in a satisfactory manner.

If the organizations are not able to provide material support to the employees, they might volunteer to offer financial compensation to the employees arranging the requisite technology and tools on their own.


2.     Establish and Communicate Work Policies and Expectations

It is extremely important for organizations to clearly establish and communicate their work policies and expectations to their virtual teams. Organizations should make sure that these policies and expectations integrate the operating philosophies of the business.

The culture thus developed will reflect the corporate values of the organization and will assure the virtual teams of being an integral part of the organization.


3.     Create a Virtual Culture Statement

Many times organizations fail to provide a clear virtual culture statement to their remote working teams since they believe that it does not make much of a difference. However, such a statement helps the virtual teams to associate their work environment with physical spaces, which can go a long way in keeping them engaged and motivated.

These statements might include a list of values and interests shared by the remote employees along with the details about how these interests and values will be nurtured by the organization.


4.     Set Up an Events Calendar

Creating an events calendar detailing the time and venue of virtual meetings, recognition events, happy hours, brainstorming sessions, and other such programs is an important aspect of building a strong culture. Such an events calendar provides the virtual teams with a firm sense of time and connectivity with their colleagues working in the same team.

It fills them with the hope of meeting and interacting with the other members of the workforce virtually, eliminating the sense of isolation and loneliness of the remote workers.


5.     Establish Unique Traditions 

Just as in physical workspaces, the culture of virtual office environments should be defined by some unique traditions. These traditions might include enabling virtual team members to bond with their colleagues via online chat, provide the employees to work while travelling as long as they meet key deadlines, or even set aside a specific time every day during work hours to discuss issues and resolve problems in an informal setting.


6.     Plan for Career Growth and Development of Remote Workers

Ensuring the growth and development of its employees is the most important aspect of organizational culture and is equally applicable to virtual teams. Hence, it is essential for organizations to ensure that they plan for the career growth and development of the members of their virtual teams.

They need to invest in the skill development and professional growth of these remote employees in accordance with their desired professional trajectory and their pre-defined career objectives.
Bottom-line
As the demand for digital workspaces continues to grow, organizations can benefit greatly by considering this guide for building workplace culture in virtual environments for enhancing their profitability and business success.
To stay updated on the latest HiFives blogs follow us on Twitter (@MyHiFives)