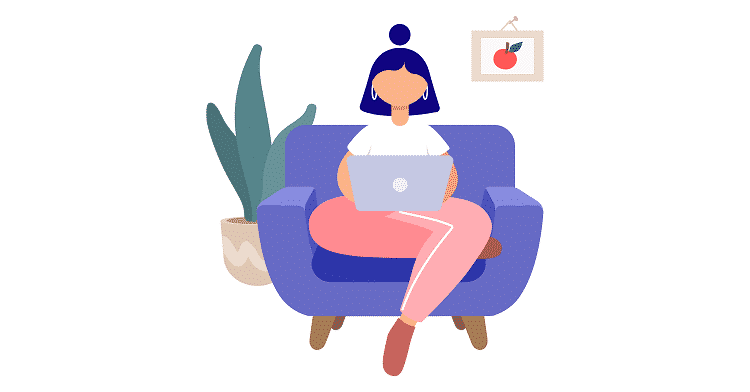 COVID-19 has changed the workplaces completely, forcing organizations and their employees to adjust to new routines of how, when, and where they work. The entire pandemic and the ensuing crisis have resulted in a considerable decline in their morale, which in turn has the potential to impact their work efficiency and performance negatively. Hence, it is not surprising that most organizations are exploring ways and means to boost employee motivation in a post-COVID world.
What is the need to boost Employee Motivation in a Post-COVID World?

Whichever way one looks, people seem to be stressed, anxious, and in most cases facing a deep sense of insecurity. Employees are worried not only about their own health and well-being but also of their loved ones.

They are further burdened by the stress of being able to retain their job in the aftermath of the COVID-19 pandemic, especially since many businesses are announcing major layoffs. This is impacting morale and motivation of the employees. This, in turn, is causing a dip the productivity levels across organizations, they definitely want to avoid.

Hence keeping employees engaged and motivated in the post-COVID has become one of the topmost HR priorities for organizations across the world.


How to Boost Employee Motivation in a Post-COVID-19 world?

All businesses are adjusting to a completely new and different model of work – everywhere, employees are either working remotely, working in staggered shifts with lesser numbers at the workplace itself, or even working for a lesser number of hours.

In each case, it is essential for organizations to reassure the employees in these difficult times and improve their motivation levels to ensure better productivity. A few key steps that organizations should look at taking: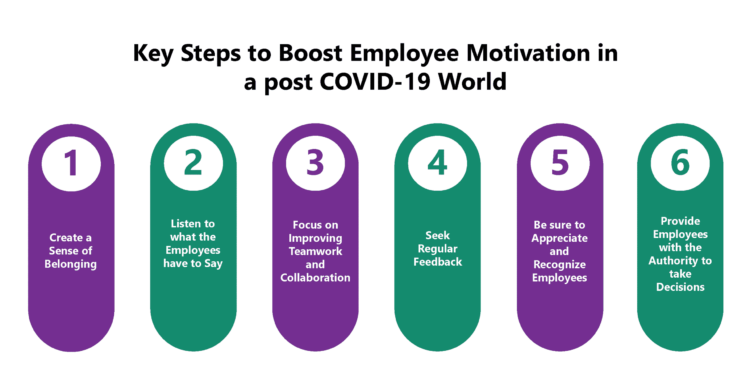 1. Create a sense of belonging

One of the key initiatives to motivate employees during and even after the COVID pandemic would reassure them that they are still an integral part of the organization. For this, the organization needs to communicate extensively with employees and ensure that significant updates are shared with them without delay.

The employees also need to be made aware of their value for the organization in an empathetic and patient manner. They also need to be offered clear and precise information about any changes in their roles and responsibilities and what is expected of them.  


2. Listen to what the employees have to say

Organizations should encourage employees to express their views and opinions about various issues. Seeking ideas from the employees as inputs for products, policies and processes can make them feel valued and improve their motivation levels. This will help increase their involvement in the business operations and decision-making of the organization and motivate them.


3. Focus on improving Teamwork and Collaboration

It is important for organizations to focus on improving teamwork and collaboration between their employees in the post COVID world. These important contributors for better employee engagement and hence need to be given much prominence. Organizations should make use of various online tools and platforms to make it easier for their remote and on-site employees to stay connected and enhance teamwork.


4. Seek Regular Feedback

Seeking regular feedback from the employees has gained even greater significance in the current times. By providing the employees with an opportunity to offer their feedback, organizations assure them that they are being heard, especially if they provide negative feedback to vent their frustrations.

In such cases, it is imperative for organizations to provide appropriate counselling for reducing the stress of such employees rather than criticizing them and breaking down their confidence even further.


5. Be sure to Appreciate and Recognize Employees

Another initiative that has gained greater significance during and after COVID is that of recognizing the hard work of their employees. Effective and timely employee recognition can provide a big boost to the motivation levels of the workforce.

In fact, organizations should consider recognizing employee behaviors and efforts made by employees in light of the various challenges faced during and after the COVID-19 crisis. 


6.. Provide Employees with the authority to make decisions

This is the right time for the organization to check the decision-making capabilities of the employees. In addition to assuring the employees that they enjoy the trust of the management, such initiatives provide them with the requisite learning required for taking up leadership roles. Most importantly, it will make the employees feel more responsible and boost their motivation.


Bottom-line
In a post-COVID world, where employee engagement and productivity levels are likely to see a significant decline due to the negative news in the business environment, pay cuts, layoff and remote working; organizations need to work on various initiatives to boost employee motivation.
Also read Lack of Motivation? 7 Life-Changing Ways to Get on Track!
To stay updated on the latest HiFives blogs follow us on Twitter (@MyHiFives)