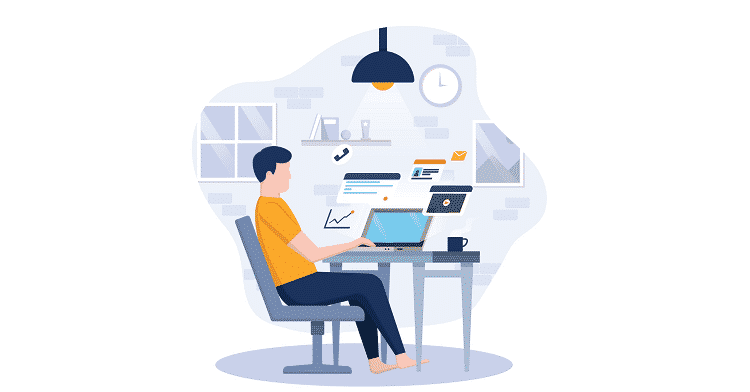 Changing Role of HR in the Post-COVID-19 Workplace
Rapid changes in the business environment over the past decade have deeply influenced the role of HR as it has got increasingly aligned to the business outcomes such as productivity, costs and growth through human capital management. Now with the world battling the COVID-19 Pandemic, it is likely to have a deep impact on how organizations work and changing role of HR in the post-COVID-19 workplace.
Why is the role of HR likely to change in the Post-COVID world?

As organizations struggling to remain afloat and continue their businesses during the COVID pandemic, their HR teams have played a key role as the frontline responders in this time of crisis. They have been responsible for holding all the ends together and fixing gaps quickly to ensure the continuity of people operations.

With organizations being forced to quickly develop, adapt, and even improve upon their operational and HR policies, the HR teams have been working tirelessly to guide employees and managers through these changes.

Experts feel that in the post-COVID-19 world, the role of HR is all set to change – they need to re-assert their leadership and develop new HR policies that would focus on maximizing sustainability and growth of their organizations and their employees in the changing business environment.

What will be the new responsibilities of HR in the Post-COVID world?

The COVID pandemic has impacted how organizations work significantly. It has impacted the personal and professional lives of every employee. This impact is going to be long-lasting. In the post-COVID-19 world, the role of HR in managing the workforce and driving productivity is all set to change in the following ways: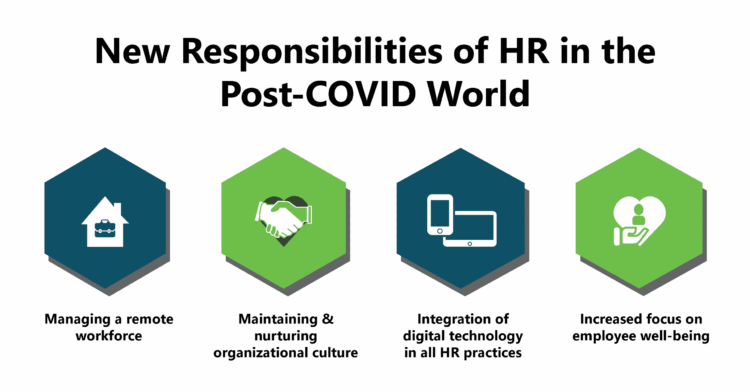 1. Managing a remote workforce

One of the biggest fall-outs of the current crisis is that allowing employees to work remotely. Even after the crisis gets over, it is expected that a significant percentage of the workforce might be working remotely given the long term benefits that organizations have found from it.

In this scenario, the HR needs to come up with new policies and processes of remote working ranging from hiring, on-boarding, compensation, benefits, team management, employee communication, recognition to exits.

The entire employee life cycle needs to be remapped to take into account the remote working of employees. This is likely to be more challenging as a part of the workforce might actually be working from the office on a regular basis; while others will continue to work from home.

There might be others who keep switching between working from home and working from the office to balance to balance between business and personal needs. They need to make every interaction with remote employees more personalized and make sure that they are updated about any organizational changes in a timely manner.


2. Maintaining and nurturing an organizational culture

As organizations start adapting to the concept of remote working they will also need to accept the idea of having a dispersed workforce. This will, in turn, give rise to the challenge of maintaining a distinct organization culture, which is critical for long-term business success.

The HR will need to focus on developing effective policies and practices that ensure employee engagement, regular communication with remote employees, and sustain the organization culture.

The challenge of developing and sustaining the organizational culture in a post-COVID world will be even greater as the workforce will be geographically dispersed and even employees working together might seldom meet.


3. Integration of digital technology in all HR practices

In the coming days, the implementation of every HR policy is likely to rely extensively on the use of digital technology. Digitization as an initiative has been happening in HR processes for some time now.

However, this crisis has necessitated that such initiatives pick up steam and there is complete digitization of all HR processes. Right from learning and development to team management, digital tools will help to make the processes simpler, effective, and transparent. That is why it is important for HR professionals to prepare themselves for the integration of digital technologies in every HR process.


4. Increased focus on employee well-being

An important responsibility that HR will need to shoulder in the post-COVID-19 world is to ensure the overall physical and mental well-being of not just the employees working from office but for work from home employees as well.

The HR will need to make sure that these employees do not feel cut-off from the organization and that their engagement level is not diminished due to their sense of isolation. They need to focus on the physical well-being of remote employees through online fitness sessions conducted by fitness coaches.

They also need to ensure the mental well-being of remote workers by giving them access to online counsellors and helplines in case they need any help. Such initiatives will help in strengthening the sense of belonging and loyalty to the organization among the employees working remotely and boost their productivity.
Bottom-line
The COVID-19 crisis has changed the way organizations and employees work significantly. The post-COVID world for HR professionals is likely to see new challenges that require fresh thinking, new approaches and significant learning to keep pace with these changes in the workplace.
To stay updated on the latest HiFives blogs follow us on Twitter (@MyHiFives)