A Complete Guide to Recognizing Customer Service Representatives
Watch the Video
A Complete Guide to Recognizing Customer Service Representatives
The performance and behaviour of the customer service representatives in an organization determine the customer experience to a great extent. In fact, studies show that as many as 85% of the customers stop doing business with an organization only because of poor customer service. Hence, recognizing customer service representatives is critical for any organization to keep them motivated and committed to delivering the highest levels of service and experience to customers.
Understanding the Profile of Customer Service Representatives
Almost every kind of consumer-facing business has customer service representatives who interact with customers directly; answering their queries, resolving their issues and taking their feedback; be it a bank, a telecommunications company, a utility, or an e-commerce company.
They interact with customers in person, on phone, on email or through live chat. Though the actual profile and skillsets of the representatives might vary based on the nature of the business and the type of customers served; but there are several common characteristics of this segment of employees: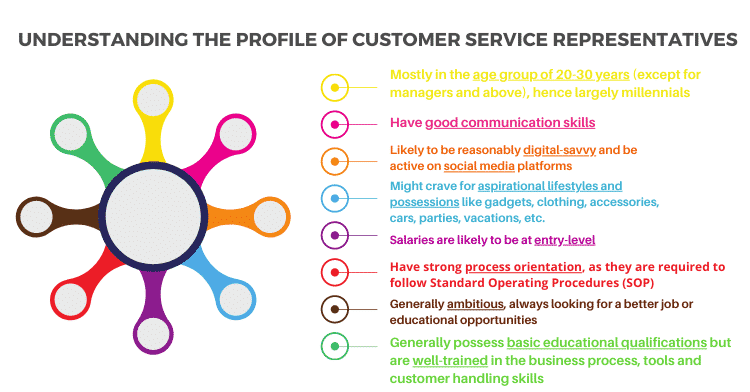 1. Mostly in the age group of 20-30 years (except for managers and above), hence largely millennials
2. Generally they possess basic educational qualifications but are well-trained in the business process, tools and customer handling skills
3. Have good communication skills
4. Have strong process orientation, as they are required to follow Standard Operating Procedures (SOP)
5. Salaries are likely to be at entry-level
6. Generally ambitious, always looking for a better job or educational opportunities
7. Might crave for aspirational lifestyles and possessions like gadgets, clothing, accessories, cars, parties, vacations, etc.
8. Likely to be reasonably digital-savvy and be active on social media platforms
It is important to understand the specific profile of the customer service representatives in an organization so that the recognition program can be tailored to meet their expectations and deliver the desired results.
How to Recognize Customer Support Representatives?
We have put together a generic policy framework for recognizing customer service representatives – you might need to customize it based on your organization's specific context and needs: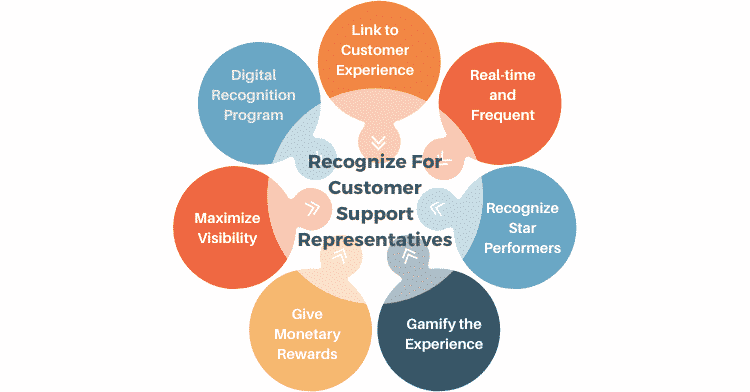 1. Create a Digital Recognition Program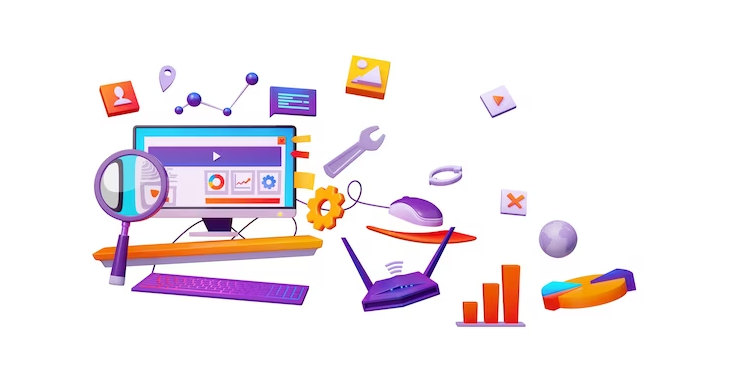 Organizations should implement employee recognition software to digitize, automate and manage recognition programs for their customer service representatives. Not only does it reduce the administrative overheads of managing the program, but it gives a great end-user experience for the representatives.
The system can enable the recognition to happen in real-time through integration with CRM and other work systems. It can also allow front-line managers and team leaders to recognize their team members and nominate them for various awards.
Read about Technology drives Successful Employee Recognition Programs
2. Link it to Customer Experience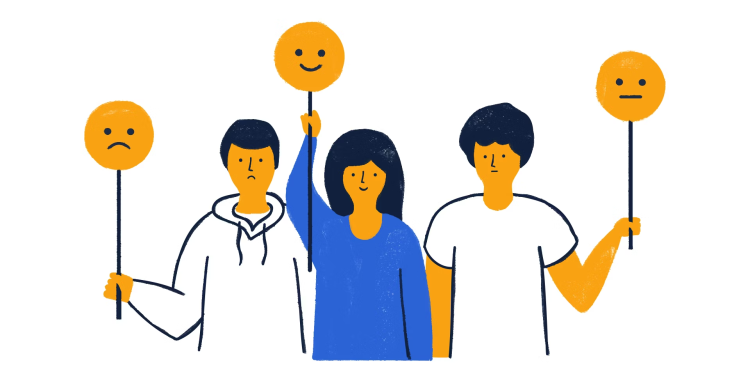 More often than not, organizations use productivity as the primary measure of the performance of their customer service teams. Organization can recognize representatives on the basis of customer satisfaction and interaction quality, through metrics such as Average Handling Time (AHT), Customer Waiting Time, etc.
High customer ratings or satisfaction scores should result in recognition. For example, a 5-star rating for customer interaction could trigger an instant award for the employee. Organizations could achieve this through integration between the customer-facing system or CRM and the employee recognition platform.
They should empower their line managers to give instant recognition based on the quality of customer interaction.

Read about The Advent of Customer-driven Employee Rewards System
3. Make it Real-time and Frequent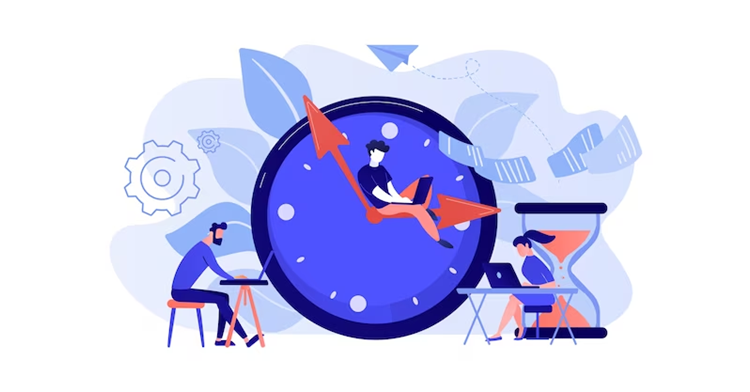 Customer service is a fast-moving work environment; hence it is important for the recognition programs to keep pace with it. Each interaction is like a 'moment of truth' for the organization. They should recognize high-quality interactions immediately either through system integration or by supervisors.
Continuous recognition can help keep the customer service team supercharged and motivated to put in their based efforts for every single customer interaction. A digital employee recognition platform can facilitate such high velocity of recognition.
Read about Frequency of Employee Recognition Matters for Organizations
4. Recognize Star Performers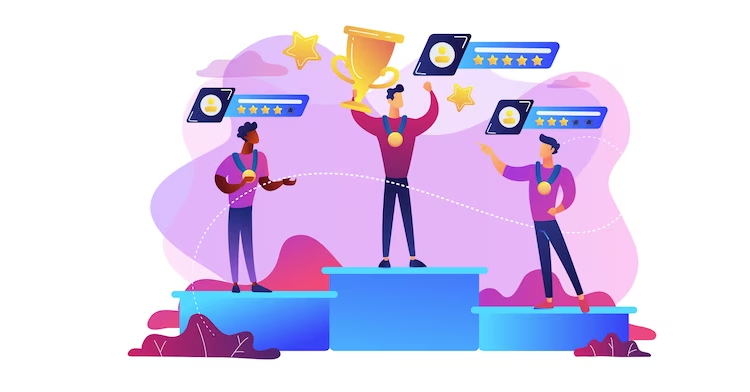 While recognizing each instance of good performance is important, it is equally important to recognize consistent performers and not just one-off performance. Hence, top performers should receive special recognition for a particular period of time such as a week, month, quarter or the entire year.
The quantum of such awards should be far higher than the one-off recognition so that it becomes aspirational for all employees to get to a high level of consistency.
5. Gamify the Experience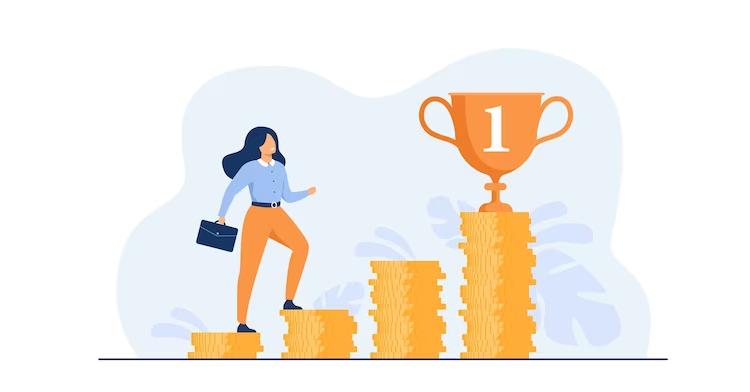 Being largely millennials, customer service representatives have grown up on a steady diet of mobile and computer-based games and are very familiar with game dynamics such as challenges, levels, points and multiple players.
Hence, gamification with the points-based system, goals, challenges, contests, levels, badges and avatars is one of the best ways to get them involved in the recognition program.
Employees should be able to earn points through good performance and also accumulate enough points to get to the next level or get the grand prize.
A digital employee recognition platform can ensure that the entire 'game' is completely fair and transparent for all 'players'. Nudges and reminders can help them gravitate towards their targets. Leaderboards of top scorers can add the element of competition and excitement.
Read about Gamification as a means of Enhancing Employee Engagement
6. Give Monetary Rewards
Since customer service representatives are low on earning but high on aspiration, lifestyle products and services are ideal rewards for them. These could be in the form of shopping vouchers, spa/ salon vouchers, dining vouchers, party passes, etc.
Organizations can give high-end gadgets, appliances, holiday vouchers, motorcycles, etc. for high-value awards.
Cash could also be an option when the value of the award is significant in relation to their salaries. Basically, monetary awards would work best with this segment of the organization's workforce.
7. Maximize Visibility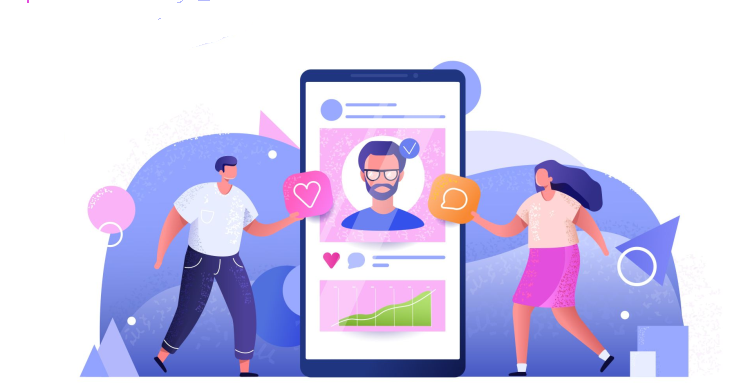 This segment of employees would prefer peer apperception and public visibility. Hence, organizations should create high visibility around the program by announcing the awards in team huddles, floor meetings, shout-outs and town-halls.
Members of the senior management should be invited from time to time to drop in and announce the awards on the floor of the office.
The names of the award winners should also be displayed on the office LED screens. This should be supplemented online through official announcements on email, intranet and collaboration platforms such as Teams, Workplace and Slack.
Sharing the award winners names on social media such as the company LinkedIn and Facebook pages can also be considered depending on the company policies.
Bottom-line
Recognizing customer service representatives should be high on every organization's agenda as they form a critical part of the workforce that can make or break the customer experience, which in turn can play a key role in the growth and success of the business.
To stay updated on the latest HiFives blogs follow us on Twitter (@MyHiFives)