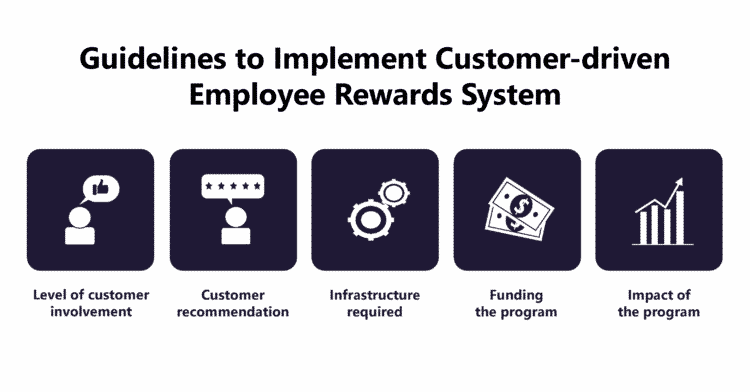 Advent of Customer-driven Employee Rewards System
The benefits of having an effective employee reward and recognition system are quite well known to most organizations today. In this context, there is a new debate of late – if and how customers can play any role in rewarding employees or even the process of rewarding within an organization. Creating a customer-driven employee rewards system could be an innovative way to incorporate customer feedback into the whole process, thereby increasing its credibility and transparency.
How to design a customer-driven employee recognition system?

Even though the idea of providing the customers with a greater say in rewarding and recognition of employees might seem quite appealing, implementing it may not be as easy. In fact, organizations may have to face considerable challenges getting internal buy-in for setting up up such a system and implementing the same.

Target Segments

Such customer-driven rewards and recognition programs might be suited for industries and roles that require direct interaction with the customers for day-to-day operations, problem solving and troubleshooting. The following industries and roles are best suited for having such programs:

B2C
– Retail: Store employees
– Hospitality: Front Desk, Housekeeping, Service Staff
– Healthcare: Front Desk, Medical Staff
– Logistics/ E-commerce: Delivery Staff, Customer Service
– Consumer Products: Customer Service

B2B
– IT Services/ BPO: Outsourced Staff
– IT Hardware/ Software: Tech Support
– Professional Services: Client Services, Account Management


Design Questions

Organizations intending to set up such a program need to answer several questions 

1. How much say would customers have in rewarding and recognizing the employees?

2. Can customers be granted the freedom to recommend employees for receiving rewards and recognition?

3. What system should organizations need to provide to their customers for providing their feedback and recommendations?

4. Who will fund the rewards programs if the customers are also involved in the process (especially in a B2B context)?

5. What will be the potential impact on productivity and employee motivation? Will it justify the investment?


Design Steps

Finding satisfactory answers to the above questions is the first step in the direction of establishing a truly effective and well-integrated reward system.

The points below can help organizations with the appropriate guidelines to implement the most efficient reward programs:


1. Decide on the Extent of Customer Involvement

The first and the most important question that needs to be answered is the extent to which the customers should be allowed to become involved in the recognition process.

This would generally depend on the type of products and services being offered by the organization as well as their level of customer engagement. Most organizations might feel that reward and recognition is their internal matter and hence customer involvement should be kept to a minimum.

They would consider the common methods of seeking feedback about individual customer interactions and rating of such interactions as the best way to involve them in the recognition process. This would be most relevant in businesses such as retail, hospitality, customer service operations, etc.


2. Understand the Relevance of Customer Recommendation

When it comes to answering the question of allowing the customers to recommend employees for rewards and recognition, organizations need to consider how it would work for blue collared and white collared employees.

In most organizations, customer interaction with white collared employees is more direct, as compared to blue-collared ones, especially for employees working in junior positions. So, allowing the customers to recommend white-collared employees (and those blue-collared employees offering direct customer service) for rewards and recognition may actually help in improving overall customer experience.


3. Determine what Systems are Required

Most organizations feel concerned about the investment required for providing the right systems to facilitate customer involvement in reward programs. However, they can utilize existing systems with minor changes and even various online and social media tools to achieve this objective in a cost-effective way.

They can simply seek customer feedback or ask them about the employees they would like to recommend for rewards and recognition through e-mail, SMS, WhatsApp messages or even in-app features. They could also integrate their customer feedback system or CRM with the employee rewards and recognition platform. Through the integration, good customer ratings could flow into the recognition platform and trigger a reward or recognition for the employee,


4. Seek Funding for the Program

This is perhaps the biggest challenge that organizations would face for involving customers in the recognition process. Since most organizations have well-defined budgets for recognition programs, such customer-driven programs need to be incorporated within those budgets.

However, the organizations might also consider asking their customers to contribute to the funding of rewards for exceptional employees. This might work very well for higher-end service businesses such as IT, analytics, accounting, etc. including those who work in a virtual captive model.


5. Measure the Impact of Program

A customer-driven rewards program is likely to create quick and positive business impact, especially in terms of enhanced customer experience and satisfaction.

Such programs can also help in assuring the employees of a completely transparent reward system based on customer centricity and performance. This will, in turn, can enhance the overall productivity and efficiency of the employees and the organization.
Bottom-line
Keeping in mind the above points, organizations can come up with a customer-driven employee rewards system as an effective way to secure customer involvement in their employee reward and recognition programs and build greater customer-centricity, motivation, and productivity of their workforce.
To stay updated on the latest HiFives blogs follow us on Twitter (@MyHiFives)