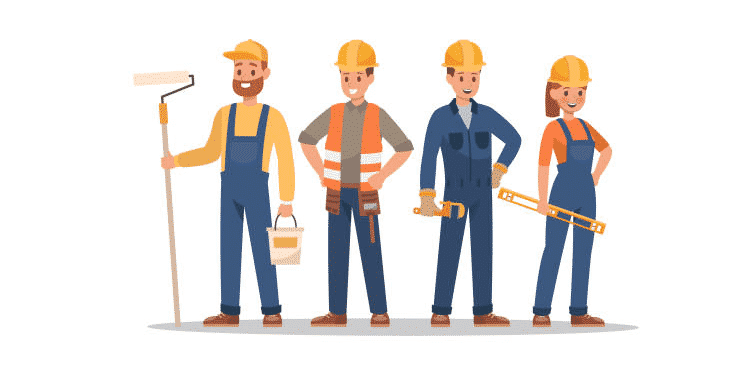 When it comes to employee motivation and engagement, most organizations focus their efforts primarily on appeasing the white-collared members of their workforce. Sadly, they tend to overlook the fact that their blue-collared employees are equally important for driving the operations of the company. These employees share the same need for appreciation and acknowledgement from their employers as their white-collar counterparts. Organizations need to design specific rewards and recognition for blue-collared employees.
A Harvard Business Review analysis concluded that people working blue-collar jobs report lower levels of overall happiness in every region around the world.
What is meant by Blue-Collared Employees?
The workforce in an organization is comprised of professionals in various roles They can broadly be classified into two main categories namely white-collared and blue-collared employees.
White-collar employees generally comprise of those members of the workforce who work in professional, supervisory, managerial and administrative roles within the organization.
On the other hand, members of the workforce, who work primarily in roles that require physical effort to perform their jobs are classified as blue-collar employees. These employees are named so, as most of them are required to wear uniforms and coveralls along with protective gear. They include skilled workers employed in manufacturing, mining, construction, logistics, and field services industries.
What are the challenges of rewarding and recognizing blue-collared employees?
One of the biggest hindrances in the way of rewarding and recognizing blue-collar employees is the traditional perception of them being inferior to white-collared employees. In fact, until quite recently, the members of the top management within organizations were of the opinion that white-collar workers were in greater need of motivation and engagement by virtue of their higher qualifications and job titles. They felt that the blue-collar employees did not have any such needs, especially since a majority of them are tied to union pay and benefits.
However, various employee surveys have made it clear that employees of both these categories have a similar need for being rewarded and recognized for their hard work and efforts towards organizational growth.
How to create a suitable employee rewards and recognition program for blue-collared employees?

The good news is that a significant percentage of organizations today are understanding the need to acknowledge and appreciate the performance and contribution of their blue-collared employees. However, since their employee motivation needs tend to differ considerably from the more sophisticated members of the workforce, organizations need to do some thinking in order to create the best rewards and recognition programs for them.

The four basic types of rewards that can be considered by organizations to address the needs of their blue-collared employees: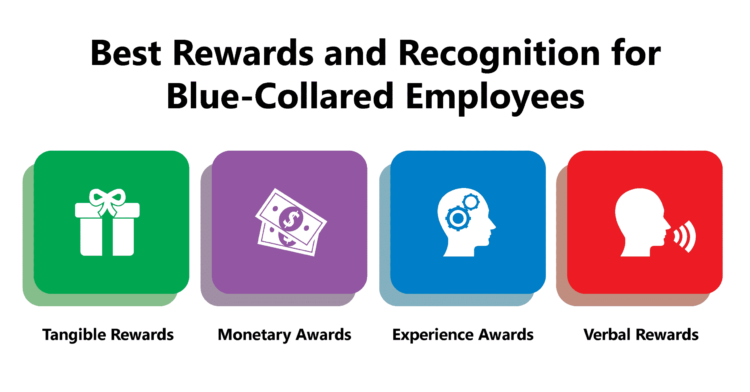 1. Tangible Rewards

Providing physical or tangible rewards to blue-collar employees can go a long way in keeping them motivated and enhancing their engagement levels. Physical items such as gift hampers, company-branded merchandize, electronics and household appliances can prove to be the most relevant and satisfactory rewards.


2. Monetary Awards

One traditional and highly successful method of acknowledging blue-collar employees is by offering them cash rewards. Monetary rewards are known to boost employee motivation levels significantly by making the employees feel recognized for their hard work. Other forms of monetary awards such as paid lunches, extra paid leave, gift cards and scholarships for their children can also be considered.


3. Experiential Awards

Providing an opportunity of once in a lifetime experience to blue-collar workers is also proving to be an effective way of rewarding them. Rewards like an invitation to a company-sponsored event or a meal with the CEO or Chairman are often well appreciated by the employees. Other similar awards that are generally well-received could include fully or partly paid vacations or special training and skill development programs that can help enhance their career growth.


4. Verbal Recognition

Even though most organizations and managers no longer acknowledge it as a reward, a few words of praise from the management still hold much value in terms of employee recognition. This direct form of acknowledgement makes them feel valued and appreciated.

It assures them that their efforts and contribution towards the organization growth have not gone unnoticed. Facilitating a culture of peer-to-peer recognition among blue-collar workers can also prove more beneficial along with the appreciation by line managers and executives.

Bottom-line
Organizations need to work proactively towards understanding the motivational needs and drivers of job satisfaction of their blue-collared employees and design suitable rewards and recognition for blue-collared employees.
The one-size-fits-all policy for rewards and recognition might not work as their needs are different from those of their white-collared counterparts.
To stay updated on the latest HiFives blogs follow us on Twitter (@MyHiFives)