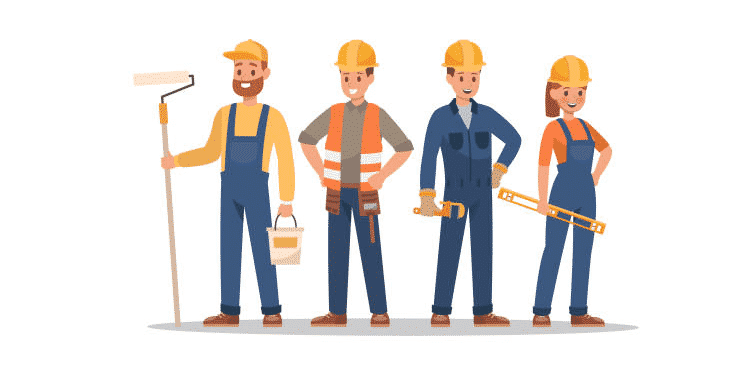 Best Rewards And Recognition For Blue-Collared Employees
Every business organization relies heavily on its workforce to drive its growth and success. However, organizations tend to focus mostly on their white-collared employees, that include their office and supervisory staff. Organizations need to pay equal attention towards the rewards and recognition for blue-collared employees who form and integral part of the workforce.
A Harvard Business Review analysis concluded that people working blue-collar jobs report lower levels of overall happiness in every region around the world.
Blue-collared employees often work silently behind the scenes working on machines, delivering goods and services, performing repair and maintenance, ensuring the security of the workplace, and doing other such tasks that are integral to the business operations. They are the backbone of every organization but are sadly do not get sufficient credit or recognition for their contribution.
Who Are Blue-Collared Employees?
The workforce in an organization is comprised of professionals in various roles They can broadly be classified into two main categories namely white-collared and blue-collared employees.
White-collar employees generally comprise of those members of the workforce who work in professional, supervisory, managerial and administrative roles within the organization.
On the other hand, members of the workforce, who work primarily in roles that require physical effort to perform their jobs are classified as blue-collar employees. These employees are named so, as most of them are required to wear uniforms and coveralls along with protective gear. They include skilled workers employed in manufacturing, mining, construction, logistics, and field services industries.
The Need
Why Is It Important To Reward And Recognize Blue-Collared Employees?

Blue-collared employees want to be acknowledged and appreciated for their hard work in the same manner as white-collared employees. Organizations need to recognize their contribution to the business even though these employees might be handling hands-on tasks. Making them an integral part of the employee rewards and recognition program is essential to keep them motivated and maximize their work quality and output.

 
1. Conveys Fairness And Equality

Rewarding and recognizing blue-collared employees is important to create a sense of fairness and equality within the workforce. Such gestures help to strengthen the sense of belonging among these employees and make them more appreciative of their employers.
Appreciating these employees, who work at the ground level, improves the overall productivity of the organization which helps enhance its success.  Recognizing blue-collared employees make them feel doubly assured of being a vital part of the organization's success.

 
2. Demonstrates  Gratitude And Respect

The rewards and recognition offered to blue-collared employees should reflect the genuine gratitude and respect of the employers for their hard work and contributions. Organizations should make sure that the employee recognition program highlights the importance of the tasks performed by these employees and how their contribution is important to the organization. It should make the employees feel valued for what they are and what they contribute to making the business successful.
 

3. Enhances Their Self-esteem

It is equally important to ensure that the rewards and recognition boost the self-esteem of the blue collared employees. Employees should see some value and significance in the rewards being offered rather than just a mere fornality. The employees should feel assured about deserving the reward for their contribution to the workplace and business growth.
 

4. Creates A Sense Of Belonging

Organizations need to make sure that rewarding and recognizing blue-collared employees enhances their sense of belonging. Rewards tend to boost the sense of commitment and loyalty among blue-collared employees and assure them of being an integral part of the workforce. It also helps in building a more tolerant and inclusive work environment.
Best Practices
What Are The Best Practices For Rewarding And Recognizing Blue-Collared Employees?

Organizations are often unsure about the best ways of rewarding and recognizing their blue-collared employees. Here are a few best practices that can help organizations enhance the overall impact of recognizing these employees:
 
1. Give Appreciation Cards And Appreciate them Verbally

Organizations should encourage managers and supervisors to verbally appreciate the blue-collared employees regularly. They should also make a habit of giving them appreciation and thank you cards whenever they spot any good work. Employees feel assured that their work is being noticed and acknowledged by their superiors.
 

2. Offer Monetary Awards And Certificates

Monetary rewards hold great significance for blue-collared employees and they prefer them over intangible rewards. This is because most such employees work at lower compensation and get minimal perks and benefits. So, they value receiving monetary rewards as they can aid their financial wellness.
 

3. Use Digital Tools For Immediate Recognition

Organizations should consider using digital tools such as employee reward apps, digital recognition systems, and social media platforms to offer immediate recognition to blue-collar employees. Using these digital tools also helps in making the recognition much more visible among the workforce.   
 

4. Showcase Award Winners On Display Boards

It is important to showcase the names and pictures of award winners on LED/ physical display boards at the workplace. This social visibility provides a sense of pride and achievement to the winners. It also makes it aspirational for other employees to emulate them.
 

5. Organize Award Events/ Ceremonies

Awards should be given out in floor meetings or other large gatherings, in presence of other employees, supervisors and the management. This gives great social visibility to the award winners and motivates them further. 
Bottom-line
Blue-collared employees are the nuts and bolts that keep the organization running smoothly and seamlessly. Recognizing their efforts in a timely and appropriate manner is essential to keep them motivated and productive even during the most difficult times.
The one-size-fits-all policy for rewards and recognition might not work as their needs are different from those of their white-collared counterparts.
To stay updated on the latest HiFives blogs follow us on Twitter (@MyHiFives)