Guide For Long Service Awards In Today's Workplace
Watch the Video
Guide For Long Service Awards In Today's Workplace
Reinventing Service Awards
In today's world, finding and hiring the right candidates for various job roles within the organization is a challenging and time-consuming task. However, ensuring the long-term retention of these employees is even more challenging, especially in the highly competitive job market. Hence, rewarding and recognizing tenured employee through long service awards to reward their loyalty and acknowledge their contribution has become critical for organizations.
In fact, most organizations today have invested in employee rewards and recognition to boost the motivation of their workforce. However, such programs often focus on recognizing employees only for their most recent achievements and contributions.
An increasing number of organizations are also acknowledging and appreciating the loyalty and dedication of employees who have been contributing their best for years. Known as long service awards or simply service awards, it is meant to recognize the commitment of long-term employees in the organization.
The New-found Significance Of Long Service Awards
In today's work environment, employee loyalty is becoming quite rare. So, organizations fully understand that today employees switch jobs frequently in search of better and faster career growth. Also, most organizations have strict performance management process that ensures that poor performers are asked to leave each year.
Hence, an employee who spends at least 5 years with the organization would have not only demonstrated loyalty towards the organization but also good performance. Such, long-serving employees tend to be highly trustworthy and form a critical part of any organization's workforce.
In fact, organizations have begun to value such long-serving employees even more in recent times as they help in creating a sense of stability in the otherwise constantly changing workforce.
There are many reasons why organizations should recognize such tenured employees:
– They have deep knowledge of the organization's business and operations
– Sound domain and industry expertise
– Great co-worker relationships
– Strong customer relationships (if in customer-facing roles)
– Great role models, coaches and mentors for other employees
The tradition of long service awards goes back to possibly a century ago. Till a few decades back, it was quite common for employees to spend their entire career in the same organization. Back then, long service award was about celebrating completion of a milestone, a certain number of years in the organization.
In recent times, the concept of long service awards has undergone a major change. It is not just about recognizing the years the employee has spent in the organization, but for their contribution during that period. Hence, long service awards have acquired new significance in today's workplace.
These service awards provide an opportunity to organizations to express their gratitude to employees who have stayed with them through multiple business cycles. Hence, it is a way for them to thank such employees for the time and effort invested with the organization.
What are the Benefits of Long Service Awards?
Offering long service awards to tenured employees is a great way for organizations looking to build a dedicated workforce. These awards can prove beneficial for organizations in the following ways: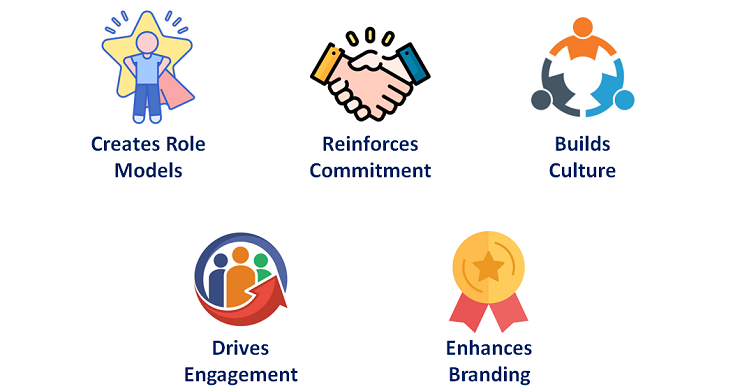 1. Creates Role Models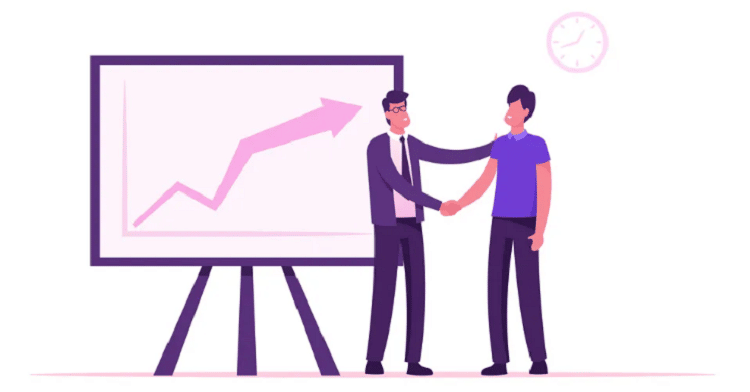 Acknowledging and appreciating the loyalty and accomplishments of tenured employees sends out a positive message to the relatively younger members of the workforce. It assures them that their efforts and contributions will be acknowledged and appreciated even after many years with the organization. Therefore, it encourages them to stay longer and perform better, inspired by their seniors.
2. Reinforces Employee Commitment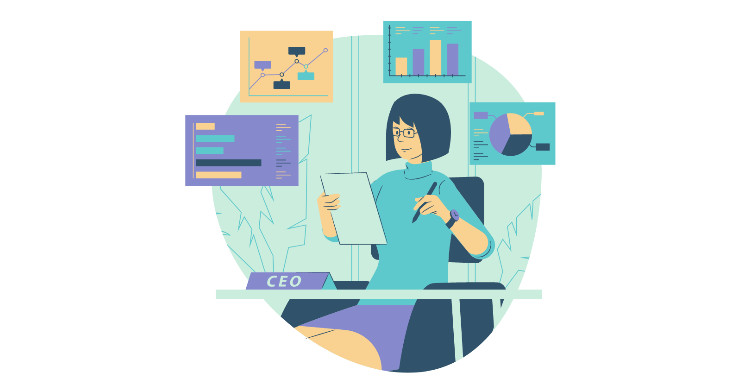 Employees who are awarded with long service awards feel valued for their work and contribution towards the success of their organization. It reinforces their decision of staying with the organization for so many years, possibly sacrificing opportunities elsewhere. This increases their level of commitment towards the organization and motivates them further.
3. Develops Organizational Culture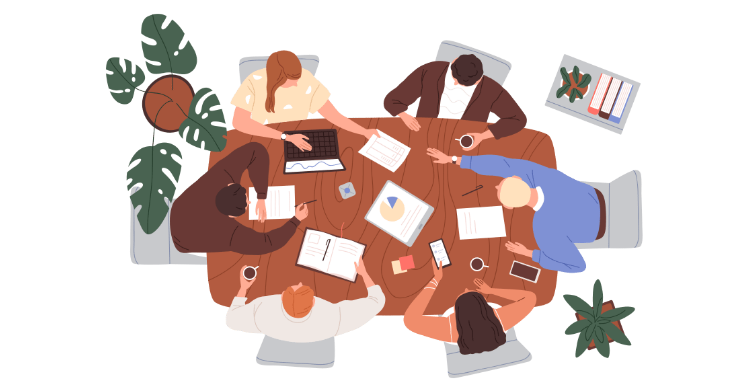 Offering long service awards helps in boosting the happiness and satisfaction levels of tenured employees. It also counters any growing cynicism or negativity among older employees, as they might feel being side-lined by the organization. This helps in building a positive and cordial work environment, where older and younger employees can work collaboratively.
4. Drives Employee Engagement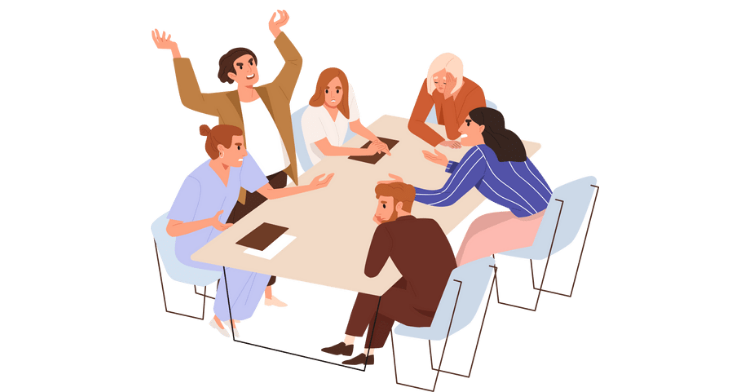 Being rewarded for their years of service helps in strengthening the trust of employees in their organization. It strengthens their sense of security and belonging to the organization. It also boosts their engagement levels within the workplace. So, older employees feel motivated to share their skills and experiences with the younger members of the workforce, through coaching and mentorship.
5. Enhances Employer Branding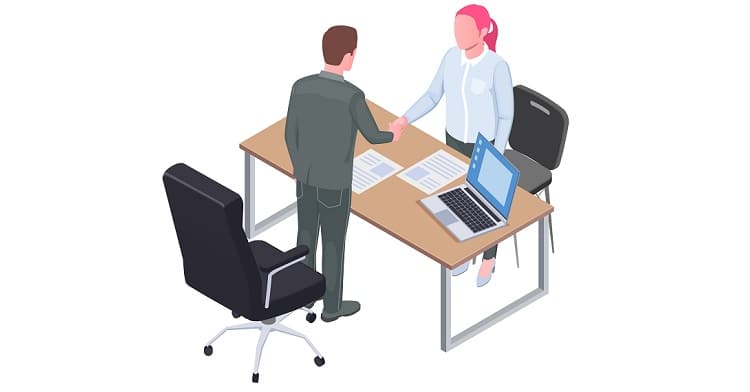 Offering service award can go a long way in enhancing the employer brand value of the organization. In fact, the public visibility of these awards can assure potential candidates that the organization values its employees even after many years of service. This is an important consideration for job aspirants, especially for the top talent.
What are the Best Practices of Long Service Awards?
In order to drive a sense of loyalty among the workforce, it is important for organizations to recognize and reward long service appropriately. Given the new-found importance of long service awards, organizations need to figure out the best ways to make them really effective.
So, here are a few of the best practices that organizations can adopt for setting up long service rewards for their long-serving employees: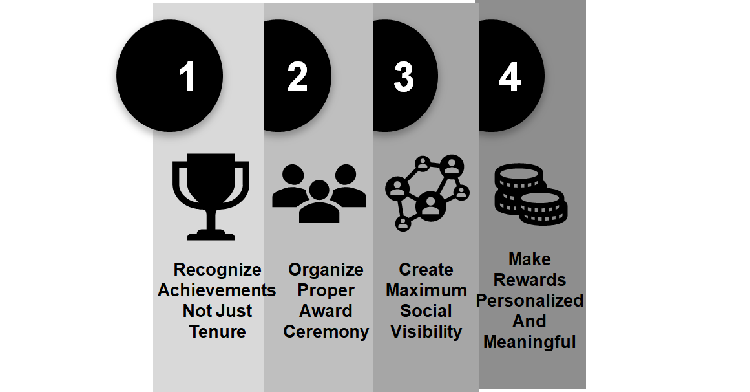 1. Recognize Achievements, Not Just Tenure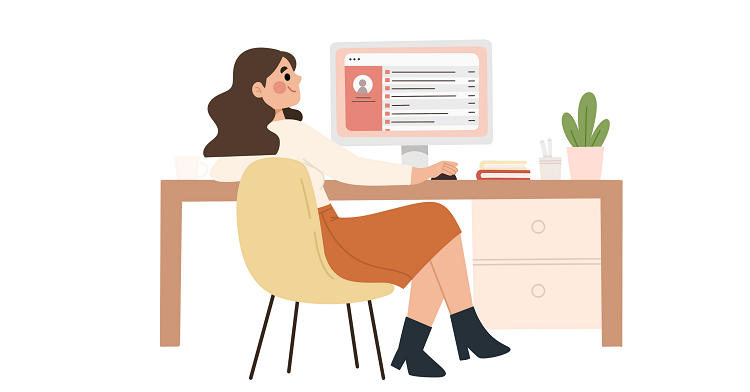 It is important to acknowledge the contribution of their long-term employees towards the organization over their long tenure. Hence, a long service award should ideally focus on appreciating the achievements of these employees, and not just the time they have invested with the organization. The long-serving employees have spent significant part of their lives and careers at the workplace. They would have made personal sacrifices over the years for the organization.
The hard work and the achievements of the employees should be recognized as part of the long service awards. It is critical to call out such contributions towards the organization. It can go a long way in enhancing the motivation and commitment levels of the award recipients.
Ideally, some ground work should be done by the HR to understand and capture the contributions of these employees and their journeys in the organization over the years. Such stories should be mentioned during the presentation and announcement of these awards in different forums and platforms across the organization.
2. Organize A Proper Award Ceremony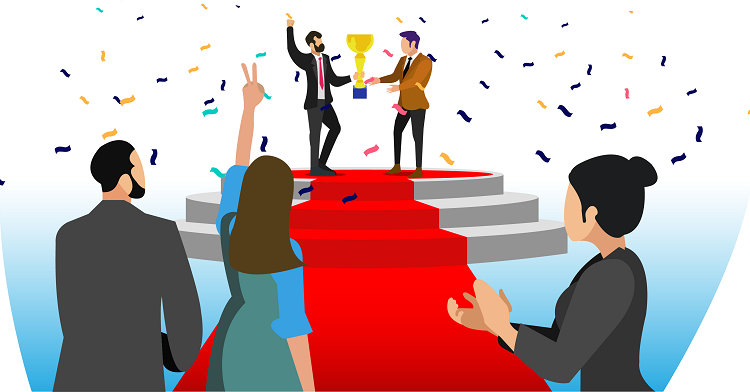 Service awards should be presented in the right way. To add value to the award, it is important to present them in a large gathering of employees such as an annual day event, awards ceremony or employee townhall. Their immediate colleagues and other members of the workforce should be part of these events. Just giving the award privately, or in a small informal team meeting is likely to dilute its importance.
Possibly, the best way would be in formal awards ceremony, offline or virtual, attended by a major segment of the workforce as well as the senior management. This ceremony could be a part of a bigger event such employee annual day or foundation day of the organization. It might also be a good idea to invite the family members of the award recipients to make the occasion more memorable and further the emotional connect.
During the ceremony, the audience should be made aware of the highlights of the employee's contribution towards the organization. The award could be announced or handed over by a member of the senior management team, preferably someone who has known the recipient for long.
3. Create Maximum Social Visibility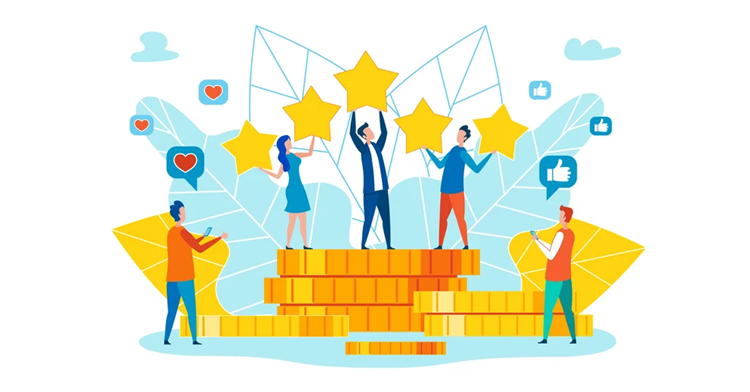 It is critical to create maximum social visibility for the recipients of such awards, both within and outside the organization. Using internal platforms such as the intranet, email broadcast, Teams/ Slack, etc., to announce the long service awards can help create social visibility and motivate others to consider a long stint.
Public acknowledgement of their long-serving employees helps organizations send out a strong positive message. In fact, it highlights the opportunities for career growth and professional success for those willing to stay for the long term.
Organizations can share long service award announcements on social media such as Facebook and LinkedIn. . Personal and professional connections of the awarded employees like the posts and congratulate them. This creates significant social gratification for the award recipients. It also helps in enhancing the brand value of the organization among prospective employees.
Potential employees who see such posts on social media feel assured of a high level of job satisfaction and a positive work culture in the organization. They perceive that the organization as an employer of choice where employees are willing to invest a significant part of of their careers.
4. Make The Rewards Personalized And Meaningful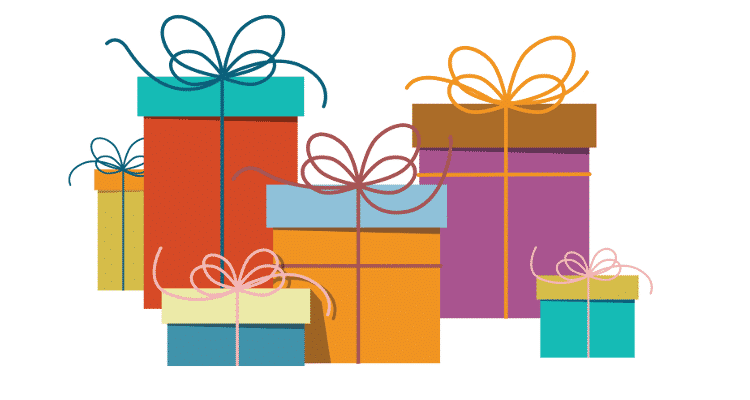 Also, it is critical for the organizations to ensure that the reward holds significant meaning and value for the recipients. So, the reward should make the entire experience memorable and create an emotional connect with the employee. Typically, certificates and mementos should be part of the award, which have great emotional value.
However, it is not enough. Apart from the emotional value of the reward, the employees should receive some financial benefits. In fact, one of the best ways to reward tenured employees is by offering them the freedom to choose their rewards. The organization can give cash bonuses, gift cards or a choice of merchandize like electronics or appliances. A sponsored higher education/ training program, fully–paid family vacation or scholarship for children are other options that organizations can consider.
Read the Comprehensive Guide to Different Types of Employee Awards
Bottom-line
Long service awards in today's workplace have assumed renewed significance. It is no longer about just rewarding the employee for their time spent in the organization. It is more about acknowledging the contribution of the employee over the years spent with the organization. These awards can be key to boosting employee motivation, retention and workplace culture. Hence, organizations should seriously consider including them as integral part of their employee recognition programs
To stay updated on the latest HiFives blogs follow us on Twitter (@MyHiFives)