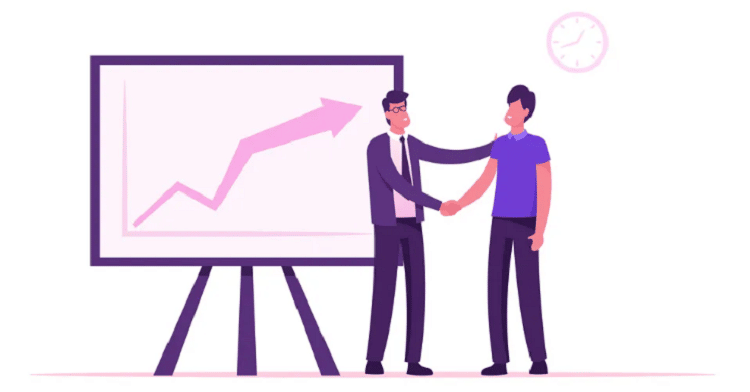 4 Employee Achievements That Organizations Must Recognize
Watch the Video
4 Employee Achievements That Organizations Must Recognize
The best employee recognition programs tend to give a lot of importance to the achievements of employees. This is because employee achievements can play a critical role in driving business growth and success. There are certain employee achievements that organizations must recognize.
Understanding Impact of Recognition on Engagement
To develop an appropriate strategy for recognizing the achievements of their employees, it is important for organizations to first understand its impact on engagement. Most people cherish the need to be appreciated on reaching a milestone, both in their personal and professional lives.
In organizations, celebrating an achievement of employees can go a long way in enhancing their sense of satisfaction and self-worth. Employees feel assured that their efforts are appreciated and considered valuable for the business, when they are recognized for their achievements.
It also fills them with a deep sense of pride for their efforts and their achievements. All these factors combine to improve the overall engagement level of the employees and their commitment to the organization.
Based on the results of an experiment conducted by him to understand the correlation between recognition and motivation, Dan Ariely, a professor of Behavior Economics, has stated that ignoring people's performance is almost as bad as destroying their work in front of their eyes.
A study conducted by Make Their Day and Badgeville also revealed something similar when it found that 83% of employees considered being recognized for their contributions to be more fulfilling than receiving rewards and gifts.
Which employee achievements that organizations must absolutely recognize?
Organizations find it a little challenging when it comes to recognizing employees for their achievements due to their sheer number. Recognizing each of these achievements is extremely difficult and even impossible for an organization.
However, there are certain achievements that organizations simply cannot afford to overlook. These should form an integral part of their employee recognition strategies. The most important of these achievements are as follows: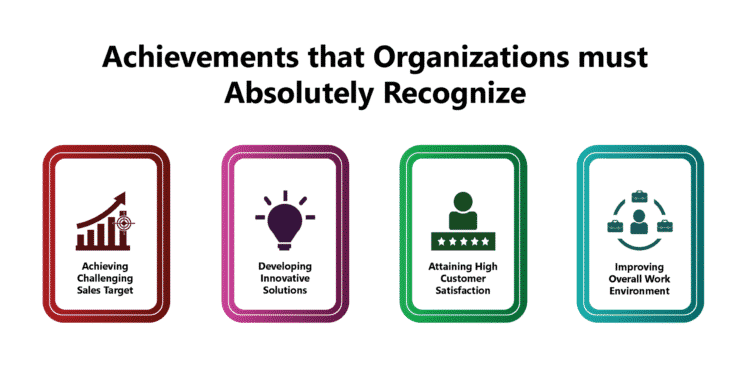 1. Achieving Challenging Sales Targets
Most organizations often set challenging targets for their sales teams. Many times, achieving these targets may prove more challenging due to various reasons such as a sudden decline in demand, difficult market conditions or even the changes in competitor strategies.

Organizations should recognized sales executives or sales teams if they are able to overcome all challenges and achieve the assigned targets.. It is equally important to recognize employees with consistently high sales records that are well-beyond their assigned targets.

This is essential to motivate them to continue their good work and also to inspire other members of the team.
2. Developing Innovative Solutions
Organizations today are increasingly focusing on making their workplaces happier and healthier for their employees. Employees often feel inspired to develop innovative solutions for the various business problems faced by the organization.

Acknowledging and appreciating the efforts and achievements of such employees can go a long way in boosting creativity and innovation in the organization. It can also lead to the discovery of hitherto unknown skills of many employees which can be utilized for business growth.
3. Attaining High Customer Satisfaction Levels
Ensuring the happiness and satisfaction of their customers is the primary objective of most business organizations. It is extremely important to recognize and reward employees who might have been responsible for high levels of customer satisfaction.

It is not just the employees who always interact directly with the customers but those who work in the background might be responsible for maximizing customer satisfaction. Identifying such employees and appreciating their efforts helps in driving higher levels of employee engagement and fuels business growth for the organization.
4. Improving The Overall Work Environment
Organizations across the globe have been focusing on developing a happy and positive work environment to improve employee engagement and efficiency. Recognizing employees who contribute to the development of such an environment is essential for organizations.

This might include employees who have been silently supporting and collaborating with their coworkers. Organizations should recognize employees who add a fun element to the work environment and make it relatively stress-free.
In addition, members of the workforce who might have achieved the distinction of going beyond their call of duty to help their colleagues also deserve recognition for their efforts.
Bottom-line
There are certain employee achievements that organizations must recognize to create a significant impact on the overall engagement of the workforce, resulting in higher business growth and profitability.
To stay updated on the latest HiFives blogs follow us on Twitter (@MyHiFives)