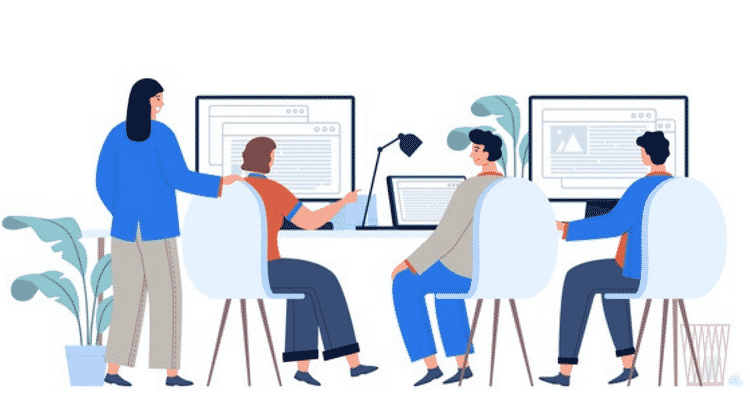 Employee Recognition Program can drive Cultural Change
Today, most organizations are trying to build an organization culture that is aligned to their vision and mission and align employee behavior to it. However, it is much more challenging that it sounds. An employee recognition program can drive cultural change – let's look at how organizations can do it right.
Why is Organization Culture so Important for Organizations
Organization culture can be often trivialized as a set of social behaviors and activities that employees indulge in at the workplace. This is mainly due to the fact that culture is not tangible and is about the kind of collective experience of employees while interacting and collaborating with their co-workers.
Culture can be best defined as the glue that holds a workplace together by enabling transparent two-way communication, recognition, and feedback.
A good organization culture can help in improving employee engagement as employees enjoy the freedom to express their ideas and opinions in an unhindered manner and feel truly valued for their efforts and achievements.
Importance of Recognition in Driving Cultural Change
Setting up a rewards and recognition program for employees can motivate them to repeat desirable behaviors and play a key role in initiating cultural change within an organization. By recognizing employees who display such positive behaviors and contribute to the organization culture, one can send out a strong positive message to the entire workforce. In addition, an employee reward program helps in establishing the standards for expected as well as acceptable workplace behavior from employees.
The employees feel motivated to emulate the performance, efficiency, skills, and behavior that their peers have appreciated and rewarded for. When implemented in the right manner, an good employee recognition program can enhance the overall happiness and satisfaction levels of the workforce, which in turn can prove critical for creating a positive organizational culture.

Tips for Driving Cultural Change through Employee Recognition

Steering the organization culture in the right direction is an ongoing process thanks to the constant changes that organizations go through. However, by aligning culture with the values, business objectives, and recognition programs, organizations can get the desired results faster and in a more effective manner.

Here are a few key aspects that organizations need to focus on while trying to drive cultural change through recognition: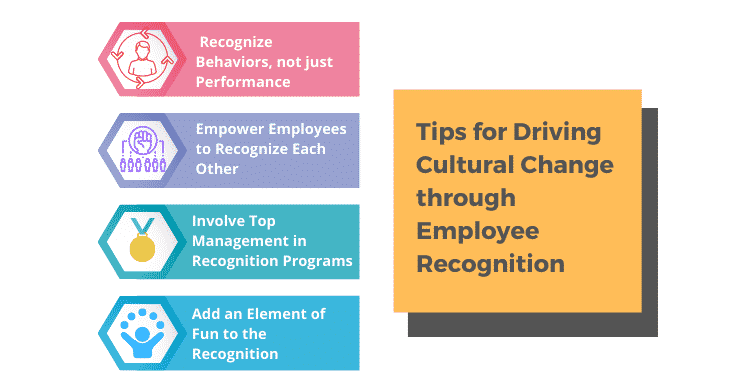 1. Recognize Behaviors, not just Performance

One of the key ways of driving cultural change is to encourage managers and supervisors to recognize their team members for desired behaviors, that are in alignment with the core values and the culture of the organization. Recognizing performance is important, but managers should incorporate the behavioral aspect of the employee's performance as well, not just the outcomes. Means matter as well, not just the ends, when it comes to driving cultural change.

Even simple measures like leaving a note of appreciation on the desks of the employees can promote a culture of appreciation and collaboration. Managers should be encouraged to reward and appreciate their team members by including it in their KRAs. Implementing an employee rewards platform that can help managers reward and recognize instantly through through Spot Awards and other rewards can also help.


2. Empower Employees to Recognize Each Other

Peer-to-peer recognition is a good way to promote freedom of expression to employees whereby they can appreciate their co-workers on their own. Such initiatives, help in assuring the employees that their opinions are valued and in turn, results in better engagement. Watching their superiors praising their co-workers likely to motivate them to do the same for their peers in form of peer-to-peer recognition.

Employees are more likely to recognize their peers for behaviors rather than performance. Using an online employee recognition platform that enables employees to recognize their peers by selecting the core values demonstrated by them can help in reinforcing such behaviors that are in alignment with the organization values and culture.


3. Involve Top Management in Recognition Programs

In order to implement any lasting change within an organization, it requires the complete support and encouragement of the top management. This is true even in case of building a culture driven by recognition. This can be achieved through their presence in offline or virtual award ceremonies. These forums can be effectively utilized to drive the message about the importance of values and culture in individual and team achievements.

The involvement of business leaders at various levels and types of employee recognition activities can have a major impact. Getting the support of the management makes the entire process much more effective as the employees feel inspired to become part of something significant that the top managers show an interest in.


4. Add an Element of Fun to the Recognition

As organizations strive to create a positive and informal work culture, making the process of recognition exciting and fun-filled can help capture and retain the attention and interest of their workforce. This can be done through creative employee recognition ideas that are both innovative and fun.

By adding a fun element to the employee recognition programs, organizations can inspire their employees to embrace cultural change more effectively.



Bottom-line
The implementation of an effective employee recognition program can drive cultural changes in an organization over time. Such cultural changes can provide long-term benefits for an organization and fuel business growth.
To stay updated on the latest HiFives blogs follow us on Twitter (@MyHiFives)