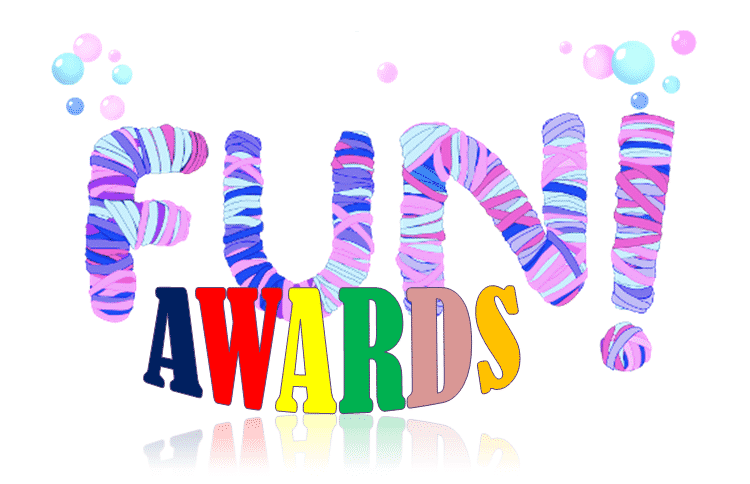 Informal or Fun Awards for Employee Engagement
Informal or Fun awards are not new – they have been around for a long time. They have often been used in office get-togethers and parties as ice-breakers. They can help in building an atmosphere of fun, camaraderie and team bonding.
In the current situation, with a large segment of the employees in most organizations working remotely, fun awards have acquired new relevance. Fun awards are slowly making their way into mainstream rewards and recognition programs.
Organizations have realized the importance of fun awards for employee engagement; to break the monotony of work from time to time and create a more fun-filled and informal atmosphere that foster better team building and collaboration.
What are Informal or Fun Awards?

Fun Awards are a way to appreciate and recognize co-workers in an informal and creative way; for their hobbies, interests, and personality traits that creates a positive and informal atmosphere at work without offending anyone.

The whole idea of fun awards is to ensure that the employees feel valued while having a good time and a great laugh.

It's all about recognizing an employee as a person and not just a co-worker or a resource for the organization.
Innovative/ Creative Ideas for Fun Awards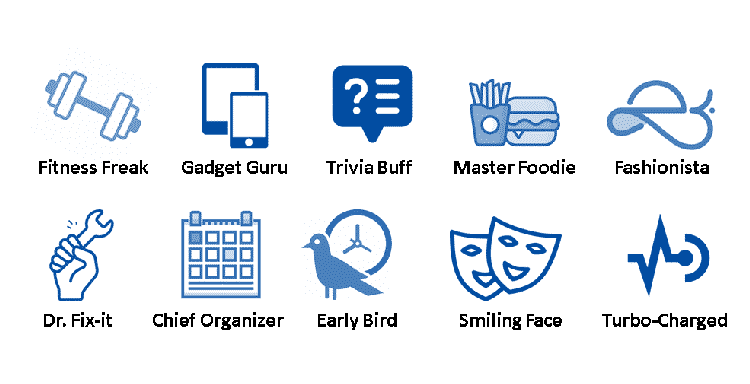 Fun awards are a great way to build a positive, informal and engaging atmosphere at work.

Here are a few creative and innovative ideas for informal/fun awards:

· Dr. Fixit Award: For someone who seems to have a solution for every problem.

· Office Picasso Award: For the most artistic person around.

· Fitness Freak Award: For someone who lives and breathes fitness.

· Caffeine Lover Award: For someone who cannot do without his or her cup of coffee.

· Early Bird Award: For someone who arrives to office and to every meeting much before anyone else.

· The Clean Slate Award: For someone who keeps their work area spic and span.

· The Fashionista Award: For someone who is always perfectly dressed for the occasion.

· Walking Wikipedia Award: For someone who seems to know everything about everything.

· Stand-up Comedian Award: For someone who always cracks witty jokes to keep others in good spirits.

· Super Snacker Award: For someone who is a true foodie and lives and loves his or her food.

· Instagramer Award: For someone who is very active on Instagram, posting stories several times a day.

· Office DJ Award: For someone who always has the best music playlist for office parties or trips.

· Terabyte Memory Award: For someone who has a terrific memory and rarely forgets anything.

· Netflix Navigator Award: For someone who always has the best recommendations for shows on Netflix.

· Event Planner Award: For someone who is amazing in organizing office parties and other events.

· Hot Spots Award: For someone who always has great recommendations for best places to hang out.


More Ideas

· Gadget Guru

· Trivia Buff

· Master Chef

· Smiling Face

· Turbo-charged

· Sports Champion

· Ace Adventurer

· Bookworm

· Car Czar

· Music Maestro

· Best Dancer

· Biker Boss

· Gaming Guru

· Selfie Champion

· Crossword Master

· Marathoner

· Shutterbug
How can organizations develop a program for Fun Awards?

The key objective of any employee recognition program is to keep the employees motivated and engaged. Enhancing the fun element of these programs can prove to be a simple yet effective way to make the employees feel appreciated and happy.

Here are a few guidelines that can help organizations come up with a great fun awards program: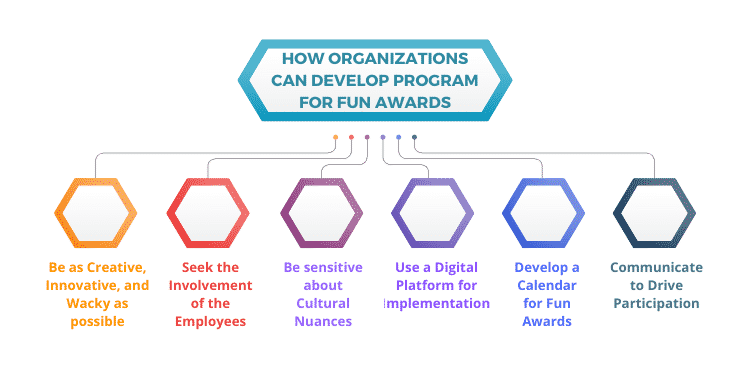 1. Be as Creative, Innovative, and Wacky as possible

Since the entire focus of fun awards is being as wacky and funny as possible; it is important that this is reflective of all aspects of the program. From the award categories, to the titles of the awards, the nomination criteria, and even the process of recognition should be innovative and creative.

The awards should focus on recognizing the quirky and interesting traits of employees that only few co-workers might be aware of.


2. Seek the Involvement of the Employees

The organization should seek ideas and inputs from their employees while deciding on the fun awards and titles. This could be achieved by getting together a group of employees to brainstorm on the ideas for fun awards.

Making the process of deciding on the fun awards inclusive in this manner can go a long way in enhancing employee engagement and their involvement in the program.


3. Be sensitive about Cultural Nuances

Organizations need to ensure that the fun awards they choose do not embarrass the employees rather than entertaining them. The awards should never make fun of the ethnicity, religion, gender, national origin, or other such aspects.

Organizations should keep in mind cultural sensitivities of their employees while deciding on the fun awards program to avoid hurting their sentiments.

 
4. Use a Digital Platform for Implementation

A digital employee recognition platform such as HiFives should be leveraged to make the implementation of the fun awards program easy and ensure a high level of employee experience. The digital platform should make the process of recognition, communication, and rewarding simple, seamless, and easy.

Social features such as a digital wall of fame, likes, comments, leaderboards, etc. can help in enhancing the employee experience. Reward points given along with the fun awards can be redeemed for electronic gift cards, driving greater participation and engagement.


5. Develop a Calendar for Fun Awards

It might a good idea to create a schedule for inviting nominations and announcing the winners for the fun awards. For example, every fourth Friday of the month can be called a 'Fun Friday', 'Freaky Friday' or 'Fantastic Friday'. Nominations could be accepted through the week and the winners could be announced on that Friday.


6. Communicate to Drive Participation

Regular, engaging, and peppy communication can help drive participation for these programs. Digital means of communication such as email, Teams/ Slack channels and WhatsApp groups can be leveraged to build up the excitement for these fun awards.

Read How to make Employee Recognition Fun and Wacky
Bottom-line
Informal or fun awards can be an excellent and inexpensive way to drive greater employee engagement and create a positive, informal, and friendly atmosphere at work.
To stay updated on the latest HiFives blogs follow us on Twitter (@MyHiFives)