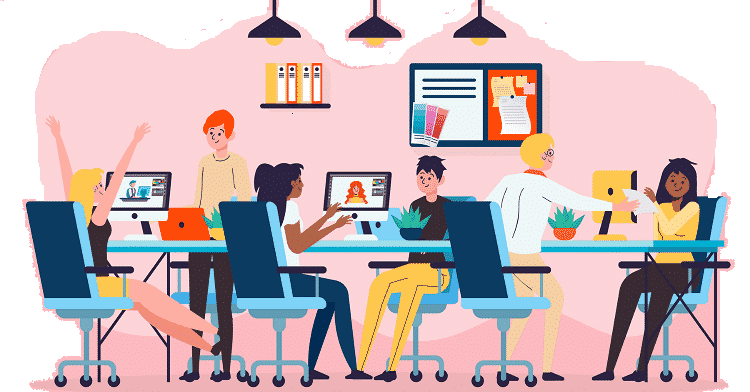 Guide to Employee Recognition in a Start-up Environment
While it is important for every organization, employee recognition in a start-up environment requires special focus. While working in a start-up is exciting, it can be stressful too, with its dynamic goals, unclear roles, and overall chaos. The importance of keeping the employees motivated and engaged in a start-up culture, cannot be underestimated. While most established businesses have a formal employee recognition system, things need to be done differently in a start-up environment to get the best results.
Importance of Employee Recognition in a Start-up
Startups today are the most happening places to work for young professionals, primarily due to the learning and growth opportunities; and the exposure to new technologies and business models. However, it is also well-known that most start-ups have small teams where employees take up multiple responsibilities and massive amounts of workload.
This requires employees to stretch beyond their usual capabilities and working hours in order to drive business growth. This is true for all start-ups whether self-funded, funded by investors or part of a larger organization.
Therefore, in such a start-up environment, recognizing and appreciating the efforts of employees can go a long way in establishing an emotional connect and sense of belonging with the organization.
Effective employee recognition in start-up environments cannot be run in a conventional manner and requires a different mindset, mindful planning and execution.
How to Recognize Employees in a Startup?

One of the key aspects of managing employee recognition in the right manner is to make it individually meaningful for the employees. In a start-up, the number of employees is quite limited making it easier for the employers to gain a better understanding of how each employee is likely to respond to recognition. This enables them to develop a smooth, systematic, timely and fair recognition program for their employees.

The key aspects of every effective employee recognition program in a start-up are as follows: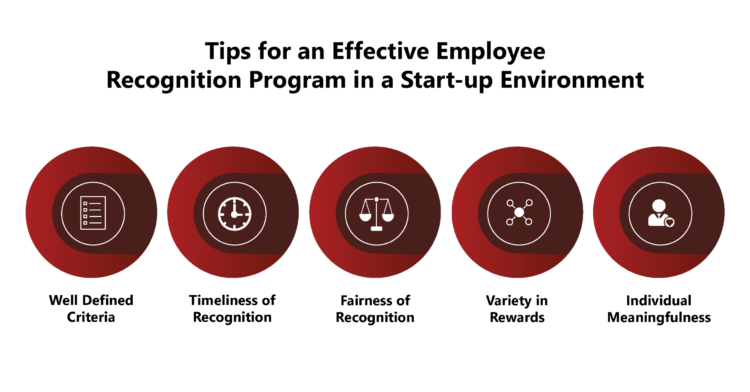 1. Well Defined Criteria

It is important for a start-up organization to have well-defined criteria that forms the base of its employee recognition program. Employees should be recognized and appreciated not only for their professional achievements but also for their personality and behaviour aspects that might help in motivating other team members.

It is the responsibility of the start-up leadership to make their teams aware of the different criteria for which they might get recognition and appreciation. At the same time, these criteria should be flexible enough to meet the changing business and employee needs as the organization grows and expands.


2. Timeliness of Recognition

Recognizing and rewarding the efforts of an employee well in time will ensure the effectiveness of the program. Any delays in the process can have significant negative consequences and can even reduce the morale and efficiency of the employees.

One method that can be adopted by start-ups to avoid this problem is to set a specific day of the month for handing out rewards and recognition to selected employees. This ensures that the employees do not feel frustrated or disappointed if they are not provided with timely recognition and appreciation. Alternately, early-stage start-ups can choose to acknowledge and appreciate employees regularly and on the go using a technology platform.


3. Fairness of Recognition

The most important aspect of ensuring the effectiveness of an employee recognition program is to ensure its fairness. This means that the startup leadership should verify whether or not the employees nominated for recognition truly deserve the same.

It is not uncommon for people to take credit for the work done by their juniors to gain the appreciation of their bosses. Recognizing and rewarding such people is not only unfair but also tends breeding dissent besides reducing the overall employee motivation in a start-up. Hence, it is essential for startup leaders to develop strategies that can help in ensuring complete fairness in handing out rewards and recognition to a deserving employee.


4. Variety in Rewards

Providing some sort of variety in the rewards being handed out to deserving employees is also something that startup leaders should consider. Offering the same rewards to different employees for diverse reasons makes the whole process seem formal and monotonous. By adding a bit of variety, the start-up leaders can keep the whole process innovative and interesting. It will also add a bit of surprise and excitement to the process as the employees are often kept guessing about the reward until the very last moment.


5. Individual Meaningfulness

Finally, it is important for the start-up leaders to ensure that the rewards and recognition being handed out holds some meaning for the individual employees. They need to understand that every individual is different and perceives appreciation and recognition in a different manner.

While for some true recognition might mean the announcement of their achievements to the world, for others it might be a few words of praise spoken by their seniors in private. The same holds true for rewards, which might hold greater value for some in cash, while others might prefer receiving an appropriate gift.


Read 8 Creative Ideas for Startups to Recognize Employees and 5 Low Budget Ideas for Employee Rewards and Recognition
Bottom-line
Considering the above points, start-up organizations can develop truly effective and result-oriented employee rewards and recognition programs that can enhance workforce performance and motivation significantly, and accelerate business growth.
To stay updated on the latest HiFives blogs follow us on Twitter (@MyHiFives)