8 Creative Ideas for Startups to Recognize Employees
Startups today are the most happening workplaces to work for young professionals, primarily due to the learning and growth opportunities; and the exposure to new technologies and business models. However, working in a startup can be stressful too, with its dynamic goals, unclear roles, and overall chaos. We have put together 8 creative ideas for startups to recognize their employees.
These ideas are easy to implement, are inexpensive, can be personalized and can work well even in a virtual work environment. Many startups often do not invest in employee recognition programs citing lack of resources and low budgets.
This can help startups to create a positive work culture, where they recognize employees for their achievements. The recognition, in turn, motivates them to perform at higher levels despite all the challenges. Here goes: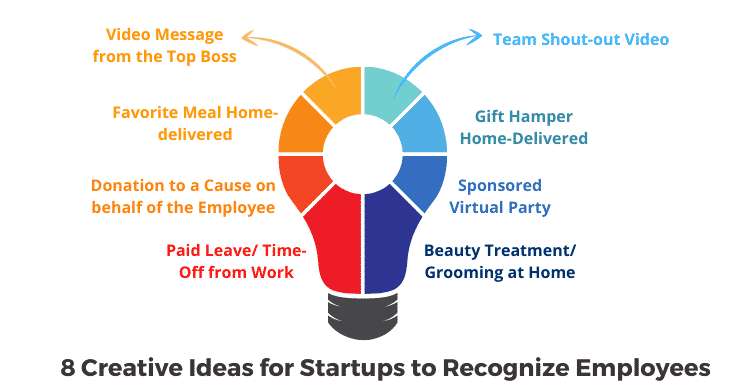 1. Video Message from the Top Boss
A personal video call or video message from the CEO or one of the Co-Founders appreciating an achievement or performance can work wonders for the motivation of any startup employee.
Coming from the top boss himself or herself can be a huge confidence booster for the employee. It can also create a personal connection between the top management and the high performers.
2. Favorite Meal Home-delivered
Another idea to recognize employees for their achievements would be to get their favourite meal delivered to their homes. It could be anything from a great breakfast pack, pizza, mouth-watering desserts, healthy snacks, or even a game-night meal combo.
Obviously, the organizer needs to know the food preferences of the employee, either directly or through the supervisor or coworkers. Since employees in startups tend to spend a lot of time together at work and outside work, this might not be such a difficult piece of information to gather.
3. Team Shout-out Video
Nothing works better than a team video that captures different team members appreciating a coworker on camera for a specific achievement.
Video clips of individual team members can be compiled using video editing software such as Spark or Openshot; possibly with some background music and special effects.
The video can be shared over email, WhatsApp or played during a team meeting via web conferencing. This form of recognition certainly has a lot of social value.
4. Gift Hamper Home-Delivered
Another effective way to recognize employees is by sending gift hampers to their homes. These hampers could be of snacks, health foods, beauty or grooming products, depending on the preferences of the employees and the budget available.
Once again, it's important to personalize the entire experience, rather than following a 'one-size-fits-all' approach.
 5. Donation to a Cause on behalf of the Employee
Donating to a cause that the employee supports or believes in, on his or her behalf is a great way to recognize them. There are so many causes where contributions can be done online. Such a form of recognition has a significant feel-good factor for most employees.
6. Paid Leave/ Time-Off from Work
As employees of startups often experience overwork and stress, some break in the tight work schedule might be welcome. The startup can spice it up by also giving the employee a gift voucher for shopping or some other activity. This can make the entire experience even more satisfying for the employee.
7. Sponsored Virtual Party
This idea is a variant of the first one but involves other team members as well. This could be in form of a pizza party or a movie/ game-night, where employees can celebrate together from their own homes via web conferencing.
The food can reach through home delivery while team members can interact socially over web conferencing. Virtual party games can add more zing to it.
8. Beauty Treatment/ Grooming at Home
Another great form of recognition could be organizing a beauty treatment or a grooming session for the employee at his or her home.
With many choosing to stay away spas and salons, for now, this would be a great experience for the employee right from the comfort and safety of his or her home.
Needless to say, the choice of experience needs to take into account the personal preferences of the employee.
Bottom-line
These creative ideas for startups to recognize their employees should help them energize and drive them to even higher levels of performance despite the challenging, unstructured and often chaotic work environments.
To stay updated on the latest HiFives blogs follow us on Twitter (@MyHiFives)