5 Steps to An Effective Employee Rewards and Recognition System
Watch the Video
Communication for Successful Employee Rewards and Recognition
The significance of employee appreciation and recognition in enhancing the satisfaction and motivation levels of the workforce is well-known. However, many smaller organizations still feel that an employee and recognition rewards system is an expensive proposition. Such organizations tend to ignore the fact that employee recognition programs can work well even with a minimal budget. Moreover, such investment can provide huge dividends in form of enhanced loyalty and efficiency of employees and business growth.
Consequences of Absence of Employee Recognition Programs
Frequent appreciation and rewards for good work drives most employees to work with high levels of dedication and effectiveness
However, when an organization fails to establish a proper rewards and recognition program for its employees, it unwittingly sends the wrong message to its existing as well as potential employees.
Also, they start feeling unsure about their value in the organization and the professional growth opportunities they would get there. Most importantly, lack of appreciation for good work, ideas and efforts can lead to loss of interest in their work. Hence, this reduces employee engagement levels leading to a significant downfall in their productivity
Given the pitfalls of no rewards program, let's look at 5 easy steps for development of such a program:
Key Steps to Develop an Effective Employee Rewards and Recognition System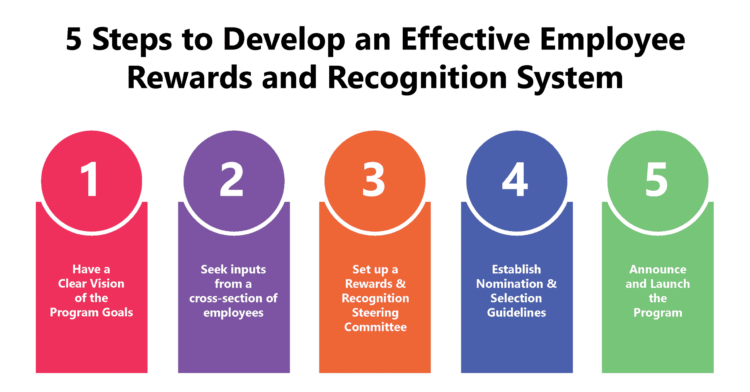 1. Have a Clear Vision of the Program Goals
Before starting the rewards and recognition program, organizations should have clear understanding of the objectives of the program. They have a good idea of the business benefits expected from the program apart from boosting the morale of employees.
Additionally, they need to know about the values and behaviors they intend to reinforce among employees through the recognition program. Hence, a clear vision of program goals and communicating the same to employees can help establish a strong base for success.
2. Seek Inputs from a Cross-section of Employees
Once the objectives of the program have been defined, organizations should seek inputs from employees across different levels and departments. Their suggestions about the types of recognition, the eligibility and the process should be incorporated suitably.

Hence, this helps in establishing a sense of trust among employees and makes them feel integral to the program. It also lends greater credibility to the system in their eyes if their views and opinions are taken into consideration.
3. Set up a Rewards and Recognition Steering Committee
Setting up a committee for running and managing the rewards and recognition program is of utmost importance. So, it ensures fairness and transparency with proper representation from all stakeholders.
The committee can also handle the nitty-gritties including organizing regular reward functions and deciding on the best rewards.
4. Establish Nomination and Selection Guidelines
Setting up proper guidelines for eligibility and selection of award recipients is the next important step. Hence, the HR needs to work closely with the committee to ensure that enough opportunities are there for all employees to get recognition.
Rewards can of different categories to ensure fair opportunities to employees across levels within the organization.
5. Announce and Launch the Program
Before the program launch, the organization should inform employees of the objectives, eligibility criteria and selection process. Hence, hey should send an email detailing the various aspects of the program to all employees.
In addition, the rewards committee should answer any queries to drive employee interest, confidence and participation in the program.
Bottom-line
Most great employee reward and recognition systems are not established overnight but these basic steps can help them to move in the right direction towards success.
These steps should be as per the unique requirements of individual organizations to get the maximum benefits.
To stay updated on the latest HiFives blogs follow us on Twitter (@MyHiFives)