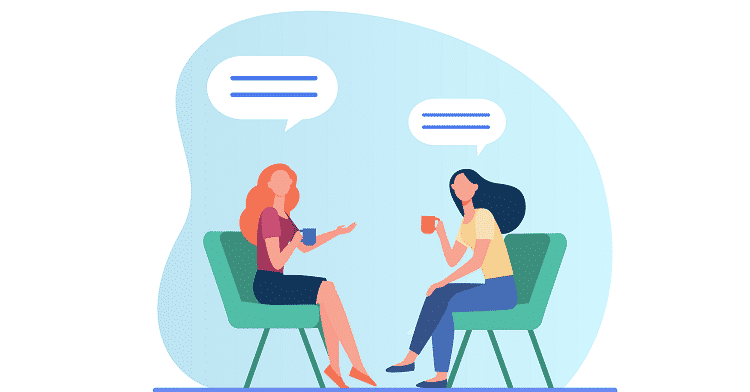 Impact of Digitization on Personal Touch in Employee Recognition
Does digitization of employee recognition programs take away personal touch and diminish their value? The answer to this question is a resounding NO!
People had similar concerns about the telephone, computers, the Internet and so on. But as social beings, we have still managed to figured to interact socially in some form or the other.
What are the benefits of digitizing an employee recognition program?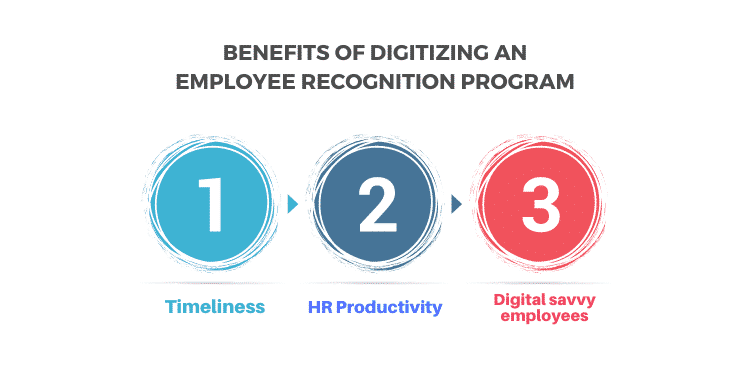 Timeliness: Timely recognition of employee achievements can easily happen through digital platforms. In fact, they can drastically reduce the manual processes of data collation, approvals, procurement, and distribution.
HR Productivity: Getting rid of manual tasks free up the time of HR teams to devote time and energy to more value-added activities.
Digital savvy employees: With high percentage of millennials in the workforce who use various digital platforms profusely, having a traditional process is just unthinkable.
While the benefits of digitization seem obvious, what about the flip side of it in terms of reduced employee touch?

How can personal touch be maintained in digital employee recognition programs?

Based on actual experience of organizations with such digital recognition programs, we have put together these thoughts: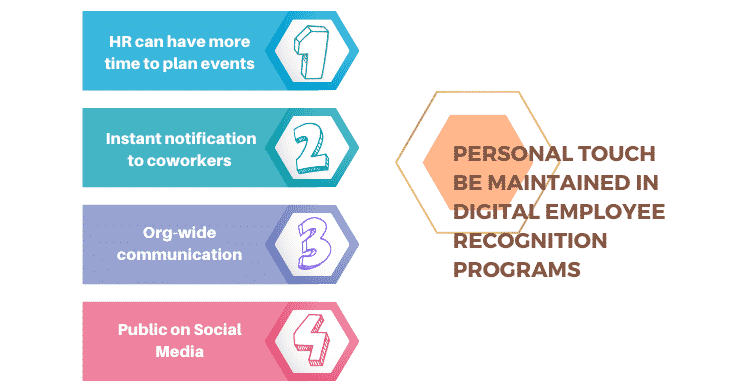 1. HR can have more time to plan events

With the digitization, the HR Team now has more time to plan and execute in-person rewards and recognition events. These could be floor huddles, all-hands-meets, town halls, etc. In fact, members of the management can recognize employees in presence of reasonably large gathering of employees.


2. Instant notification to coworkers

Also, digital platforms can send out communication over email to other employees and teams. Even employees in other teams or other workplaces would be able to know it instantly as the recognition happens. In fact, coworkers might reach out to the recognized employees over email (phone or messenger) to congratulate them.


3. Org-wide communication

Additionally, a digital wall of fame can propagate the message across the entire organization. In fact, it can cut through all boundaries of geography, functions, and teams and reach everyone in the organization.


4. Public on Social Media

Certain organizations allow the recognition to be posted on social media such as Facebook, LinkedIn, and Twitter. They can post the recognition through company accounts or allow employees to share using their own. Hence, the recognition is able to reach the friends and family of the recognized employees. So, it boosts their sense of achievement and pride further.
Bottom-line
Overall, it does seem that digitization of the employee rewards and recognition program adds much more than what it takes away. There is no reason to believe that it would reduce the personal touch.
It can improve the timeliness and communication vastly, creating a higher level of employee satisfaction as compared to traditional methods. It is almost like comparing an aeroplane with a bullock cart.
Given today's digital-savvy way of life, geographically distributed workforces and busy corporate schedules, a digital platform for employee rewards and recognition are must-haves for most organizations. No second thoughts!
To stay updated on the latest HiFives blogs follow us on Twitter (@MyHiFives)