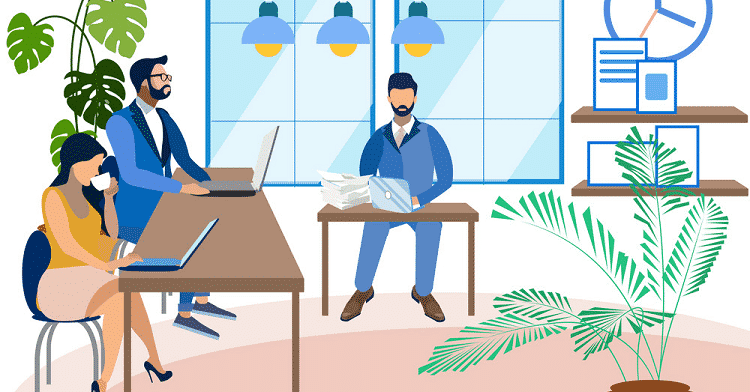 Top 5 Things For Organizations To Make Employees Feel Valued
Most organizations today, are well aware of the key role played by their employees in the growth and success of their businesses. They also understand that hiring and retaining top talent is challenging due to the competition in the job market and the rising expectations of employees. Hence, organizations need to make employees feel valued to drive their job satisfaction,
Employees are not just looking for good compensation and benefits, but they also expect a positive and pleasant workplace culture.
In this article, we take a look at what actions organizations can take in this context:


Why should employees be made to feel valued?

To ensure that employees are motivated to perform at their best, organizations need to keep their happy and engaged. Hence, they need to make the employees feel valued for their contribution to the organization's success.

These are the key reasons why:

– When employees feel valued, they tend to become more enthusiastic about their work and take greater ownership. This ensures that they attain their complete their tasks effectively despite challenges and attain their goals.

– When employees feel truly valued within their organization they are less likely to seek or accept job opportunities elsewhere. This improves their retention through this enhanced sense of loyalty and dedication.


What can organizations do to make employees feel valued?

Given the importance of making employees feel valued, organizations need to take the necessary steps to ensure the same. So, here are the top 5 things that organizations need to do to make the employees feel valued: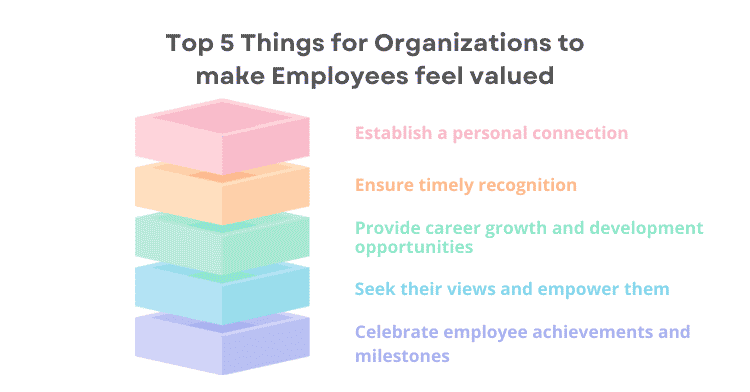 1. Ensure timely recognition

Acknowledging and appreciating the efforts and achievements of employees in a timely and appropriate way is one of the foremost ways to make them feel valued. In fact, employee recognition initiatives help assure employees that their hard work and dedication are not going unnoticed by the organization and its management.

It gives them due credit for their contribution to the success of the business. This motivates them further to keep up the good work.


2. Establish a personal connection

Organizations need to value employees as individuals and not just as business assets. Hence, organizations need to encourage their managers and supervisors to show care and concern for their employees and develop a level of personal connection with them.

This might include understanding them as individuals rather than just team members; enquiring about their well-being and their families and extending help and support whenever required.


3. Provide career growth and development opportunities

Employees are looking not just for good compensation and benefits packages, but for opportunities for learning and development as well as career advancement. When employees are assured about their organization supporting them in their career growth plans, they feel truly valued and appreciated.


4. Seek their views and empower them

Organizations can make employees feel valued by seeking their feedback and opinions on policies and business decisions organization. Therefore, empowering them to take decisions wherever possible also gives a sense of ownership and motivates them to go that extra mile.


5. Celebrate employee achievements and milestones

Rewarding and recognizing employees for their loyalty can go a long way in making them feel valued. Hence, the long service award is an effective tool to acknowledge the commitment, effort and achievements of an employee over the years of service.  

Monetary awards and formal award ceremonies conducted publicly with the involvement of the senior management can work really well in instilling a sense of pride and fulfilment among the employees.
Bottom-line
Organizations can need to take implement these measures to make employees feel valued and build a highly engaged, self-motivated, and completely dedicated workforce that can drive business growth and profitability.
To stay updated on the latest HiFives blogs follow us on Twitter (@MyHiFives)