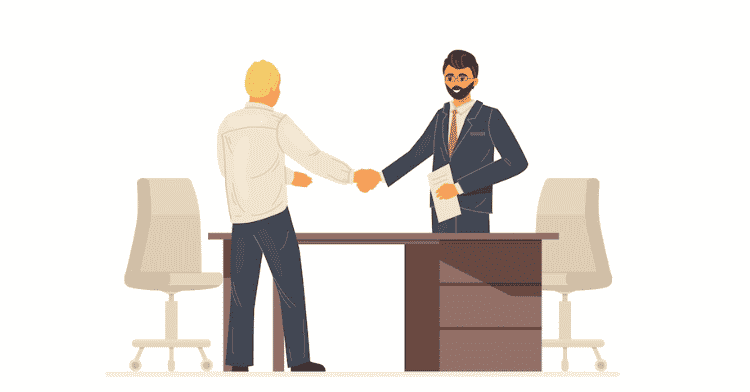 10 Innovative Easy-to-Implement Ideas for Employee Recognition
When employees feel appreciated, they are consistently self-driven to perform their best and make a positive contribution to organizational growth. That is why organizations today need to find innovative recognition ideas to create a motivated workforce. Discussed in this article are 10 innovative easy-to-implement ideas for employee recognition that organizations may consider.
Most Innovative Ideas for Employee Recognition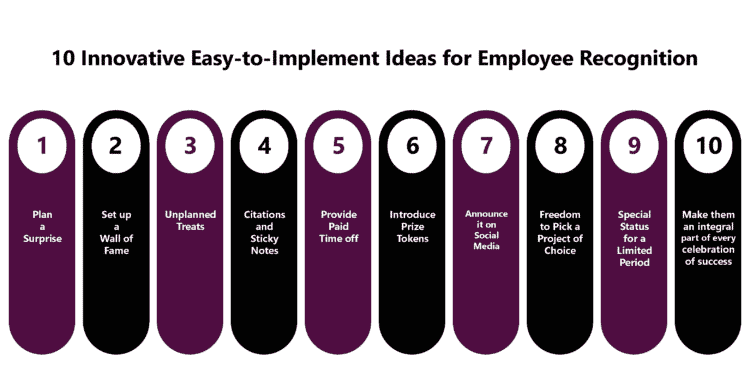 1. Plan a Surprise

Planning a surprise recognition event or party is a unique way to appreciate the contribution and achievements of employees. Receiving appreciation for their work in an unexpected manner from peers and superiors can go a long way in boosting the morale of the employees.

Organizations can make the employees feel a little unappreciated during the run-up to the surprise to make it more impactful.


2. Set up a Wall of Fame

Dedicate a wall within the workplace for putting up notices detailing the achievements of the employees along with their candid images when they are engrossed in work.

These notices and images can be accompanied by relevant employee recognition quotes, to further inspire the other members of the workforce.


3. Unplanned Treats

Announce a spontaneous team lunch to acknowledge the efforts or achievements of a specific employee. Managers can also treat their teams to the favorite food of the employees to be recognized without any prior announcements as a mark of appreciation.

Such initiatives help in assuring the employees of being a valued asset and also help in enhancing the sense of team spirit.


4. Citations and Sticky Notes

Another innovative way of appreciating employees is to leave employee recognition citations or sticky notes saying thank you or even a few words of praise on their workstation. It is advisable to place these notes along with a bunch of flowers on the employee desks before their arrival at work.

This will make them feel pleasantly surprised besides keeping them happy and motivated for many days to come.


5. Provide Paid Time–off

One of the best ways of appreciating the efforts and hard work of employees is to offer them paid time off from work. Alternately, organizations can sponsor a day-long outing for the employees with their family or friends to the destination of their choice.

This method of recognition proves extremely effective as it helps the employees to relax while feeling appreciated for their contribution.


6. Introduce Prize Tokens

Prize tokens are definitely one of the most innovative employee recognition examples that organizations can implement. Every time an employee does something that is worthy of appreciation and recognition, they can be given a prize token.

These tokens can then be exchanged for specific gifts, which might be decided by the organization after careful consideration of employee expectations and recognition budget.


7. Announce it on Social Media

Social media has come to play an important role in the everyday lives of most individuals. Hence announcing the achievements of the employees on social media is one of the best recognition ideas for the modern workforce.

With the extensive reach of social media, using it to share such news can help in enhancing the appreciation received by the employees manifold and from all quarters.


8. Freedom to Pick a Project of Choice

Giving the employees the freedom to take a pick from special upcoming projects is definitely one of the most creative and effective of all types of employee recognition ideas.

In addition to providing the employees with an opportunity to showcase their yet unknown skills and competence, it also assures them of being trusted by the management to shoulder bigger responsibilities.


9. Special Status for a Limited Period

Providing some special status to the employees for a limited period is another innovative employee recognition idea. This special status may be accorded in the form of free meals, transportation facility or even an opportunity to interact and work with their role models within the organization for a fortnight or month.

Such recognition helps in enhancing the self-confidence and sense of self-worth of the employees.


10. Present a Hand-made Gift

An innovative non-financial recognition idea is present the employees with something that they might have been craving for long.

These gifts may be related to work or even personal in nature, although the employees should be made aware of exactly why they are receiving the gift. These gifts help in enhancing the sense of self-worth and the level of happiness of the employees.
Bottom-line
Adopting such innovative easy-to-implement ideas for employee recognition adds greater meaning to employee rewards and recognition programs and helps in creating a highly motivated workforce, committed to enhancing organizational growth and success.
To stay updated on the latest HiFives blogs follow us on Twitter (@MyHiFives)