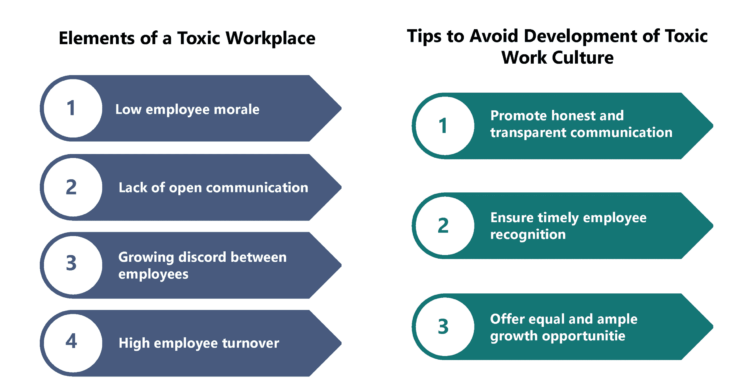 Organizations strive towards creating a positive work culture to drive employee engagement levels, which is essential for business growth and competitive advantage. However, is a fine line between a driven work environment and one that is overly competitive to the point of degenerating into a toxic workplace culture.
Characteristics of a Toxic Work Culture

Contrary to popular belief, toxic workplace culture is not defined simply by having a group of inefficient and unproductive employees within the organization. Rather it is more about a workplace plagued with fighting between employees, falling productivity and a sudden increase in the unhappiness and dissatisfaction level of employees.

While in most cases, the elements of toxic work culture are right there in the open and thus are easily identifiable, many times they remain hidden and require significant effort from the senior leaders to be uncovered.

The most common signs of toxic organizational culture are as follows:


1. Low employee morale

When a majority of employees seem gloomy and show little interest in their work or their surroundings, it often indicates growing toxicity at the workplace.

The lack of energy and enthusiasm among the employees should be taken quite seriously by the leaders, who should focus on finding the reasons for the same and rectifying them at the earliest.


2. Lack of open communication

Lack of effective communication between the employees and the management is another major indicator of toxic work culture. In such a scenario, employees mostly feel afraid of asking questions to their supervisors and simply choose to follow the instructions given to them.

This enhances their sense of distrust and even makes them feel disengaged and undervalued.


3. Growing discord between employees

The growing discord between employees is also indicative of the fact that not all is well at the workplace.

A sudden increase in the misunderstanding between co-workers, a decline in the level of coordination between employees, and a rise in the sense of distrust and dissent among the employees are all red flags that organizations need to respond to at the earliest.


4. High employee turnover

One of the key indicators of a toxic corporate culture is an increase in the turnover of the employees. Most employees prefer to leave their jobs rather than being bogged down by the stressful environment at the workplace.
This is especially true for high-performing and most sincere employees, who tend to stay away from any kind of workplace politics as it affects their performance.

Ways to avoid the development of a Toxic Work Culture

The development of toxic culture can have drastic consequences for an organization including a dramatic fall in productivity and market goodwill. Moreover, it can destroy the ethos of the organization and promote undesirable behaviors that will hinder business growth.

To avoid such situations, it is important for organizations to take the necessary steps for preventing the development of toxic organization culture.

The following tips can prove beneficial in this context:


1. Promote honest and transparent communication

Honest and transparent communication in both top-down and bottom-up as well as peer-to-peer within the organization can help prevent the development of toxic culture.

Sharing key information about business goals, processes and policies with the employees in a timely fashion helps the organization in assuring them that they are integral to it. It also enables the employees to express their opinions and ideas freely which further strengthens their emotional connection with the organization.


2. Ensure timely employee recognition

Appreciating employees for their efforts and achievements in a timely and effective manner is key to keep them happy and motivated. Such employees are less likely to indulge in activities that may disrupt the growth and profitability of the organization.

Having a great employee recognition program in place can help ensure that employee contribution towards business success does not go unnoticed and that they do not feel unappreciated or unvalued.


3. Offer equal and ample growth opportunities

It is important for an organization to provide its employees with fair and ample career growth opportunities across levels.

Organizations need to avoid any kind of bias or favouritism for specific employees as it can result in brewing dissent within the workforce. Such instances can lead to a significant drop in employee engagement levels besides creating a sense of detachment and emotional disconnect.
Bottom-line
Organizations need to ensure that avoid the pitfalls of a toxic work culture that is detrimental to the growth and profitability of the business.
To stay updated on the latest HiFives blogs follow us on Twitter (@MyHiFives)