The Magic of Employee Recognition
Recognition is an ancient tradition in all communities, dating thousands of years. Recognition at the workplace too goes back in history. Employee recognition may or may not come with monetary benefits but more often than not, it comes with high visibility within the organization.
Overview of Employee Recognition
Employee recognition has come a long way and has evolved into a more structured form of appreciation within the organization; not just restricted to leaders or managers but any employee in the organization could recognize anyone.
Such peer-to-peer recognition, though a noble thought has been subject to a lot of pessimism from the management as to whether it is indeed genuine or not. Several organizations have downgraded the value of peer-to-peer recognition to well below manager recognition due to this reason.
Whatever the mechanism of employee recognition, we believe it should be timely and well thought through. It has a multiplying impact on employee motivation if done in the right way.
Hence, systems and processes need to be implemented to ensure that the impact of it is fully realized by the organization. That is when the magic of employee recognition will touch the work lives of all employees and create a great work culture.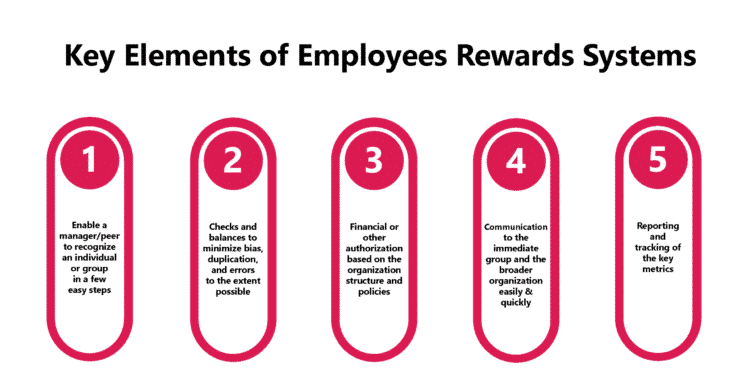 What are the key aspects of employee recognition system should be ensured?


1. Enable a manager (or peer) to recognize an individual or group in a few easy steps

2. Checks and balances to minimize bias, duplication, and errors to the extent possible

3. Financial or other authorization based on the organization structure and policies

4. Communication to the immediate group and the broader organization easily and quickly

5. Reporting and tracking of the key metrics

Recognition beyond numbers
Key metrics would include coverage ratios at various levels. Usually, organizations would set a target coverage ratio for themselves. Though setting a target puts more focus into the whole process but it might also make recognition for the sake of recognition which devalues the entire concept.
Hence, our recommendation would be to set a target range for employee recognition, purposely keeping it on the lower side to preserve the novelty and the value of it rather than making it an entitlement.
All this is just the science of employee recognition, driven by systems, processes and hard numbers. However, the art of employee recognition goes much beyond that – what is said and written; the honesty with which the communication is done and the timeliness of it; all matters. Systems and processes can only facilitate but it is up to the individual manager or employee to create that magic!
Bottom-line
According to us, employee recognition is both an art and a science that helps build a culture of appreciation within the organization. This will ensure that employees think and act beyond their goal sheets and appraisals and create a positive atmosphere within the organization.
Ends are always going to be important but mean too are important. Hence, what is required is the magic of employee recognition that should permeate through the entire organization between one appraisal cycle and the other.
To stay updated on the latest HiFives blogs follow us on Twitter (@MyHiFives)