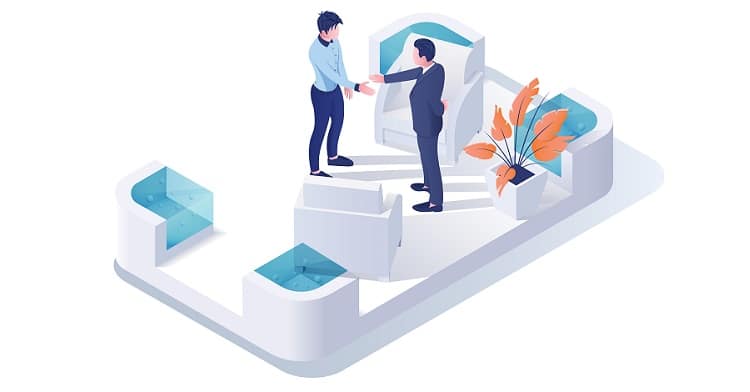 Creating A Culture Of Digital Recognition In The Organization
Organizations today understand the importance of having a strong culture of recognition to keep their employees motivated and engaged. Given the massive changes in the work environment, organizations need to keep their workforce engaged no matter where they are. Hence, many organizations are seeking to promote a culture of digital recognition that can help them create an engaged workforce and drive business growth.
Also, read: How Employee Recognition Can Drive Culture Change in 2023
Why Recognition?
Today, employee recognition is one of the more core aspects of the HR Strategy of any organization. No organization can ill afford to ignore the importance of employee recognition in driving their business growth and profitability.
Here's a quick look at why employee recognition is so important for organizations:
Enhances Employee Motivation and Commitment
Improves Performance and Productivity
Contributes to a Positive Work Culture
Improves Collaboration and Teamwork
Increases Employee Retention
Enhances Employer Branding
Why Go Digital?
Significantly, the workforce of every organization has been getting increasingly dispersed with greater business growth and globalization. Employees have been working from multiple offices, client locations and even from remote locations.
Moreover, this has been accelerated by the pandemic that has forced a majority of the workforce to work from home. Hence, it has reduced the workforce density at the workplaces for a prolonged period.
Going forward, most organizations with even a small workforce is expected to have their employees in multiple locations. This could be offices, factories client locations, field or even homes.
Hence, it is critical for organizations to make their employees feel appreciated and valued, irrespective of work location. Hence, digital recognition in organizations is the need of the hour today.
Culture of Digital Recognition
What are the Best Practices for Creating a Culture of Digital Recognition?

Digital recognition is an important component of the employee engagement strategy of most organizations. Hence, they need to ingrain it as part of their culture to make it long-lasting and sustainable; and derive long-term benefits from it.

Here are a few best practices that can help organizations create and promote a successful digital recognition program: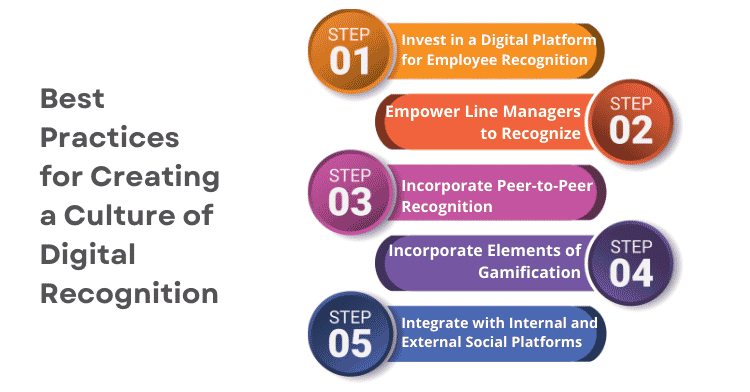 1. Invest in a Digital Platform for Employee Recognition

First and foremost, organizations need to invest in appropriate employee recognition tools that could digitize the entire employee rewards and recognition process.

 
2. Empower Line Managers to Recognize

Additionally, managers should be able to provide instant recognition to their team members in form of Spot Awards and other rewards, whenever they see any significant achievement that is out of the ordinary. They should be able to reward and recognize without going through formal processes and seeking multiple approvals.

 
3. Incorporate Peer-to-Peer Recognition

Importantly, employees should be able to recognize their peers for their contributions or for any help or support received from them without going through a formal process. Moreover, such acts of peer-to-peer recognition should be spontaneous and can go a long way in making this behavior an integral part of the culture.

 
4. Incorporate Elements of Gamification

Additionally, the employee recognition platform used by the organization should include key elements of gamification such as reward points, walls of fame, leaderboards and e-gift card options. Such aspects make the program exciting and engaging for member of the workforce, especially the millennials and drive their participation and involvement in the programs.

 
5. Integrate with Internal and External Social Platforms

Importantly, one of key ways to build a culture of digital recognition is by ensuring maximum social visibility within and outside the organization. This can be achieved through integration with internal collaboration platforms such as MS Teams, Slack and Intranet; and also with social media platforms such as Facebook and LinkedIn.

Key Takeaway
Such best practices can make the process of digital recognition a key part of the organizational culture. This in turn can boost employee happiness and motivation, and enhance the overall performance of the organization.
To stay updated on the latest HiFives blogs follow us on Twitter (@MyHiFives)