10 Best Messages for Recognizing Employee Performance
Employee appreciation and recognition help to create an engaged and dedicated workforce, which in turn can drive business growth. To get the best results in the form of enhanced employee motivation and performance, it is important for organizations to learn and use the right language of recognition. In fact, the appropriate messages for recognizing employee performance is almost as important as choosing the right method of recognition or even the best way of presenting it to the deserving employees.
Need for Good Appreciation Messages
Thanking employees using rightly worded appreciation messages can help to enhance their sense of job satisfaction and self-worth. Showing gratitude to employees in the right way helps to keep them motivated and happy.
When they feel valued for their work and contribution, the employees are likely to give their best to ensure the fulfilment of organizational goals. These small tokens of appreciation help in strengthening their emotional connect with the organization and motivate them to play a constructive role in its business success and growth.
Read How Important is Recognition for Employee Engagement?
Examples of Appreciation Messages
When it comes to writing appreciation messages, the managers and supervisors often find themselves at a loss of words. Hence, the right messaging is critical for appreciating and motivating to the maximum. So, here are a few examples of messages relevant to different scenarios of employee recognition at the workplace
1. Appreciating an Employee for a Job Well Done
There are times when an employee might perform beyond the expectations of his or her managers Appreciating the effort and hard work of the employee at such times is essential to make him or her feel valued.
So, here are a few examples of appreciation messages for such situations: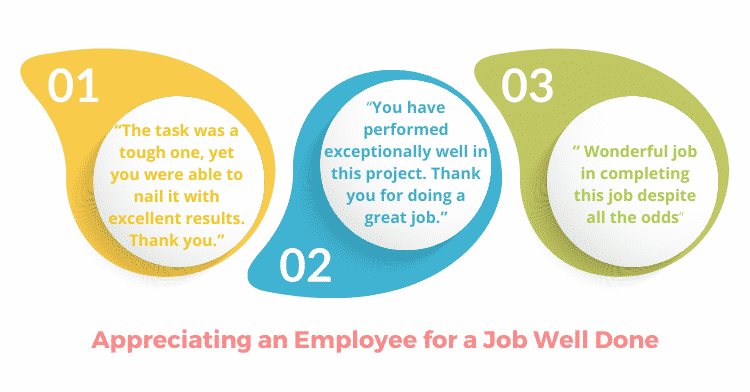 – "The task was a tough one, yet you were able to nail it with excellent results. Thank you."

– "You have performed exceptionally well in this project. Thank you for doing a great job."

– "Wonderful job in completing this job despite all the odds"
2. Appreciating a Consistently Hard-working Employee
All organizations have employees who put in their best efforts every time. Such employees are generally self-motivated and might not expect to be appreciated for their work. However, doing so can really boost their morale.
In fact, a good appreciation message from the manager is likely to be very effective in motivating an employee. So, here are a few examples of appreciation messages for such employees: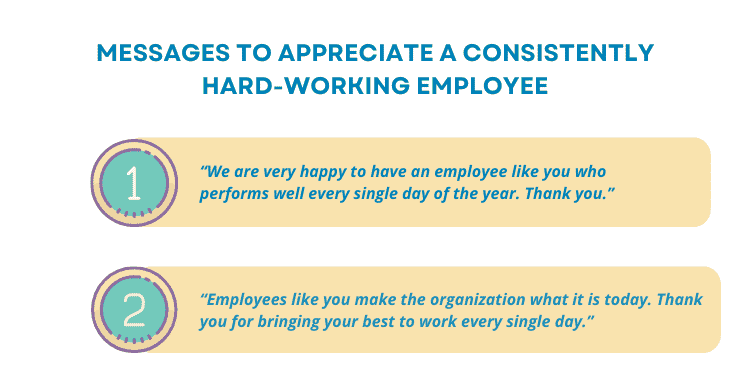 – "We are very happy to have an employee like you who performs well every single day of the year. Thank you."

– "Employees like you make the organization what it is today. Thank you for bringing your best to work every single day."
3. Appreciating an Employee with a Great Sales Performance
Sales can be an extremely tough and challenging job. Hence, employees with top performance in sales definitely deserve a appreciation with a well-crafted message. In fact, can go a long way in ensuring that they perform continuously and drive business growth.
So, here are a couple of the best appreciation messages for outstanding sales performers: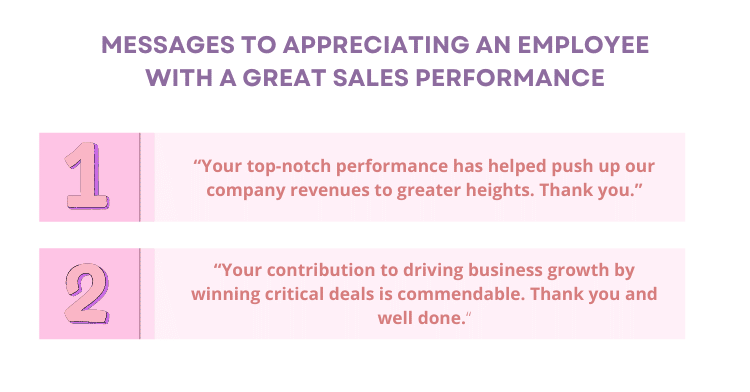 – "Your top-notch performance has helped push up our company revenues to greater heights. Thank you."

– "Your contribution to driving business growth by winning critical deals is commendable. Thank you and well done."
4. Appreciating an Employee who Offers Unconditional Help and Support
A few employees provide help and support to their peers and juniors even without being asked. In fact, they might even show willingness to take on extra work and responsibilities to ensure the timely achievement of business goals.
Hence, sending them well-worded appreciation messages as apart of employee recognition is of great importance. So, here are a few examples: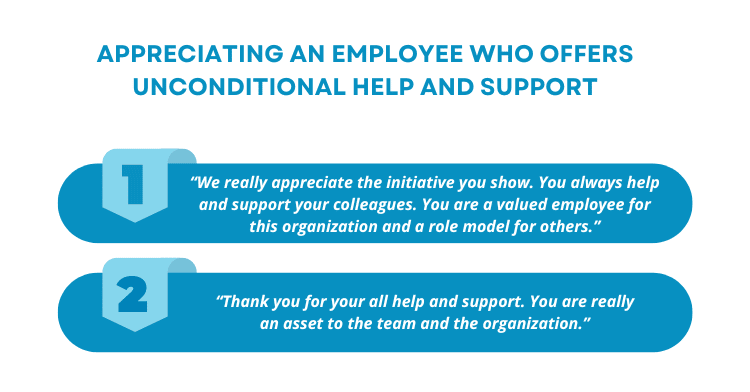 – "We really appreciate the initiative you show. You always help and support your colleagues. You are a valued employee for this organization and a role model for others."

-"Thank you for your all help and support. You are really an asset to the team and the organization."
Also, read 33 Best Appreciation Messages for Employee Recognition
Bottom-line
The above examples can help provide a general direction for managers and supervisors to write truly motivating messages for recognizing employee performance; which will encourage the recipients to keep performing at a high level and drive business growth.
To stay updated on the latest HiFives blogs follow us on Twitter (@MyHiFives)