Back to the Basics: How Recognition Motivates Employees?
Watch the Video
Back to the Basics: How Recognition Motivates Employees?
HR Experts believe that motivation is a key factor for building a highly productive and efficient workforce. A motivated workforce plays a key role in the consistent growth and success of an organization. Timely and appropriate recognition motivates employees.
Why is Employee Motivation important for an Organization?

Motivated employees form the pillars of a successful organization. Discussed below are a few reasons why employee motivation is so important: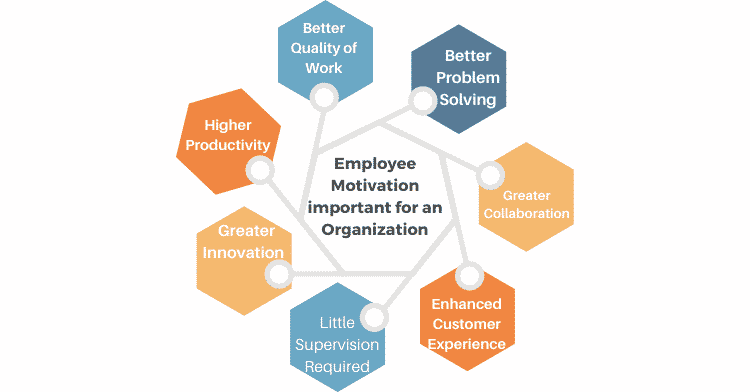 1. Higher Productivity

Research has revealed that a high level of motivation can increase employee productivity by at least 12%.

In fact, motivated employees display greater focus and commitment towards completing the work assigned to them in time, without asking for more resources or extension of deadlines.

 
2. Better Quality of Work

Also, motivated employees are likely to deliver a better quality of output, ensuring there are lesser errors and lesser need for rework.

 
3. Enhanced Customer Experience
 
Additionally, customer experience is boosted when employees are motivated. Hence they are likely to be more committed to the needs of the customers and are willing to go that extra mile to ensure their satisfaction.
 
 
4. Better Problem Solving
 
Motivated employees will put in their best efforts to overcome internal or external challenges that they might face while completing their work.
 
They are less likely to offer these challenges as excuses for delays. They are also more likely to take the initiative to muster all the help and resources required to get the work done.

 
5. Greater Collaboration

Motivated employees tend to show greater willingness to help their coworkers and offer support and guidance to each other.
 
They are likely to create a positive and focused work environment, with high levels of coordination and camaraderie between themselves. Hence, they are more likely to think about the greater good of the organization and overcome challenges together.

 
6. Less Need for Supervision

Also, motivated employees most often need little or no supervision and can work independently without any follow-up from their supervisors. Hence they would reach out to their supervisors or their coworkers themselves if they need any help or support.  

 
7. Greater Innovation and Creativity
 
Additionally, motivated employees are likely to come up with innovative solutions for business problems and display more creativity at work.
 
Hence, they would work towards simplifying business processes and driving continuous improvements at the workplace. Therefore, they would bring in new ideas from outside to drive improvements at work.


Read: What should organizations do for Employee Motivation?


How does Recognition boost Employee Motivation?

Timely and appropriate rewards and recognition can help drive employee motivation. This is how it works: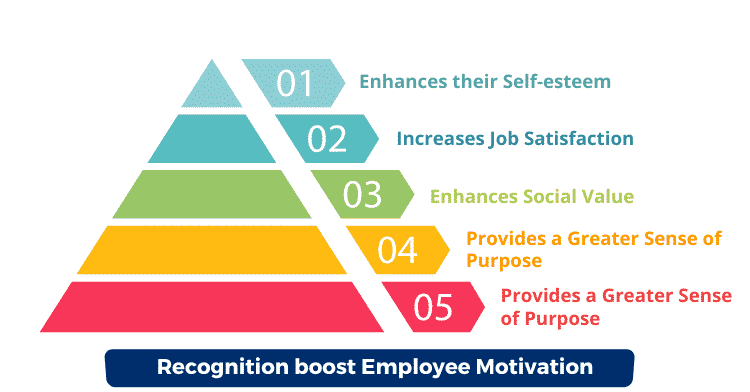 1. Enhances their Self-esteem

When rewarded and recognized for their hard work, employee feel truly valued. Additionally, it helps in enhancing their sense of self-worth and assures them that their work is making a positive impact to the success of their organization.

Hence, such employees feel motivated and inspired of being a much-valued part of the organization.

 
2. Increases Job Satisfaction

According to a research report, 86% of the employees feel happier upon being rewarded and appreciated at work. Recognition and job satisfaction is strongly correlated. Employees are able to understand the significance and the impact their work in the larger scheme of things.

Therefore, happier and satisfied employees are likely to be more motivated and inspired to do more.
 

3. Enhances Social Value

An effective employee rewards and recognition program not only ensures that the employee feels 'rewarded' and 'recognized' but also gains social visibility among his or he coworkers.
 
Hence, social visibility and respect gives a huge boost to the motivation level of the employee.

 
4. Promotes a Sense of Belonging

Moreover, employee rewards and recognition is a great way to acknowledge and appreciate the employee's contribution and to make him or her feel that they are an integral part of the organization and its success.

 
5. Provides a Greater Sense of Purpose

Also, acknowledgement of employee performance and achievements in form of rewards and recognition gives them a deeper sense of purpose and enhances their engagement levels.

Therefore, recognized employees see a stronger alignment of their work with the overall organization goals, increasing their level of motivation.


Bottom-line
Understanding how recognition motivates employees can help organizations design and implement suitable employee rewards and recognition programs that can help drive the motivation levels of their workforce.
It is well-known that a motivated workforce can play a key role in the growth and success of the organization and give it the competitive edge.
Read: A Step-by-Step Guide on How to Set up an Employee Recognition Program
To stay updated on the latest HiFives blogs follow us on Twitter (@MyHiFives)