5 Tips for Effective Performance Management in Start-ups
For most start-ups, their initial years are both exciting and overwhelming like roller-coaster rides. However, lack of effective performance management in start-ups can actually prove detrimental to the continued progress of the venture. With a complete focus on business growth, start-ups often pay less attention to their most important asset, namely their employees.
After all, it is the people, their efforts and their commitment that ensures the growth and profitability of the venture. However, changing KPIs, new responsibilities and goals, makes the process of tracking employee performance in startups challenging.
Challenges of Performance Management in Start-ups
Managing employee performance in a start-up environment is often quite challenging. With most employees handling multiple and changing responsibilities, setting clear performance objectives for individual employees becomes really difficult. Even so, managing and measuring employee performance is critical for start-ups to understand the success of their business strategies.
This can result in inspiring greater employee engagement besides cultivating a work environment that drives increased focus and productivity. Hence, start-ups need to set up scientifically defined performance management processes as early as possible.
It can ensure greater clarity in roles, deliverables, and expectations and avoid misses in the execution of business plans.

How to Create an Effective Performance Management System in a Start-up?

Performance management is an evolving process. However, it is important for startups to integrate certain key aspects in the process early to ensure the best results.

So, here are a few points that can help start-ups develop a truly effective performance management process: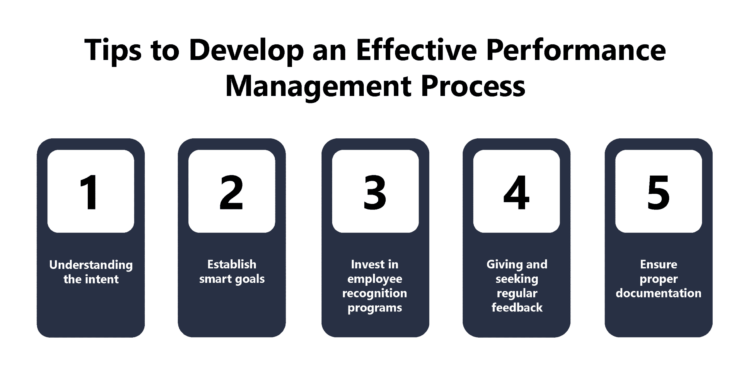 1. Understanding the intent

Start-ups should have a clear understanding of the intent behind developing performance management processes. Hence, they need to develop systems to better assess the performance of employees with respect to the needs of the business.

In addition, it also empowers supervisors to guide employees in the right direction and ensure maximum contribution towards business growth. Hence, process developed with a clear understanding of intent assures the employees that it can help them succeed.

Moreover, it enables employees to treat their managers as coaches who can guide rather than auditors, who only evaluate them.


2. Establish smart goals

Performance goals should enable employees clearly understand what is expected of them and what construes successful completion of these goals.

The goal-setting should be SMART, which means that it should be:

– Specific – Should clearly define who and what of the goals

– Measurable – Should define quantifiable targets

– Attainable – Should be challenging enough without being unrealistic

– Realistic– Should be achievable given the available resources

– Time-Based – Should have a well-defined time limit for easy tracking

However, start-ups should ensure that the process is flexible enough to be effective in their dynamic work environment.


3. Invest in employee recognition programs

An effective employee appreciation and recognition programs can help make the performance management process more effective. By recognizing and rewarding the efforts and achievements of their employees, start-ups can drive both engagement and performance continuously.

Given the limited resources, startup employees often feel satisfied with a simple note of thanks or praise from their superiors. Even, these simple gestures can positively impact employee performance and engagement.


4. Giving and seeking regular feedback

Regular two-way feedback can help in developing a more transparent performance assessment and management process. Regular feedback from their superiors can help in personal and professional growth and development of the employees.

Giving feedback to superiors provides them with an opportunity to express their opinions and ideas. Two-way feedback can also help reinforce positive behavior and build a work culture based on mutual cooperation and coordination.


5. Ensure proper documentation

Documenting the performance appraisal adds to the credibility of the process and makes it more acceptable to the employees. In addition, proper documentation also makes it easier for start-ups to detect trends in employee performance over time.

At the same time, it enables start-ups managers to track and communicate performance changes and developmental needs over time. Even though documentation might seem like an administrative overhead, it is necessary for ensure effectiveness of the performance management process.
Bottom-line
Developing effective performance management process can help start-ups set clear expectations, build greater commitment and higher performance from their employees.
To stay updated on the latest HiFives blogs follow us on Twitter (@MyHiFives). Learn more about HR Best Practices on HiFives.