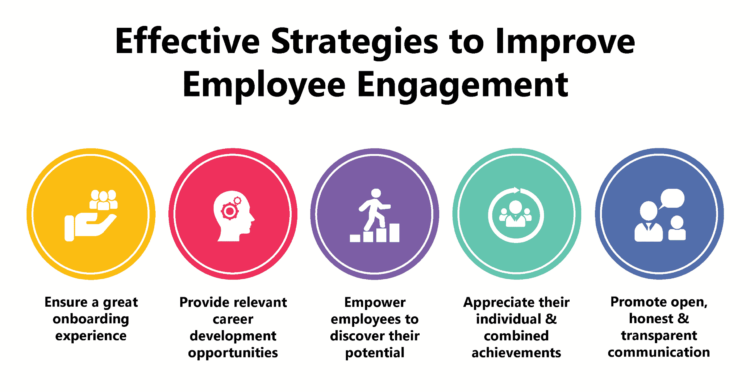 5 Simple Strategies for Organizations to Boost Employee Engagement
It is especially important in modern work environments to boost employee engagement since they undergo changes at a tremendous pace. Lack of an engaged workforce can lead to serious productivity and performance issues for most organizations today.
What is the need for an Engaged Workforce?

Engaged employees tend to be emotionally invested in committing their talent, energy, and time for ensuring the growth and profitability of their organization. Such employees help their organizations routinely outperform their competitors, besides making it easier for the business to make a faster recovery from market-induced setbacks.

Engaged employees also play a critical role in solving organizational problems, driving innovation, and establishing profound connectivity between the management and the workforce. It has also been observed that when employees are engaged at work, their creativity knows no bounds and they often go above and beyond their roles to ensure the fulfilment of organizational goals.

How to increase Employee Engagement in an organization?

Despite the known benefits of having an engaged workforce, more than 70% of the employees are either disengaged or indifferent towards their organizations. In fact, a majority of people have to literally drag themselves to work every morning and they depict a serious lack of energy and passion while performing their assigned tasks.

This tends to hamper the productivity of an organization besides reducing the overall employee motivation levels and causing a significant rise in turnover rates. That is why boosting the engagement level of the workforce has become the top priority for modern organizations.

Thankfully, there are some simple strategies as discussed below that organizations can implement to boost employee engagement:


1. Create a flexible work environment

Most employees feel trapped within the rigid work environment of their organization and this makes them feel detached and uninterested in its growth and success. Be it the 9 to 5 work schedule of their workplace or the inability to explore their creativity or even effectively use their skills, and inflexible work environment can lead to reduced engagement levels.

Providing a flexible work environment fills the employees with a sense of empowerment and makes them more responsible and this naturally increases their engagement with the organization.


2. Recognize good work without delay

Appreciating employees for the good work done by them or even desirable behavior depicted by them without any delay can go a long way in boosting their engagement. Cheering the success of the employees and highlighting their achievements helps in assuring the employees of being valued by the organization.

It fills them with a sense of belonging and deeply impacts employee loyalty towards the organization. This low-cost strategy is, in fact, considered to be one of the most effective ways of boosting engagement.


3. Provide ample development opportunities

Employees are most worried about their professional growth and success; providing them with such development opportunities can go a long way in boosting engagement.

Assigning them projects where their skills can be best utilized and developed, understanding career aspirations of individual employees, and creating appropriate training programs are just a few of the steps that organizations can take in this direction. In addition to these, managers should hold regular career discussions with their employees and offer them the necessary help and support.


4. Establish honest and transparent communication

Employees today do not like to be kept in the dark and tend to despise the communication policy of "need to know". They prefer to work for organizations where honest and transparent communication forms an integral part of the work culture.

However, such communication should not focus only on sharing the decisions of the management. Rather it should be based on hearing the views and opinions of the employees before making any such decisions and getting them involved in the process.


5. Provide a sense of purpose

Helping the employees understand the significance of the tasks performed by them in the process of ensuring organizational growth is important to enhance their sense of belongingness. Establishing clear connectivity between employee responsibilities and organization objectives boosts employee productivity by filling them with a sense of purpose.

When the employees feel that their work really matters in the overall scheme of things, they feel more inclined to give their best and ensure their active involvement in various organizational initiatives.
Bottom-line
Implementing the simple strategies above can positively impact employee engagement and create a progressive work environment.
Even though none of these ideas is exactly new, they need a certain level of commitment and initiative from the organization to drive the desired results.
To stay updated on the latest HiFives blogs follow us on Twitter (@MyHiFives)