Disruptive New HR Tech that can Boost Employee Engagement
The modern HR mission has shifted to focus on putting employees first. Employee engagement has become the new yardstick of HR team's performance. However, the good news is that disruptive HR tech is redefining HR from hiring to exit. Finally, technology is making big strides in boosting employee engagement
What's driving this uptick in the adoption of HR Team?
After years of stagnant employee engagement scores, Gallup recently reported a slight uptick. In the latest Gallup State of the American Workplace Report, over 33% of the workforce said they felt engaged.
While still low, this reflects a 3% increase from 2012 and the highest engagement number in Gallup's 15 years of tracking this metric.
Specifically, Gallup highlighted a notable improvement in three elements of employee engagement: (1) Learning (2) Recognition (3) Feedback.
In particular, startups are spawning new HR tech that can really help organizations move the needle on employee engagement.
What are those disruptive technologies? See The HR Tech Stack Engagement Guide: New Innovations Disrupting HR.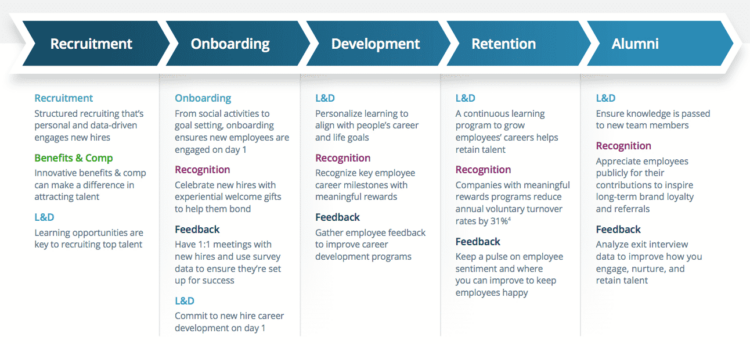 How can you leverage the new HR tech to boost engagement at your organization?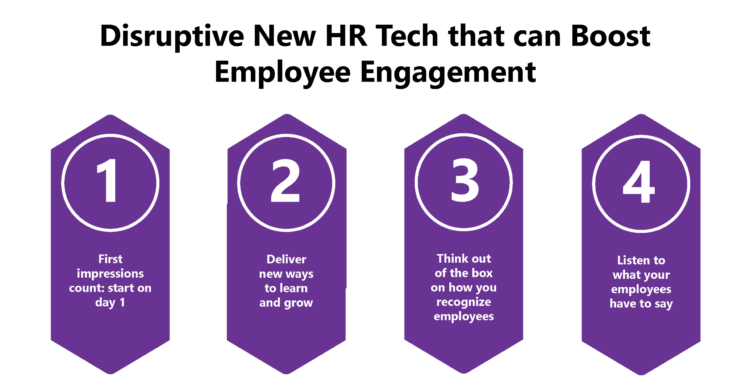 1. First impressions count: start on Day 1

From the recruitment touchpoint to the first day at work – it is important to nurture strong engagement at each point.

When companies have excellent recruitment practices, they experience a 300% revenue growth.

New personalized and AI-driven recruitment tools can help new hires make positive associations with your organization even before they join. Structuring and aggregating feedback to review candidates takes the guesswork out and ensures you make unbiased decisions.

A recruitment platform everyone loves to use empowers people to engage and help create a winning hiring culture.


2. Deliver new ways to learn and grow

Learning & development is one of the most effective strategies to boost engagement at your organization.

Studies by Bersin, Deloitte show that organizations with strong learning cultures result in 30-50% higher engagement and retention rates. 80% of employees feel learning new skills would make them feel more engaged.

New-age digital learning tools offer employees consumer-like experience with recommendations and reviews, similar to Netflix or Amazon. In fact, machine learning and artificial intelligence can suggest what employees should learn next. Hence, it can create a more personalized learning experience throughout the employee lifecycle.

In fact, learning and growth opportunities as major drivers for today's talent. Therefore, t's important employees see that you are committed to their skill development and career growth.

Throughout your employees' lifecycle, offer continuous opportunities to learn and grow so people remain stimulated. This means giving stretch assignments to encourage both lateral and vertical growth while providing continuous learning opportunities.


3. Think out of the box on how you recognize employees

Also, it's well documented that recognizing your employees for the great work they've done goes a long way to boosting engagement.

According to Bersin by Deloitte, engagement scores improve by 14% when organizations implement meaningful rewards programs. What're more companies with sophisticated recognition practices are 12x more likely to have strong business outcomes.

Recognize key employee career milestones throughout their lifecycle from day 1 to when they leave. However, with four diverse generational segments in the workplace, a one-size-fits-most recognition strategy is no longer an option.

Consider your employees' individual needs and motivators, and a platform that covers a wide selection of meaningful reward options. Hence, invest in an employee recognition software platform that can measure the satisfaction of rewarded employees against your engagement goals.

Think out of the box when doling out rewards, don't just give them a gift card or a gift basket. Also, consider giving experiential rewards like skydiving or cooking classes to make the recognition more special and memorable.

For example, welcoming new hires with experiential gifts such as urban food tours can help them bond better with the organization.


4. Listen to what your employees have to say

Open and honest communication between employees and management is a key driver of high engagement in organizations.

The HR needs to understand their employees just as marketing must understand their customers. In fact, new on-demand employee feedback tools designed and supported by expert psychologists and data scientists allow you to uncover insights easily.

Understanding what your employees want can help you improve your HR practices and boost employee engagement. Regular pulse surveys as well as exit interviews can provide rich data about your workplace culture.


5. Use New tools to help you boost engagement

The HR tech industry is seeing a flood of innovative tools to help you boost engagement throughout the employee lifecycle. Including recruitment & onboarding, compensation & benefits, learning & development, employee recognition, and employee feedback.
To stay updated on the latest HiFives blogs follow us on Twitter (@MyHiFives)