5 Effective Tips to give Negative Feedback to Employees
Giving feedback is a key managerial responsibility, which when done correctly can help to enhance employee engagement and motivation. While most find it easy to offer positive feedback to the employees, they often feel challenged to provide negative feedback.
Hence, it is not surprising as providing negative feedback often makes managers feel like wading into extremely delicate territory. They are not sure about the impact of such corrective feedback on the employees and their motivation. In fact, most managers feel that negative feedback will make employees completely demotivated and may eventually lead them to exit.
Here are a few effective tips to give negative feedback to employees that would help managers:
Importance of Giving Negative Feedback appropriately
Such fears of managers are often because most tend to offer negative feedback without much thought or preparation. While most employees are willing to receive constructive feedback, but it needs to be delivered appropriately for the desired outcomes. If delivered inappropriately, employees would be less receptive to even constructive criticism. On the other hand, properly-delivered negative feedback can be an extremely powerful tool for personal development and performance improvement.
Giving Negative Feedback
How to give negative feedback effectively?

When it comes to delivering negative feedback effectively, most managers feel unsure about the best way to do so.

Here are five effective tips that can help managers turn this seemingly difficult situation into a favourable one: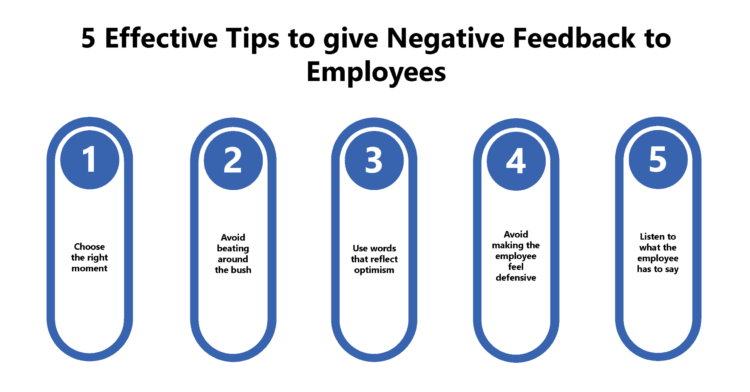 1. Choose the right moment

Choosing the right moment to deliver constructive feedback is of utmost importance. It is best that managers first let off their initial negative emotions towards the employee before delivering the feedback.

It is also important to ensure that the managers hold any such conversations in private and on a one-to-one basis. Highlighting their concerns before the employee logically is the key to turning the conversation positive and getting the desired outcomes.


2. Avoid beating around the bush

The best way to deliver negative feedback is by sandwiching them between positive comments about the employee. However, this may result in the employee completely ignoring the corrective feedback and focusing only on the positive comments.

So rather than beating around the bush, the manager should directly detail out the shortcomings of the employee. This ensures that the employee fully understands the outcomes of their performance assessment and corrective actions to be taken.


3. Use words that reflect optimism

Choice and tone of words while delivering negative feedback can make a significant impact on how the employee perceives it. Using language that reflects optimism and a sense of belief in the employees is more likely to provide positive results.

The manager, rather than focusing on the faults and drawbacks of the employee, should draw attention to the achievements. Using growth-oriented language is known to stimulate greater behavioural changes and make the employee more inclined towards taking action.

For example, if you focus more on unit testing, you will spend less time on rework. Your modules will get completed faster.


4. Avoid making the employee feel defensive

One big mistake committed by managers while delivering negative feedback during performance assessment is to make employees feel defensive. This generally happens when the manager focuses more on personal shortcomings of the employee rather than the observed behavioral drawbacks.

When faced with such direct criticism, employees focus on arguments to counter them rather than understanding the feedback being provided. This naturally proves counterproductive.


5. Listen to what the employee has to say

While giving negative feedback, the manager should provide ample opportunity for the employee to express his/ her views. They should listen clearly to what the employees have to say without interrupting them unless it is absolutely necessary.

This simple initiative can enhance the effectiveness of performance management quite significantly. It will help the manager understand the factors, personal or professional that might be impacting the performance of the employee.

This data can then be used to take corrective measures for improving employee performance and ensuring growth and development.

Bottom-line
One of the most important things for managers to remember while delivering negative feedback to employees is to reaffirm their confidence in them. The managers should never cast any doubt on the commitment of the employee to his or her job and to the organization.
They should then move the discussion in a direction so as to get a positive outcome despite the negative feedback. Hopefully, these tips to give negative feedback would be useful for managers.
To stay updated on the latest HiFives blogs follow us on Twitter (@MyHiFives)