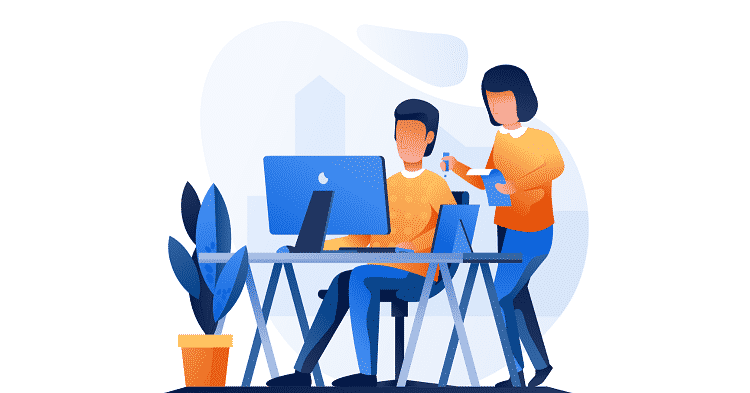 How to Revive a Fading Employee Recognition Program
The significance of employee recognition is widely acknowledged by organizations today. However, despite their best efforts, many organizations fail to keep up the high level of employee participation and support for these programs. This results in even the best employee rewards programs to gradually fade into obscurity. This article takes a look at how to revive a fading employee recognition program.
What are the signs of a fading employee recognition program?

Most organizations fail to recognize the early signs that might indicate the commencement of the downfall of their recognition programs. They generally tend to ignore these signs as a passing phase and this, in turn, prevents them from taking the necessary corrective actions well in time.

They are thus left to bear the consequences in the form of lower employee engagement, performance and efficiency of the workforce. In order to avoid such situations, it is important for organizations to pay attention to any signs that might reflect the decreasing interest of employees in recognition programs.

These are the top 4 signs: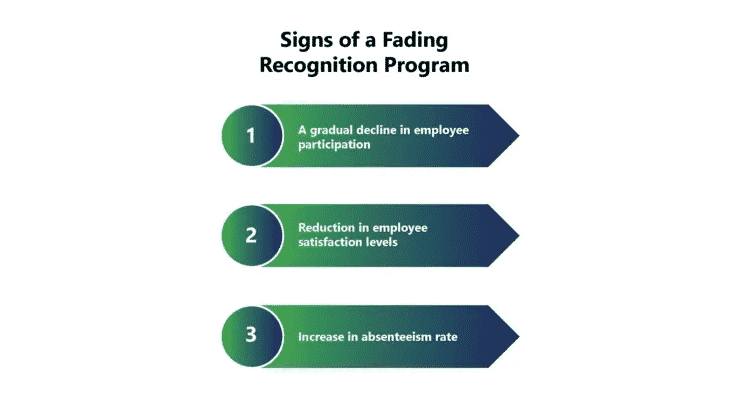 1. A Gradual Decline in Employee Participation

One of the earliest indicators of a fading employee recognition program is the gradual decline in the number of participating employees. Such a decline in employee participation can be caused due to various reasons, such as repetition of rewards, lack of variety, poorly designed recognition policies and even limited interest shown by management. It is important for organizations to gather more information about each of these reasons and find ways to rectify the same.


2. Reduction in Employee Satisfaction Levels

When organizations experience a sudden increase in the number of dissatisfied and complaining employees, they should take it as a warning sign that their recognition program is not working properly. Managers should especially keep their eyes and ears open to stay updated about the unhappiness of employees with the recognition program. They should then hold one-on-one interaction with such employees to gain a better understanding of the reasons for their disappointment.


3. Increase in Absenteeism Rate

If an increasing number of employees are taking leaves for reasons that seem superficial, the management should take it as an indication of the downfall of the recognition program. Employees skipping office frequently is reflective of the fact that they do not care about missing opportunities for showcasing their efficiency and getting appreciated and recognized for the same. Again, it is the responsibility of the managers to interact and communicate with such employees and learn the reasons for their changed attitude and behavior.

How to revive a fading employee employee recognition program?

Acknowledging the fact that their employee recognition program is fading is the first and the most important step in the direction of reviving it. The next step to be taken in this direction is to identify the strategies that can help to get the program back on track and drive employee motivation and engagement levels.

A few such strategies are discussed in brief as follows:


1. Let Go of Aspects that are Obsolete

Based on their interactions with the employees, the managers and supervisors should make a list of aspects of the recognition program that has become redundant. These should be replaced with more interesting and creative options that also find favour with the employees. For example, organizations that have been handing out gift vouchers as a reward for quite some time can replace these with newer options such as extended leave or conveyance benefits, etc.


2. Introduce New Recognition Practices

Frequently introducing new rewards is a great way to maintain the novelty and excitement of the recognition programs. These rewards may be offered for only a short period of time and or can even be made a regular feature of the recognition program. In addition to reflecting the changing needs of the employees in terms of recognition, such awards also go a long way in reviving their interest in the program. Organizations can even seek suggestions from the members of the workforce about the new awards they want to be introduced.


3. Ensure Active Involvement of Management

Many times the fading of a recognition program happens due to the lack of interest shown by the management after a period of time after its implementation. As such it is important for organizations to ensure that the management continues to take an active part in the development, implementation, and improvement of the recognition program. Their involvement assures the employees of being truly valued by people who matter the most and thus motivates them to keep on giving their best.


Bottom-line
Reviving an ailing recognition program can be quite challenging, but when handled in a planned way, it can deliver the benefits and the return on investments for which it was designed.
To stay updated on the latest HiFives blogs follow us on Twitter (@MyHiFives)