How To Leverage Employee Recognition To Retain Top Talent In 2023
Watch the Video
How To Leverage Employee Recognition To Retain Top Talent In 2023
Attracting and retaining top talent is critical for any organization looking at sustained business growth and profitability. Organizations spend considerable time and money in attracting, hiring and training top talent. However, ensuring that they stay with the organization for long can prove to be a challenge. Hence, organizations need to leverage employee recognition to retain top talent as an important aspect of their HR strategy.
Why Retention Of Top Talent Is So Critical?
Employee retention is the ability of an organization to minimize the chances of employees leaving the organization to seek job options elsewhere. The loss of any employee might have a negative impact on the organization's business operations and performance. However, the loss of the best performing employees or the top talent might have even greater negative consequences.
Here are a few reasons why the loss of top talent can be detrimental for the organization:
1. Disruption of business process or loss of continuity of business operations
2. Decline or loss of important customer relationships
3. Loss of critical business or process knowledge
4. Loss of opportunity for innovation and business growth
5. Loss of competitive advantage especially if top talent joins competition
6. Fall in efficiency, productivity and quality of work
7. Additional costs involved in hiring and training a replacement
8. Drop in the morale of other members of the workforce
What Do The Top Talent Actually Want?
Employee recognition is core to the HR strategy of any organization. Poor employee recognition could be one of the key reasons for the poor retention of top talent in the organization. To understand this, lets look at what do the best-perfuming employees actually want when it comes to employee recognition: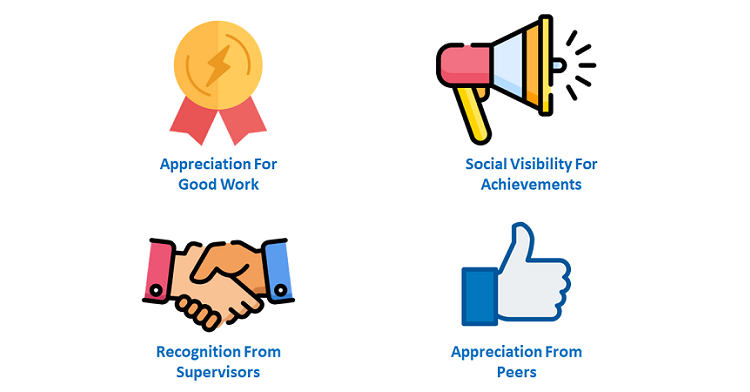 1. Appreciation For Good Work
Being appreciated for their good work is a basic human need. The top performing employees in the organization put in their best efforts towards achieving the desired results for their organization. If the organization fails to acknowledge and recognize their efforts and contribution, it results in loss of motivation for them.
This impacts their self-confidence and makes them feel unwanted in the organization. Consequently, they may start looking for other employment options where they might have a more important role to play and are better appreciated.
2. Social Visibility For Achievements
Social recognition of their work and achievements of great value to all employees, especially to the top talent. However, when the organization fails to recognize and celebrate their achievements, there is a feeling of loss of self-worth.
They may interpret it as a sign that their skills and their dedication do not hold much value for the organization. This might prompt them towards seeking other job opportunities, where their need for recognition can be better fulfilled.
3. Recognition From Supervisors
Employees need recognition from their supervisors and managers for their achievements. This is specially true for the top talent who may repeatedly exceed expectations and overachieve on their goals. Recognition from their supervisors can increase their self-worth and job satisfaction, and create better working relationships with the supervisors. This can lead to their staying in the organization for longer.
4. Appreciation From Peers
Similarly, appreciation and acknowledgement from their co-workers can increase their sense of value to their team and to the organization. It also helps create a conducive work environment, which can encourage the top talent to stay longer.
Best Practices To Leverage Employee Recognition To Retain Top Talent
In their effort to prevent their best employees from leaving, organizations often tend to focus only on levers such as higher compensation. However, they often overlook employee recognition as one of simplest yet key strategies for enhancing employee retention.
Here are a few best practices that organizations can follow for leveraging employee recognition to boost employee retention: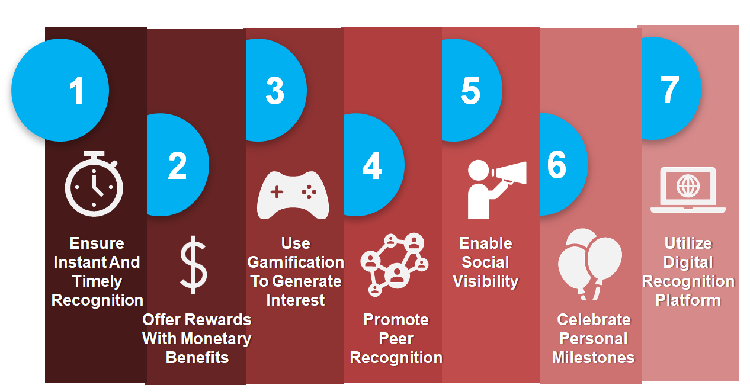 1. Ensure Instant And Timely Recognition
Offering instant and timely recognition in the form of spot awards can be one of the best ways to assure top employees that they are valued and appreciated by their supervisors and the organization.
Timely recognition makes it more meaningful, and motivates the employees to keep up their good performance. Spot recognition can prove extremely effective in boosting employee morale and the sense of belonging towards the organization.
2. Offer Rewards With Monetary Benefits
Monetary rewards are very effective for employee recognition. Giving that extra financial benefit can be the best way to keep the best-performing employees happy and committed. Monetary benefits can enhance the value of recognition in the eyes of the employees making them more impactful.
Organizations should consider offering financial benefits in the form of cash or gift cards as part of the spot awards, employee of month awards, quarterly and annual awards, etc.
3. Use Gamification To Generate Interest
Even the best recognition programs can become monotonous and boring over a period of time causing employees to lose interest in them. An effective way to overcome this problem is by introducing gamification elements and techniques to make the programs much more exciting.
Implementing concepts like reward points, leaderboards, badges, wall of fame, contests and challenges can help maintain the interest of employees in recognition programs. Gamification can help engage the top talent who are likely to make best use of the program as they would usually win the highest number of reward points.
4. Promote Peer-to-Peer Recognition
Peer-to-peer recognition empowers employees to appreciate the good work and sincere efforts of their co-workers; thus building a healthy work environment. Receiving a shoutout or a note of appreciation from their co-workers can boost the motivation of employees in a big way.
Even the best employees feel motivated by the appreciation and the support of their peers. It strengthens their bonding with the team and helps create a better work environment.
5. Enable Social Visibility of Recognition
Social visibility of their good work and achievements creates a sense of pride and positivity among the best performing employees. Such social recognition helps them feel that organization values their contribution towards its growth and success.
Social visibility of employee recognition can be achieved through award ceremonies as part of team meetings or townhalls and involvement of the top management. Publishing the recognition on organization-wide platforms such as MS Teams,, Slack or the Intranet or even on company social media handles can help in creating the required visibility within and even outside the organization.
6. Celebrate Personal Milestones
Celebrating the personal milestones of employees can send out a positive message to them about being valued by the organizations as individuals. When organizations choose to acknowledge and celebrate the special moments and occasions in the lives of their employees they win their trust and loyalty.
Celebration of birthdays, work anniversaries, wedding, parenthood and other such personal milestones of employees make them feel like an integral part of the organizational family and strengthens their sense of commitment.
7. Utilize A Digital Recognition Platform
Investing in a employee recognition software can help make the process of recognition much easier and more impactful. It can enable the organizations to initiate recognition, start conversations, boost engagement and coordination, and strengthen the social bonding between employees.
Organizations should look to take advantage of the various features and functionalities offered by these platforms to reward and recognize their employees effectively. Such platforms can enable smooth and timely recognition, gamification of work, monetary benefits such as gift cards, publishing recognition updates on other platforms, etc.. In fact, these might be most appreciated by the top talent who are likely to be the biggest recipients.
Wrapping Up
The top talent in any organization is critical to its growth and success. The more they feel appreciated and connected to their organization and their co-workers, the less likely they are to leave. Hence, organizations should seriously look to leverage employee recognition to retain top talent as an effective HR strategy.
To stay updated on the latest HiFives blogs follow us on Twitter (@MyHiFives)