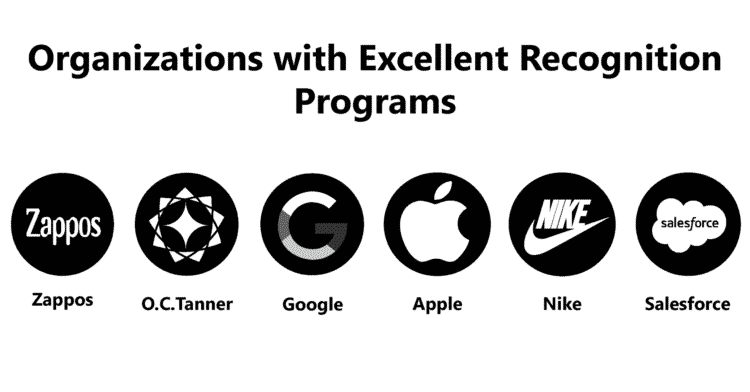 Companies with the Best Employee Recognition Programs
According to Gallup, having a great recognition system helps organizations drive engagement and also reinforce aspects that are valued within an organization's culture. By assuring the employees that their efforts will be appreciated properly and in time, organizations can motivate them to continue giving their best. Let's take a look at the companies with the best employee recognition programs.
These organizations have actually been able to nail down their employee recognition strategy. They have attained success in integrating their recognition efforts with employee engagement, thereby improving the overall efficiency and retention of their workforce.
Organizations with excellent recognition programs
The key to creating a great employee recognition program is to look beyond giving something to high-performing employees and focus on creating a strong bond between the employees and the organization.
The following are examples of 6 companies that have managed to achieve this objective and come up with truly exclusive recognition programs that have helped to reinforce their employer brands and boost productivity:
Zappos
Zappos is a multinational e-commerce chain boasting of a sizeable workforce and a layered employee recognition strategy designed to be in sync with the organization's motto – 'To Live and Deliver WOW!'. It is based on the peer-to-peer format and enables the employees to share low-cost and high-frequency rewards with one another.
It also provides for peer-to-peer bonuses and HERO awards, complete with a proper HERO Cape. Another important feature of the organization's recognition strategy is that it enables employees to earn Zappos Dollars for participating in various training programs and are redeemable at the office.
O.C.Tanner
The organization excels in both employee recognition and engagement initiatives. Its reward strategy is focused on maintaining the novelty and uniqueness of the programs through ideas ranging from custom trophies, gift cards, and personalized merchandise to social buttons, as well as emblematic and symbolic awards.
They also pay significant attention to building a work culture based on peer-to-peer recognition, creating strong relationships between employees and developing a teamwork mentality.
Google
Google's renowned employee rewards and recognition initiatives make it one of the best organizations to work for. It focuses on making the employees feel valued when they come to work through its peer-to-peer based recognition initiative of "Thanks". The initiative enables co-workers to recognize their colleagues and nominate them for the peer bonus program.
There is a designated area named "The Wall of Happy", where employees can place thank you notes and motivational emails appreciating the contribution of their colleagues. The organization also offers a wide range of other recognition awards including spot bonuses and personalized awards making it one of the companies with the best employee recognition programs.
Apple
Apple turns employee recognition into a celebration by organizing various events for entertaining and motivating the employees. The most popular of these events are "Beer Bashes", where the organization provides free beer and appetizers to the employees along with musical performances from renowned artists.
The organization supports the smart and innovative members of its workforce in their career-building efforts. It also offers a whole range of recognition benefits including discounted products for employees, tuition reimbursement, health insurance, 401(k) plans, and parental leave.
Nike
This global leader of health and sports goods is known for its various initiatives to keep its employees engaged and motivated. The organization offers competitive total compensation to its employees besides providing them opportunities to stay fit and ensure the well-being of their families.
In this context, the organization offers benefits such as paid sabbaticals, tuition assistance, and even product discounts. The organization also has an online platform, named "NikeU" that helps the employees with leadership development efforts.
Salesforce
This cloud computing organization based in San Francisco ensures a great recognition system through the implementation of "Aloha culture" in the workplace. The organization motivates its employees to interact kindly and honestly with their coworkers.
It creates a fun work culture to recognize the hard work of the employees and offer them the benefits of free snacks and beverages throughout the day. It also gives out Giant's tickets to employees who submit a referral for hire and even provides an additional bonus to employees whose referrals get placed.
Bottom-line
Looking at the various employee recognition programs running in these highly rated companies, it is clear that linking the organization's strategy and values to a successful recognition program is the key to success in the highly competitive markets.
To stay updated on the latest HiFives blogs follow us on Twitter (@MyHiFives)