5 Trends in Employee Rewards, Recognition and Benefits in 2020
As the year starts, trends in employee rewards and recognitions in 2020 have become the talk of the HR world. With the changes in workforce profile, preferences, and priorities, organizations need to adapt their employee reward and recognition strategies.
As per statistics, in the year 2002, 84% of the organizations made use of the employee rewards and recognition strategy to motivate the employees which grew to 87% in the recently concluded year.
Let's take a peek at the most likely trends in employee rewards and recognition in 2020:

What are the key trends in Employee Rewards, Recognition and Benefits in 2020?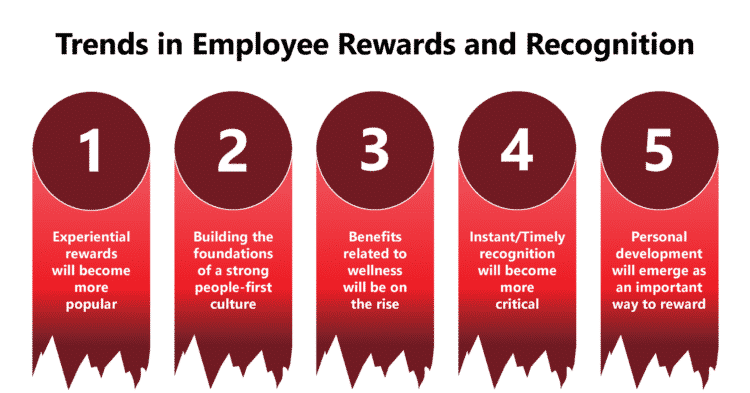 1. Experiential rewards will become more popular

Research has shown that employees prefer great experience over material gifts when being rewarded at work. Employees, no longer wish to receive any merchandise or cash as rewards. They are looking to explore new activities that are memorable and drive enjoyment.

For instance, many organizations are considering offering international vacations as reward for their employees. Experiential rewards are likely to offer greater employee satisfaction and motivation.


2. Building the foundations of a strong people-first culture

2020 would give rise to the employee-first decade, with more and more organizations adopting it as their business goal. This is necessary to elevate the organization's culture and retain top talent.

For instance, organizations like American Express are considering re-defining their existing strategies in order to reinvent their organization culture. In fact, the best way to build a great culture is to reward, respect and care for employees at every level.


3. Benefits related to wellness will be on the rise

Wellness programs such as classes for meditation, yoga, zumba, etc., gym memberships, spa sessions, can be great benefits for employees. Given the work-related stress, taking care of both physical and mental health of employees have become essential.

The wellness programs bring twin benefits. They impact employees positively; at the same time they cater to the interests of the employer. Hence, as employee wellness levels improve, they become more focused, productive and innovative at work. Also, it can lead to considerable reduction in sick leaves and absenteeism.


4. Instant/ Timely recognition will become more critical

Employees being digitally savvy, want to see instant gratification in every sphere of their lives. Hence, they want recognition at the right time and in the right way. Hence, organizations need to make reward and recognition programs technologically advanced and mobile.

Thus, if something is worthy of recognition, it should happen instantaneously instead of the end of the month, quarter or year.


5. Personal development will emerge as an important way to reward

As per statistics, 65% of the employees consider personal development to be of great significance in their jobs. Thus, one standout global trend in HR is career progression and skill development.

Hence, employees want clarity about their roles and the opportunities for career and personal growth. For self-development, employees look for enhanced responsibilities, leadership roles, special assignments and interaction with senior leadership.

Organizations can consider workshops and courses that aim to broaden the knowledge levels of the employees. The organization may also provide training sessions to employees to enable them to learn new skills and refine existing skills. In fact, it is be beneficial to the organization as well.
Read Key Trends in HR for 2021 and Beyond
Also read Key Employee Rewards and Recognition Trends in 2021 and Beyond
Bottom-line
Thoughtful rewards, given in the right way, at the right time can bolster motivation, productivity, and loyalty of the workforce.
2020 as a year should see an increasing focus on meaningful employee rewards, recognition, and benefits across organizations.
To stay updated on the latest HiFives blogs follow us on Twitter (@MyHiFives)