Peer Feedback for Effective Performance Management
Watch the Video
Peer Feedback for Effective Performance Management
Performance management is one of the most important HR processes in modern organizations as it helps in keeping the members of the workforce productive and motivated. Peer feedback can help organizations provide valuable insights to evaluate their employees and drive their performance. Organizations are now realizing the importance of peer feedback for effective performance management.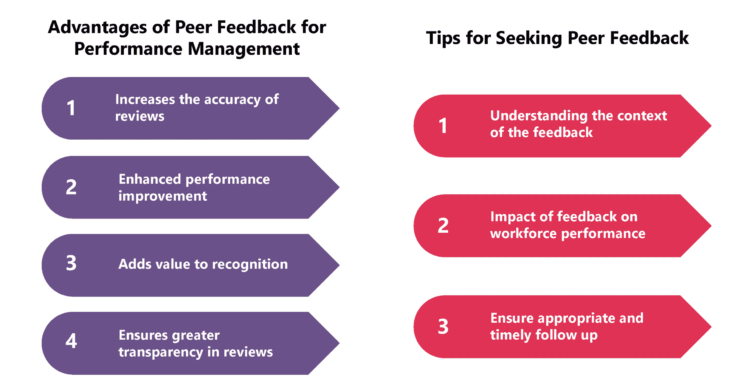 Why is Peer Feedback important?

It is a well-known fact that employees share a completely different relationship with their peers as compared to their managers. This is mainly due to the fact that employees spend a lot more time working with their peers and hence share a more informal and closer relationship with them.

Unlike managers, peers are able to observe and report the most minute details related to the functioning of an employee. Hence, they are more likely to offer a less biased and more honest perspective of the performance and behaviour of an employee. In fact, involving peers is the best way to get honest 360-degree feedback about an employee's working and performance.

When it comes to performance review by managers, their opinions are based solely on end results provided by the employees. Peer feedback has a major advantage because peers are aware of the minute details of the working habits of their co-workers.

Key advantages that peer feedback offers in performance management are discussed in brief as follows:


1. Increases the accuracy of reviews

The reviews of managers are often considered off the mark as they are based only on their own viewpoint. However, since peer feedback comes from multiple people, it makes it more comprehensive and accurate.

Peer feedback combines the views and opinions from various sources to provide a bigger, more holistic picture of an employee's performance for a more accurate evaluation.


2. Enhanced performance improvement

Since manager reviews are based heavily on outcomes, they often skip the 'means to the ends'. Peer feedback can help fill this gap by providing valuable insights into the employee's way of working. It can also help in providing feedback on the areas of improvement.



3. Adds value to recognition

Receiving feedback from their peers proves effective in improving employee performance. This is because peer feedback provides them valuable insights into their strengths and weaknesses in a relatively subtle manner.

Most employees show a greater willingness to work harder and ensure a visible improvement in their performance rating simply to maintain the trust of their peers.

Read Peer-to-Peer Recognition – Understanding the Nuts and Bolts


4. Ensures greater transparency in reviews

Unlike the feedback of managers, peer feedback might not be tied to the compensation of an employee, but actual feedback for the development of the employee. Thus it introduces greater clarity and transparency in the overall employee review process.

This, in turn, creates a sense of comfort between the co-workers in the entire process and the employee is more receptive towards peer feedback rather than being defensive.



What are the Best Ways to get Peer Feedback?

Having understood the significance and benefits of peer feedback, it is equally important to learn about the best ways to seek this feedback effectively.

Discussed below are a few tips that can prove quite useful for managers in this context:


1. Understanding the context of the feedback

Before seeking peer feedback, managers need to ensure that the employees have a proper understanding of the subject.

Peer feedback can prove effective for performance appraisal only if the person providing the same has comprehensive knowledge about the working of the employee in question.


2. Impact of feedback on workforce performance

While seeking peer feedback, it is important for managers to access the impact of this feedback on workforce performance. It is essential for managers to assure the employees that their feedback does not necessarily need to be corrective.

Rather it can be based on any behavior aspect that are likely to improve the overall performance of the employee or even simplify work processes.


3. Ensure appropriate and timely follow up

Seeking feedback and not following it up in a timely and appropriate manner can make the whole process ineffective.

It will also result in the employees losing interest in the process and their trust in the management. That is why managers need to make sure that every time they seek peer feedback, they should take the right action after they receive it.

Bottom-line
Organizations have realized the importance of peer feedback for effective performance management. However, it does not necessarily have to be focused solely on deciding employee compensation.
If managed properly, peer feedback can result in improved employee performance, better goal setting, more accurate training gap identification and successful career planning for the employees and organization.
To stay updated on the latest HiFives blogs follow us on Twitter (@MyHiFives)