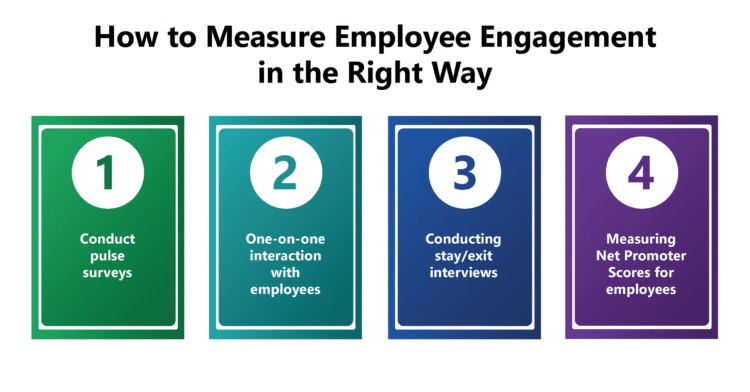 How to Measure Employee Engagement in the Right Way: For several years now, organizations have been focusing on improving employee engagement through various initiatives and strategies.
Even though such initiatives entail an investment of time and effort by both HR executives and the management, they can positively impact the performance, productivity and retention rates of the organization over time. However, many times organizations fail to get the desired results even with the most carefully crafted employee engagement strategies.
This might be because while most organizations pay much attention to developing the most effective engagement strategies, they generally do very little to actually measure the results of these strategies and take corrective action. Organizations need to understand that it is as important to measure employee engagement in the right way as it is to design and implement engagement strategies themselves.
Why is Important to Measure Employee Engagement

The primary objective of every engagement strategy is to create a work culture and environment where the employees feel naturally motivated to involve themselves completely for ensuring organizational success. Measuring employee engagement helps organizations understand whether or not their strategies are actually working.
It also helps the managers to gain a better understanding of their employee requirements, helps them develop a more engaged and productive attitude towards work and create a positive business impact. However, measuring engagement is not quite as easy as it may seem, which is one of the key reasons that make organizations feel challenged in designing the process.
Challenges of Measuring Employee Engagement
The biggest hurdle faced by organizations in measuring engagement is the lack of a single clear definition for the same. In fact, every organization defines engagement differently, with most associating it with the level of employee happiness, satisfaction, fun at work, and even the commitment to goals reflected by the employees.
In fact, there is no single perfect way of measuring employee engagement.
How to Measure Employee Engagement?

Despite the challenges associated with measuring employee engagement, it is possible to do it in the right manner using the right strategies.

Discussed below are few such strategies that have proven effective for organizations to gain a better understanding of employee motivation and engagement levels:


1. Pulse Surveys

Pulse surveys are short, frequent surveys that help organizations stay updated about the vibes in the office. These surveys are generally quite simple and can be conducted within a matter of a few minutes. They generally comprise a questionnaire of 5-10 questions aimed at learning about how the employees are feeling at the workplace and the changes, if any, they would like to see incorporated to improve the culture and ambience.

In addition to making sure that these surveys are conducted on a regular basis, organizations also need to focus on the fact that they are kept anonymous to get truly honest responses.


2. One-on-one Interaction with Employees

Most organizations encourage one-to-one meetings between employees and their supervisors only during performance appraisals. However, several studies have shown that frequent one-to-one interactions between employees and their managers can prove to be an effective way of measuring engagement.

These informal chats help to open up channels of communication and make it possible for supervisors to get a real sense of what the employees are thinking and feeling.


3. Stay/ Exit Interviews

While most organizations follow the policy of conducting exit interviews, they rarely implement the idea of having regular stay interviews with their employees. Exit interviews provide insight into what the organizations could have done better to ensure greater employee retention.

At the same time, stay interviews help them learn the strategies that are working well and that can provide even greater results if they are improved upon. The key questions to be included in both these types of interviews should focus on the various reasons that influence the decision of employees to leave the organization or stay.


4. Net Promoter Scores for Employees

Net Promoter Scores (NPS) were originally introduced to measure the satisfaction and loyalty of customers. But now, organizations are using this tool to gain similar information about their employees. It involves asking the employees about their likeliness to recommend the organization as a preferred workplace to their friends.

The responses are recorded in the form of ratings on a scale of 0 to 10. The number of respondents providing a rating between 0-6 is termed as detractors and those offering a rating of 9-10 are termed as promoters. NPS is then calculated by using the formula: Employee NPS = (promoters – detractors)/ total respondents.

A negative NPS score is indicative of poor engagement levels and a positive score indicates high engagement levels.



Bottom-line
Organizations should measure employee engagement in the right way – it can go a long way in enhancing employee productivity leading to greater business impact. The above best practices can help organizations in making the measurement process much simpler.
To stay updated on the latest HiFives blogs follow us on Twitter (@MyHiFives)