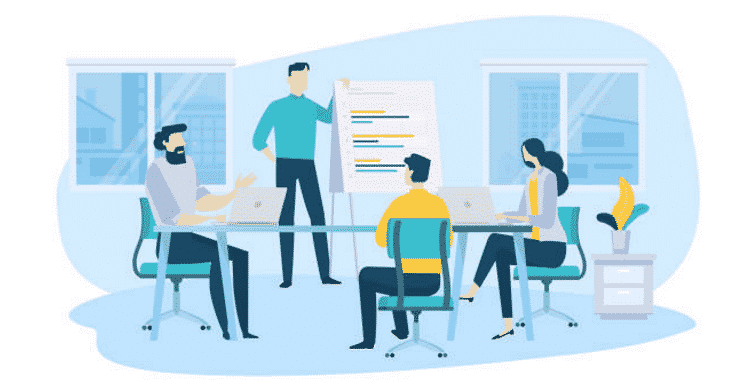 Employee Engagement Strategies For Back-to-office Workforce
Watch the Video
Employee Engagement Strategies For Back-to-office Workforce
The paradigm for engaging employees have changed significantly over the past couple of years ever since the pandemic started. Due to the massive changes in the operating models, organizations have had to rethink their employee engagement strategies. As the pandemic situation seems to have got under control, many organizations are looking to go back to their in-office model of working for a majority of their workforce. However, they still need to work out effective employee engagement strategies for their back-to-office workforce.
What are the Key Challenges for Employee Engagement after Covid-19?
Even as businesses are gradually reopening their physical workspaces, they face several challenges of keeping their employees returning to the office motivated and engaged. The most important of these challenges include the following.: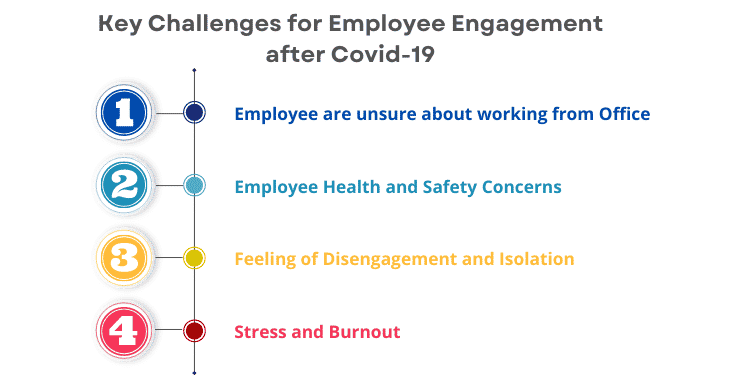 1. Employee are unsure about working from Office
In the aftermath of COVID-19, employee opinions about the perfect workplace model are divided. Today, one segment of the employees may prefer the regular working from office model. Another segment may consider the hybrid working model to be the best and the rest prefer to continue to work from home.
2. Employee Health and Safety Concerns
However, fears and concerns about the pandemic still remain. Organizations need to understand the health and safety risks involved in getting the workforce to restart working from office. Therefore, social distancing and other protocols need to be followed for the back-to-office workforce.
3. Feeling of Disengagement and Isolation
So, the pandemic has forced a vast majority of employees within organizations to work remotely for an extended period. Therefore, this has created a sense of emotional disconnect among the employees towards their organization. and their coworkers. Bridging this gap will be a major engagement challenge.
4. Stress and Burnout
Significantly, the multiple waves of pandemic and changes in the working model has taken a toll on most employees. Most employees and their managers were ill-equipped to handle remote-working and managing their work-life balance. Therefore, employees are stressed and on the verge of burnout. Overall, retuning to work from office after a long time have added to their stress levels.
What should be the Key Employee Engagement Strategies for Back-to-Office Employees?
A highly engaged workforce is the key for organizations seeking consistent growth and success in the post-pandemic world. Discussed below are few effective strategies that can help organizations to ensure the same: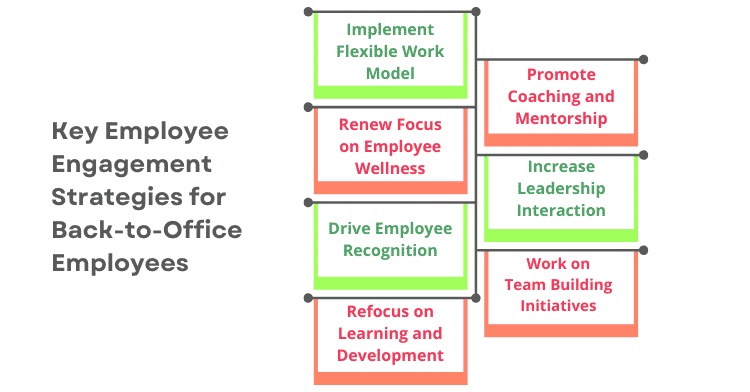 1. Implement Flexible Work Model
Organizations need to adopt a more flexible approach towards the preferred work timing and location for their back-to-office workforce to boost engagement and ensure a better work-life balance. They should prioritize the timely completion of assigned tasks rather than focus on where or how the employees choose to perform them.
2. Renew Focus on Employee Wellness
Though the devastating waves of the pandemic might have come and gone, there is still a lurking danger of further waves. Hence, organizations should ensure the health and safety of their workforce who would be coming back to office through regular sanitization, social-distancing protocols and health checks.
Mental wellness should also be an important area of focus for organizations considering that employees have just come out of a prolonged phase of stress and anxiety due to the pandemic. Employee assistance programs or some form of counselling should be offered to employees returning to office.
3. Drive Employee Recognition
One of the biggest challenges employees have faced in the last couple of years is the lack of
prompt recognition of their effort and contribution, due to remote working and lack of proper systems. Unrecognized employees tend to become disengaged over a period of time.
Hence, organizations need to reverse the disengagement by implementing proper systems and processes for employee rewards and recognition. They should leverage recognition platforms for timely recognition. They should also incorporate peer-to-peer recognition to create a positive work environment. Rewards and recognition should be presented to employees in large forums such as townhalls, floor huddles, team meetings, etc. as much as possible to drive social visibility and engagement.
What should be the Other Employee Engagement Strategies for Back-to-Office Employees?
1. Refocus on Learning and Development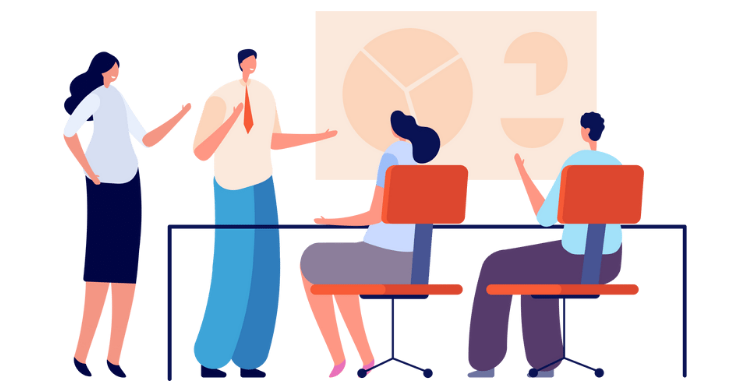 The past two years have been fairly stagnant for most employees in terms of learning and development opportunities. So, providing them structured learning and development activities can pave the way for their professional and personal growth and enhance their commitment towards the organization.
Organizations need provide classroom-based learning options along with the online learning that employees would have been doing for the last two years. Such classroom learning sessions will not only help employees in building skills and competencies but also contribute to engagement and team-building.
2. Promote Coaching and Mentorship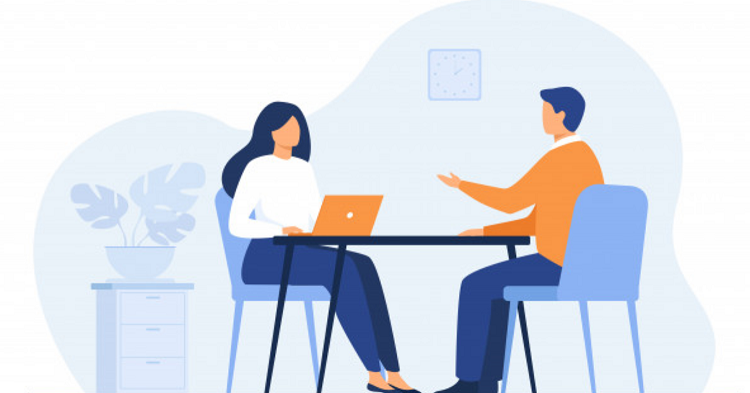 New hires and less-tenured employees have suffered greatly during the pandemic and remote working. They haven't been able to get access to the much-needed help, support and advice from their supervisors and seniors in a timely manner when they were working remotely.
Moreover, organizations need to encourage senior employees, managers and leaders to get more actively involved in coaching and mentorship activities. Managers should be trained to handle coaching of their team members. Hence, a formal mentorship program might also be a good idea, especially for newer employees to help them navigate the system.
3. Increase Leadership Interaction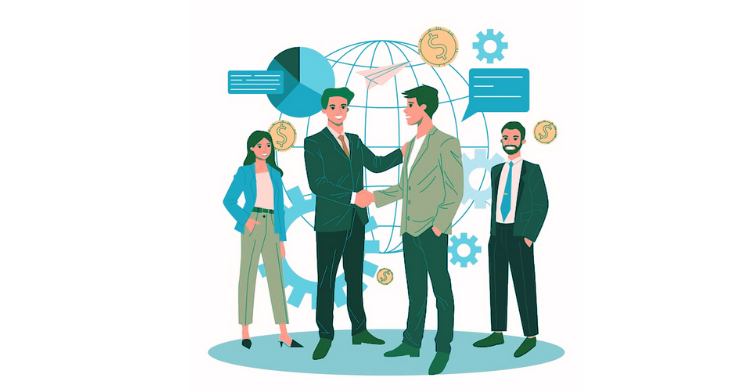 One of the key ways to drive employee engagement is by increasing the presence of the senior leadership and their interaction with the workforce. Employees are keen to hear from their leaders about the changes in the business strategy in the 'new normal' and interact with them to address their queries about the organization and its future.
Senior leaders should make it a point to meet and interact with employees in person as part of townhalls, floor meetings, etc. Leadership interaction is one of the sure-shot ways to engage the back-to-office employees.
4. Work on Team Building Initiatives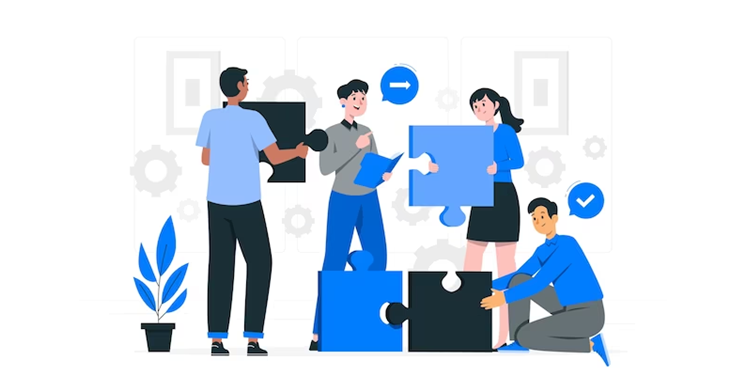 Additionally, prolonged remote working has created a sense of isolation and disengagement among the employees. Team building is the need of the hour to recreate the team bonding and camaraderie among the employees.

Therefore, promoting team building activities can go a long way in boosting a sense of belonging among the employees and establishing connections with their coworkers. Moreover, team lunches, outings, celebrations, contests and games are some of the activities that can help employees socialize in an informal setting and re-build connections.
Bottom-line
Organizations need to devise effective employee engagement strategies for their back-to-office workforce to enhance their motivation, commitment and belongingness and drive greater business results.
To stay updated on the latest HiFives blogs follow us on Twitter (@MyHiFives)