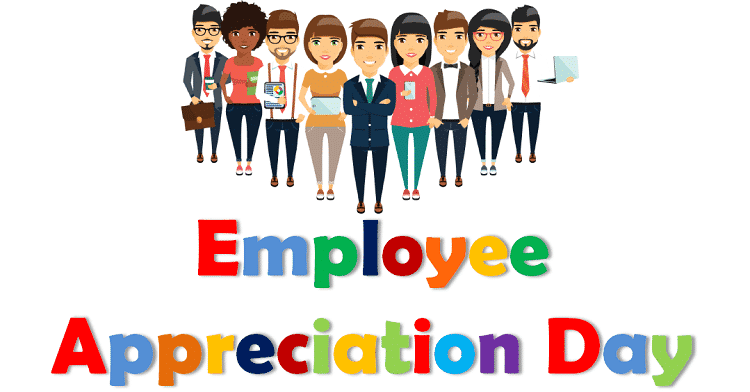 Creative Ideas to Celebrate Employee Appreciation Day
Employee Appreciation Day is an unofficial holiday observed on the first Friday of March each year. It is an attempt to dedicate an entire day to appreciate employees and celebrate their achievements.
In 2022, Employee Appreciation Day is on the 4th of March
History and Concept
The concept of Employee Appreciation Day was created by Bob Nelson, one of the founding board members of Recognition Professionals International.
Nelson, worked in collaboration with his publishing company, Workman Publishing, to ensure that the holiday appeared prominently on workplace calendars from 1995 onwards.
Since then a large number of organizations worldwide are leveraging this occasion to appreciate their employees.
Importance of Celebrating Employee Appreciation Day
Most organizations understand that employees are their greatest assets and appreciating them strengthens their sense of belonging and engagement with the organization.
Studies have shown that when employees are assured that their company cares for their well-being, their engagement level increases by 38% and they are 18% more likely to go an extra mile for ensuring business success.
Celebrating Employee Appreciation Day provides a great opportunity for managers, business leaders, and HR in organizations to reinforce the importance of appreciating their employees.
Innovative and Creative Ideas to Celebrate Employee Appreciation Day

We have tried to put together a few creative and innovative ideas to ways to celebrate Employee Appreciation Day.

Relying on regular employee recognition ideas can make the celebrations seem like a mere formality rather than a sincere effort by their employers to express their gratitude and say thank you. Here goes: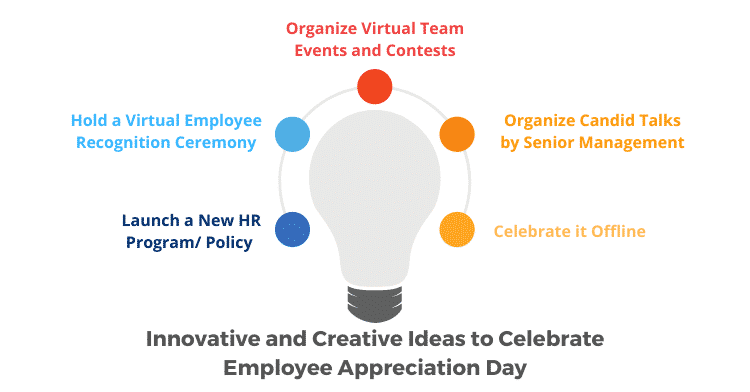 1. Launch a New HR Program/ Policy

Organizations can leverage this occasion to launch a new employee related program such as new employee recognition policy, rewards, recognition platform, employee benefits or any other HR policy.

It sends out a positive message to the workforce that they are valued and their efforts and achievements are appreciated.

The announcement can be made by the senior leadership through a virtual town hall or digital communication platforms.


2. Hold a Virtual Employee Recognition Ceremony

Virtual employee recognition ceremonies can be organized around the Employee Appreciation Day to further accentuate the importance of employee recognition.

In these ceremonies, employees can be recognized for their performance and the values displayed, in different categories. Digital platforms can be leveraged for organizing these ceremonies.

All employees could be given gift vouchers or other virtual gifts as well on this occasion.


3. Organize Virtual Team Events and Contests

Team events, games and contests provide a fun and exciting way of celebrating the unique and diverse talents of employees.

From online karaoke competitions to interesting quizzes on different topics, there are several options for organizations to choose from. They offer an easy and convenient means to involve both on-site and remote working employees in something exciting and interactive.

These events and contests can help employees showcase their creativity and talent, hitherto unknown to their co-workers.  They can help in knowing appreciating employees as people, and not just as co-workers.


4. Organize Candid Talks by Senior Management

Getting senior manager and high performers in the organization to talk about their corporate journeys, challenges and stories on digital platform might be a good idea.

These stories are bound to inspire younger members of the workforce and create role models for them in the organization.


5. Celebrate it Offline

Apart from the above methods of celebrating the day virtually, organizations may also consider on-site celebration ideas, if possible.

These may include decorating the workplace, organizing lunches and outings, hosting a party with an unusual theme and dress code, rewarding random acts of kindness at the workplace, or simply cheering the entire workforce by the management.
It acts as a golden opportunity to set the tone of organizational culture and also serves as an annual reminder to reinforce that culture.
Also read: 10 Best Creative and Low-Cost Ways to Reward Employees
Bottom-line
Organizations should put effort into celebrating Employee Appreciation Day to ensure a memorable and inspiring experience for their employees.
It can go a long way in building a culture of appreciation within the organization and enhance motivation and engagement of the workforce.
To stay updated on the latest HiFives blogs follow us on Twitter (@MyHiFives)