7 Things that Organizations Need to Do to Engage New Hires
Watch the Video
7 Things that Organizations need to do to Engage New Hires
Hiring has always been a tough challenge for organizations, be it small or large. Another challenge is getting the new hires to 'hit the ground running,'. And to get them up to speed with the organization's work environment, workflow processes, and culture. There are several things that organizations need to do to engage their new hires.
The biggest impact on the success of new employees is how their mangers engage with them during their first few days.
Research shows that systematic onboarding of new hires can speed up their efficiency and effectiveness by nearly 60%. This, in turn reduces their failure rates and retention. The cost of replacing an employee is several times the annual salary of an existing employee.
Thus, getting new hires to become productive quickly and to stick is in the best interest of the organization. When onboarding is well-executed, it sets the foundation for long-term success.
Here are a few best practices to ensure that new employees remain enthusiastic, engaged, and informed about their new workplace:
How can Organizations Engage New Hires effectively?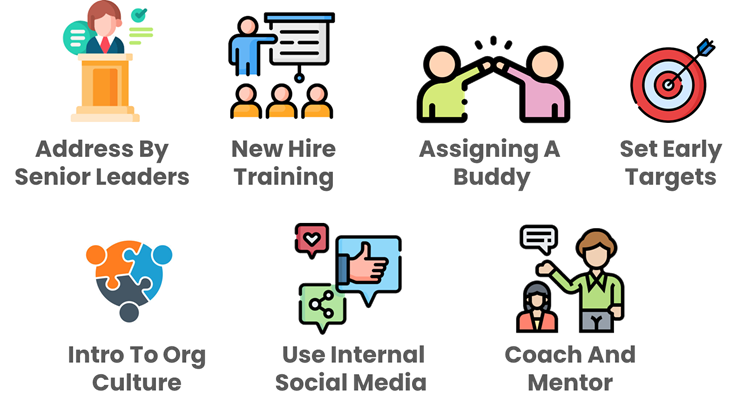 1. Welcome Address By Senior Leaders
Senior leaders has an important role to play when it comes to engaging the employees. It is the leaders who represent the organization. Thus, when the leaders welcome the new hires , they can get a good understanding of their vision.
Without leadership involvement, their chances of them getting engaged with the organization is limited. Hence, interaction with senior leaders during the onboarding can create a connection between the organization and the new joiners.
2. New Hire Training
It is important to provide adequate training to new employees on the organization's business and operations. Cramming the organizational overview, policies and working knowledge in a very short time frame might not be a good idea. The new employees might not get enough time to absorb the overload of information.
Hence, it is a good idea to conduct the new hire training in a phased manner to bring new employees up to speed.
The induction process could stretch over weeks to make the new employees better aware of various aspects of the organization.
3. Assigning A Buddy
The buddy system can be one part of an effective onboarding program. It can provide new employees with a reliable, motivated, ongoing, single point of contact for questions regarding work processes.
A buddy is someone who partners with a new employee during his or her first few months of employment. He or she is a colleague assigned to assist the new hire to get through the first nerve-wracking period,
Buddies generally teach or tutor the new employees on unfamiliar tasks. They explain how to use office equipment, obtain office supplies and make travel arrangements. Buddies can socialize the new employee on organization's guidelines, norms, culture, and unwritten guidelines. They can share insights on how things are done in the organization, involve the new employee in social or informal activities, such as lunch, coffee, and such.
This socialization and support can make an enormous, positive difference in early performance, social integration, and long-term retention.
A workplace buddy may be the first point of contact for your new employee and should be capable of establishing rapport quickly. Organizations want new employees to feel comfortable and safe asking questions and bringing up issues with their buddy.
4. Set Early Win Targets
Another powerful strategy for enhancing employee productivity of new employees is to give them clear and achievable goals. Rather than setting formal goals for new hires initially, supervisors should set clear, realistic expectations for the next few months.
The supervisor should set targets in a way that he or she is confident that the new employees can achieve those. This will give confidence to both the supervisor and the employee. It will also help increase the level of motivation of the new employee to take up even bigger challenges.
Supervisors should discuss gaps in performance and how to mitigate the same, setting the new hire up for future success.
5. Introduction To Organization Culture
Every organization has its own culture, language and tone, which may not be known to a new hire. If the new hires are not aware of the language and jargons, they will continue to feel like an outsider. Thus, the corporate buzzwords, acronyms, language, insider jokes, culture and tradition of the organization should be well explained to them.
The buddy system and regular participation in formal and informal team meetings and gatherings can help with this. This would make the newly joined employees feel more comfortable and speed up their integration process with the organization culture.
6. Engage Using Internal And External Social Media
Once the new hire is on board, the organization should invite them to their internal social media. This could be Yammer and WhatsApp groups and also to their Facebook pages, LinkedIn pages, Twitter handle, Instagram accounts etc.
Hence, keeping them connected with the happenings can be one of the effective ways of getting them immersed in the organization culture.
7. Coach And Mentor Them
Knowing "what is expected of me" is one of the most important questions that contribute to employee satisfaction, according to a Gallup Q12 study.
New employees face a steep learning curve when they start with a new organization. The new employees will definitely take some time to understand the work that they need to do. Leaving the employees to sink or swim on their own is certainly not advisable.
Supervisors should take time from their busy schedules to coach new employees whenever they see them struggling with any task. By giving them the necessary coaching, they can ensure that these employees get ready for more challenging work sooner. The attention of their supervisor also increases the engagement level of the new employee.
Bottom-line
Undoubtedly, employee engagement is one of the key success factors for driving business growth in organizations today.
Hence, ensuring a high level of passion and commitment from new hires towards their work and the organization, as early as possible in their tenure is of paramount importance.
There are several important things that organizations need to do to engage their new hires.
To stay updated on the latest HiFives blogs follow us on Twitter (@MyHiFives)