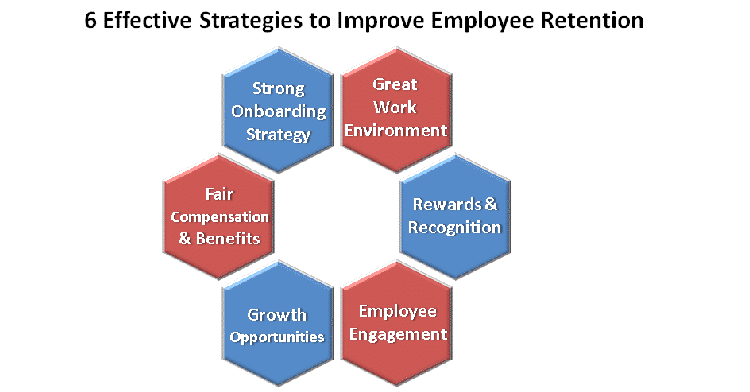 6 Effective Strategies to Improve Employee Retention
Hiring top talent can prove to be a difficult task for most organizations, an even greater challenge for them is to ensure the long term retention of these professionals. In fact, employee retention is becoming a major area of concern for most organizations thanks to the highly competitive business environment, which gives top professionals a myriad of options to choose from. This article takes a look at 6 Effective Strategies to Improve Employee Retention.
Importance of Long-term Employee Retention
Organizations understand the importance of retaining their employees for the long term.
Ensuring the retention of their employees for a long time helps in reducing the HR costs of an organization quite significantly.
In addition to the financial benefits to the organization, higher retention rates impact other key aspects of the business and workforce behaviors such as smooth business operations, customer relationship management, retention of knowledge, employee engagement levels, positive work culture, and the overall efficiency and productivity of the workforce.
These reasons are compelling enough to justify the efforts of an organization required to improve employee retention rates.
How to improve employee retention?

The growing demand for top talent makes it imperative for organizations to focus on employee retention. Given below are 6 effective tips that organizations may follow in this context to get the desired benefits:


1. Have a strong onboarding strategy

The strategy to ensure long term retention of the employees should come into force from the very first day the new employees join the organization. For this, it is important for organizations to have a great onboarding strategy that assures new recruits of complete support and guidance from day one.

It is important to set the right tone for the new employees and induce a sense of loyalty towards the organization right from day one. New employees need to understand the vision, mission and goals of the organization and feel in sync with them.


2. Create a great work environment

Employees today prefer to work in organizations that offer an open, relaxed and positive work environment. If the work environment is stressful and disturbing, even the most competent employees might start seeking job opportunities outside the organization.

This is why organizations need to invest time and effort in creating a good work environment that makes them feel positive and secure and thereby enhances their performance and efficiency.


3. Adopt a policy of fair compensation and benefits

Organizations should make sure that they offer fair compensation and benefits to all the members of their workforce in accordance with their specific skills, expertise, and job roles. This should be backed up a robust system of goal setting, performance management and compensation management.

Employee motivation levels are significantly impacted by the compensation package and perks being offered to them by the organization. Hence, if employees feel that their salary and benefits are not fair enough with respect to their role, responsibilities experience and expertise, it is likely to they will start looking for alternate opportunities.

Organizations need to ensure that their compensation and benefits are competitive with respect to the industry benchmarks and are reviewed from time to time.


4. Provide appropriate growth opportunities

Every employee in an organization seeks appropriate growth opportunities that match their career aspirations and objectives.

Lack of such opportunities can often make the employees feel doubtful about their self-worth and reduce their confidence levels significantly. This can have a negative impact on their work efficiency and they might start seeking options beyond the organization.

Employees need to be provided with a clear career path, challenging assignments, appropriate training, coaching and mentoring to help them hone their skills and progress in their careers. By providing the right growth opportunities to their employees, organizations can hope to win their trust and loyalty.


5. Work towards improving employee engagement

When employees are deeply engaged and involved in various organizational activities and initiatives, they are less likely to leave the organization easily. Implementing the right policies and strategies that motivate the employees to be an integral part of the organization, is the key to improving their commitment and dedication.

It is well-known that the higher the level of engagement of an employee, the higher is their level of commitment and dedication towards the organization. This impacts their decision about staying with the organization positively.


6. Ensure proper recognition of employees

Proper and timely recognition of the employees for their efforts, contribution, and achievements for ensuring business growth is essential to improve their retention. Such initiatives go a long way in improving employee loyalty and strengthening their emotional connection with the organization.

Recognition helps to keep employees motivated and assures them that their efforts are valued by the organization. This inspires them to continue to give their best.


Bottom-line
Organizations should implement these 6 effective strategies to improve employee retention significantly. This can positively impact the long term growth, productivity, and success of the organization.
To stay updated on the latest HiFives blogs follow us on Twitter (@MyHiFives)