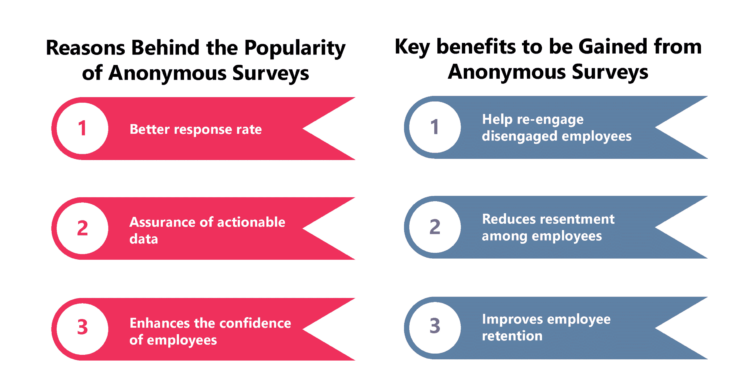 Employee engagement surveys help organizations assess the exact engagement needs of their workforce and the impact of the various initiatives in a clear and precise manner. While there are several different types of engagement surveys that can be conducted by organizations, anonymous employee engagement surveys have become more popular than others.
What are anonymous employee engagement surveys?

As the name suggests anonymous employee surveys are those that do not tie the responses provided by the participants to a specific employee. In general, these surveys are conducted by a third-party, who then informs the organizations about the results of the survey in a detailed manner without the mapping of the responses to individual employees.

Most people are of the opinion that this is the best way to gain open and honest feedback from the employees about the various employee engagement initiatives. They provide organizations with actionable insights and a more accurate view of how the employees perceive the organization.

This is mainly due to the fact that these surveys make it possible for the participating employees to express their views and opinions in an honest and fearless manner.

Why are anonymous employee engagement surveys done?

As mentioned before anonymous employee surveys are much preferred by organizations as a tool for assessing the success of their engagement initiatives.

Among the various reasons behind the popularity of these employee surveys, the most important ones are as follows:


1. Better response rate

It has been observed that anonymous surveys tend to have a better response rate as compared to open surveys. This is because employees are not stressed about their identity being revealed in case their responses are not in favour of the organization. 

They can thus express their concerns and opinions without the fear of being reprimanded or punished for the same.


2. Assurance of actionable data

The data and information received through anonymous surveys are generally quite accurate and honest. This makes it easier for an organization to identify the shortcomings in their engagement strategies and take appropriate and timely action to rectify the same.

Moreover, the organization can even get innovative ideas to overcome these challenges, which the employees would normally keep only to themselves.


3. Enhances the confidence of employees

The ease of expressing their ideas and opinions and seeing the organization taking appropriate action helps in enhance the self-confidence of the employees. They feel assured about their own competencies and capabilities and this helps them improve their performance further.

They are also likely to be more willing to communicate their views directly to their peers and superiors personally in the near future.


4. Key benefits to be gained from such surveys

There is no denying the fact that anonymous surveys actually work in helping organizations improve their engagement policies and strategies.

In fact, when it comes to accurately assess employee pulse with respect to their level of engagement and motivation, these surveys offer several benefits to the organization.


5. Help re-engage disengaged employees

Anonymous surveys actually help in boosting the engagement level of the employees within an organization. Even the most disengaged employees show a willingness to participate in these surveys as it provides them with an effective platform to register their complaints and vent out their grudges.

So, even if they do not accept any action taken on their honest feedback, these surveys can actually prove effective in re-engaging disengaged employees.


6. Reduces resentment among employees

These surveys are known to improve the accountability for both managers and employees within an organization. They provide the employees with a platform to share their concerns, ideas, and even grudges.

This helps in releasing the sense of resentment they might be feeling towards the organization. They thus feel less stressed and become more cordial and cooperative towards their coworkers, irrespective of whether their concerns are resolved or not.


7. Improves employee retention

Anonymous surveys prove highly effective in improving the overall employee retention rates as compared to open HR surveys. This is simply due to the fact that they provide an opportunity for employees to be heard by the management.

As the management takes effective steps to address the concerns of the employees, their satisfaction and engagement levels improve significantly. This, in turn, has a deep positive impact on the overall employee retention rate.
Bottom-line
Anonymous employee engagement surveys can prove great tools for organizations to get a genuine and clean understanding of employee needs and concerns by creating a high level of confidentiality and trust.
To stay updated on the latest HiFives blogs follow us on Twitter (@MyHiFives)