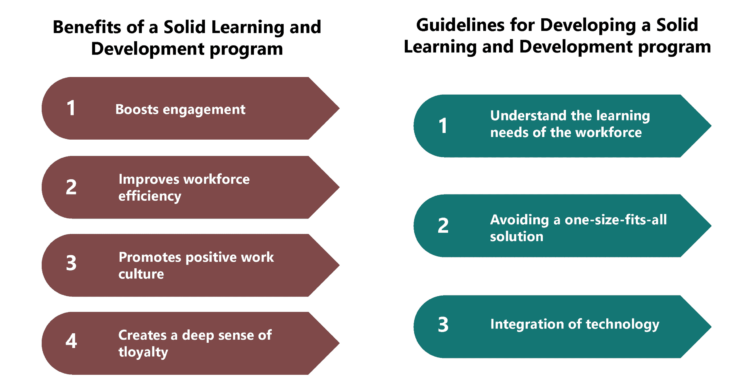 Learning and Development can promote Employee Engagement
Learning and development of the employees as a key element of employee engagement has gained much significance over the past decade.
In fact, more than 85% of millennials feel that providing appropriate training and development opportunities is a key deciding factor for accepting a job opportunity.
Culture of Learning and Development
Most employees today work in a highly stressful and competitive environment, making it necessary for organizations to provide appropriate guidance and support for ensuring their career development. However, career development can no longer be done through an occasional training program and skill enhancement session. Rather it has become a continuous process of learning, acquiring new job skills, and investing time and effort in building professional networks. An effective learning and development program enables employees to fulfil these needs and thus boost workforce motivation levels quite significantly.
What are the benefits of a good learning and development program?

Organizations have come to acknowledge the fact that investing in a solid learning and development program has become a necessity. They run the risk of losing their top talent to competitors in the absence of such programs.

The good news is that investing in such a program can offer the following assured benefits to an organization:


1. Boosts engagement

By providing the right learning and development opportunities to their employees, organizations assure them of being interested in their career growth. This naturally motivates them to contribute towards organizational growth to the best of their abilities.

They develop a deeper interest in tasks and activities that can promote business growth and even show a greater willingness to share any innovative ideas to fulfil this objective.


2. Improves workforce efficiency

In addition to ensuring the career development of the employees, well-developed training programs also help to improve the efficiency of the workforce. As they gain new skills and knowledge, they can use them to improve their performance and make a positive contribution to business growth.

In addition to this, it helps the management to identify potential leaders and managers and train them for these roles.


3. Promotes positive work culture

In most cases, the learning sessions also help the employees to evolve personally and this impacts their attitude and behaviour at the workplace.

They develop a more cordial attitude towards their coworkers. They are also likely to offer their support to each other, voluntarily to overcome work-related.


4. Creates a deep sense of loyalty

The efforts made by the organization towards the career development of employees through learning programs create a deep sense of loyalty in them.

They feel assured about being an integral and much-valued part of the organization. This naturally impacts the retention rate of the organization in a positive way and improves business stability.

How can an organization develop a solid learning and development program?

It is clear that having a solid learning and development program can help organizations with efficient career management of their employees.

The following guidelines can prove useful for organizations in this regard:


1. Understand the learning needs of the workforce

To start off with, it is absolutely essential for an organization to carefully access the learning needs of different sections of its workforce and even its individual employees.

This data helps them to plan and organize the most appropriate learning sessions that will assure maximum benefits for the employees and the organization.


2. Avoiding a one-size-fits-all solution

The learning needs, the learning path and even the pace of learning for each employee are different and hence adopting the "one size fits all" approach may not be the best way out. However, it is challenging for organizations to offer training to the individual members of the workforce on a one-to-one basis.

The most effective solution is to create cohorts with relatively similar learning needs rather than segregating them on the basis of rank, department, and experience.


3. Integration of technology

Technology can play a vital role in ensuring the success of learning and development programs besides making them truly cost-effective.

With a wide range of technology solutions in form of learning management systems that can match the diverse employee learning needs, and personalize the learning experience for each employee, organizations can maximize the benefits for their workforce. These solutions can even be customized to make them more effective for the organization's requirements and get a better return on investment.

Bottom-line
A well-planned learning and development program can go a long way in enhancing the employer brand value and the overall productivity of the organization besides improving the overall engagement and motivation level of its workforce.
To stay updated on the latest HiFives blogs follow us on Twitter (@MyHiFives)