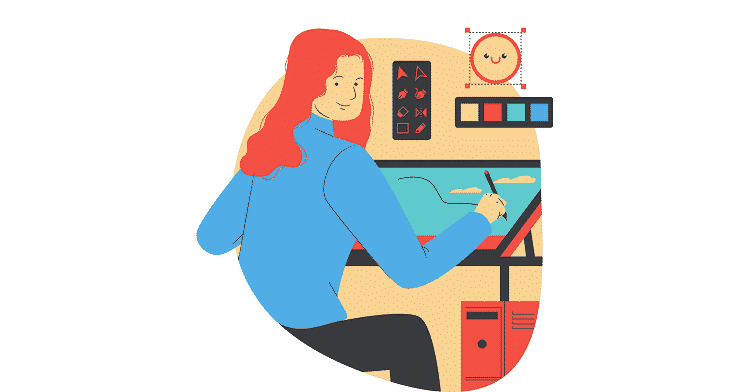 4 Tips to Maximize the Productivity of Work from Home Employees
The COVID pandemic had forced a large number of organizations to experiment with Work from Home. There is a general concern that employees experience a reduction in their overall productivity and efficiency while working from home. So, this article aims to provide a few tips to maximize the productivity of Work from Home employees.
Why Work from Home is likely to be popular?

The advancement in digital technologies has made it easier for employees to virtually work from anywhere.

There are several reasons that make work from home a favorable option for both employees and organizations. The most important of these are as follows:



– Enables employees to enjoy a better work-life balance

– Saves time and energy in commuting between home and office

– Allows flexible timings and ensures greater employee satisfaction

– Enhances the self-discipline and focus of employees

– Mobile and digital technology allows them to stay connected with their co-workers, supervisors and customers from anywhere

How to maintain the productivity of Work from Home employees?

While working from home comes with its own advantages, it can also lead to procrastination and distraction. This can, in turn, can result in a decline in the accountability of employees and thus impact their productivity.

Here are a few effective tips for employees to stay productive when they work from home: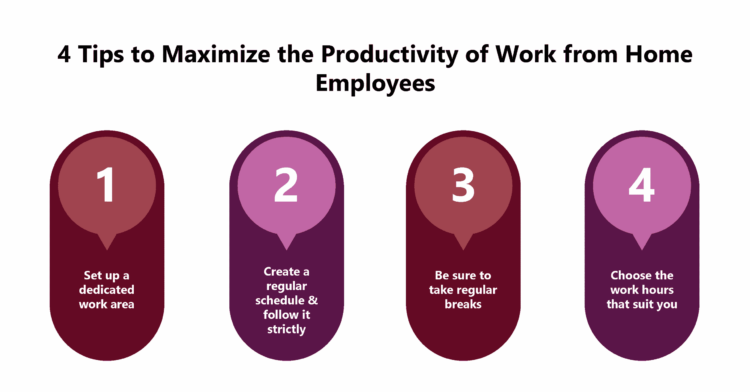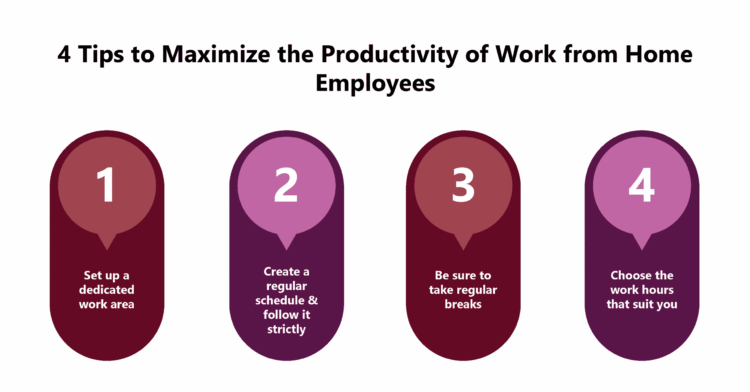 1. Set up a dedicated work area

The first important step for employees working from home to ensure productivity is to set up a dedicated work area. This could be a room or a part of the house where they are least likely to be disturbed. Hence, it enables them to work in the same focused way as they do at office.


2. Create a regular schedule and follow it strictly

It is important for employees working from home to establish a well-thought-out schedule and ensure strict adherence to the same. In fact, they should share the schedule with their family members and friends to minimize the chances of distraction from these sources.

Even simple things like shutting the door or drawing the curtain can help making others aware that they are at work.

Moreover, when they follow their schedule rigorously like in the office, their loved ones would also understand their schedule.


3. Be sure to take regular breaks

Employees need to keep their work routine as natural as possible to ensure that their productivity is not impacted negatively. Hence, they should take regular short breaks from work to refresh their minds and relax their muscles.

This will help improve their overall efficiency and enhance their time management. In fact employees can utilize these breaks for family interaction, refreshments and light exercises to revitalize their minds and bodies.


4. Choose the work hours that suit you

Every employee is different in terms of the time of the day (or night) when they are most productive. Work from home can result in higher productivity if employees have the freedom to choose their most productive work hours.

Hence, employees can choose to start work early or late if they do not have to follow the regular office hours. In fact, the focus should be on getting the work done on time rather than on when or how it is done.

Being able to choose their work hours reduces stress and enhances efficiencies in the longer run. Of course, employees need to ensure that they have enough overlap with their supervisors, co-workers and customers as their work requires.
Bottom-line
Work from Home can be a powerful tool for organizations; they can keep in mind a few simple guidelines to help employees maximize their productivity while working from home.
To stay updated on the latest HiFives blogs follow us on Twitter (@MyHiFives)